BWW Review: Life's Layovers Become Permanent in THE DELAYS, at Theatre Vertigo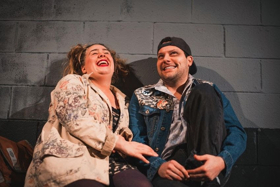 Some people have the fortune of chasing their dreams, while for many others life intervenes -- money is short or parents get sick or a financial crisis hits. Most of our cultural stories (plays, movies, news stories) are about the first group. In THE DELAYS, now in its world premiere at Theatre Vertigo, Sara Jean Accuardi gives us a look into the lives of some people in the second group. It's a moving, well-crafted play that shows how easy it is to get trapped.
Directed by Tamara Carroll, THE DELAYS focuses on the lives of employees at the airport Travel Mart, starting on New Year's Eve 2018 and jumping back to 2008, then 1998. People come to the job for many reasons -- because they're young and hopeful, because they believe it's a stepping stone to something bigger, or because they just need the money. The one thing they all have in common is that 10 or 20 years down the road, life looks much different from what they had imagined. The setting puts their lives in even greater contrast to those around them -- in an airport where most people are coming and going, they've gotten stuck.
The cast for this production, most of whom are Theatre Vertigo company members, is great. I particularly enjoyed Kaia Maarja Hillier's performance as Thalia, who starts at the Travel Mart just out of school and, for various reasons, is never able to pursue her dream of going to New York, as well as Gary Strong as Frank, a young business student who ends up owning the place, but whose personal life has gone off track. These two in particular do an excellent job of portraying their characters' transition, in reverse, from idealism to disillusionment.
THE DELAYS is similar in feel to Annie Baker's The Flick, without the 3+ hour runtime. It seems particularly important now as the economy continues to expand, while at the same time many people are being left behind. There are about 65 million Americans currently working in low-wage service jobs, and research shows that they have a better chance of becoming unemployed than they do of moving up the economic ladder. The numbers are disturbing, but it's hard to care about numbers. THE DELAYS gives us people.
I enjoyed THE DELAYS immensely. Accuardi's writing is sharp, and I love her decision to reveal the characters' lives in reverse. Somehow, knowing the end makes the journey even more poignant.
THE DELAYS runs through February 23. More details and tickets here.
Related Articles View More Portland

Stories

Shows
Krista runs a content marketing business in Portland, Oregon. She fell in love with musicals at age 5, when her parents took her to see (read more about this author...)