Exclusive Interview: Adam Jacobs, THE LION KING's New Simba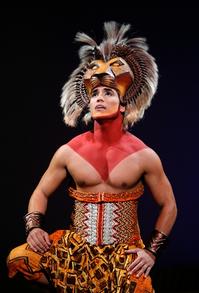 "I am proud of my Filipino heritage and I credit a lot of my success to my mixed ethnicity.  Honestly, I probably wouldn't have been able to book the role of Simba if I looked like a Ken doll!" - Adam Jacobs
Filipino-American Broadway star Adam Jacobs ("Les Miserables", "Mamma Mia") is currently essaying the coveted role of Simba in Disney Theatrical Productions' North American touring production of ground-breaking, multi-award winning musical "The Lion King".  The show plays the Cadillac Palace Theatre in Chicago, IL until Saturday, November 27, 2010.
Upcoming tour engagements will include Durham, NC January 4 to 30, 2011; Providence, RI February 1 to 20, 2011; Schenectady, NY February 22 to March 20, 2011; Rochester, NY March 22 to April 17, 2011; Toronto, ON Canada April 19 to May 22, 2011; Dayton, OH June 14 to July 10, 2011; and Montreal, QC Canada August 9 to September 4, 2011.
New York University (NYU) Tisch School of the Arts alumnus Mr. Jacobs made his Broadway debut as the romantic lead Marius in Cameron Mackintosh's Broadway revival of "Les Miserables" in 2006 to 2008.  During the run at the Broadhurst Theatre, he had the opportunity to work with fellow Filipino Broadway stars Lea Salonga ("Miss Saigon", "Flower Drum Song"), who replaced Daphne Rubin-Vega as Fantine, and Ali Ewoldt ("West Side Story"), who played Cosette.  Former Philippine President Gloria Macapagal-Arroyo took time out from her state visit to the United States in 2007 to see the world renowned musical, and personally congratulate Mr. Jacobs, Ms. Salonga and Ms. Ewoldt after the performance.
Born and raised in Half Moon Bay, California Mr. Jacobs' Filipino blood came from his mother, whose father -- originally from the province of Pangasinan in the Philippines -- moved to the United States in 1965 with his wife and three children. 
Mr. Jacobs' inclination to the arts was apparent at a young age. He studied playing the piano at the San Francisco Conservatory where he would perform at his recitals from age five to 13.  Portraying an additional role of the 13th apostle or the "apostle wannabe" (not in the original script) in a community theater production of Andrew Lloyd Webber and Tim Rice's "Jesus Christ Superstar" was created just for him at age 13. 
Destined for greater things, the young thespian was cast in lead roles of Billy Bigelow in Richard Rodgers and Oscar Hammerstein's "Carousel", and Che in another Andrew Lloyd Webber and Tim Rice rock musical "Evita" among others at the St. Ignatius College. 
And while engaged in playing the role of Sky in the North American touring production of Catherine Johnson and ABBA's smash musical "Mamma Mia" last year, Mr. Jacobs received an offer to do one of his dream roles - Simba in Disney Theatrical Productions' newest touring production of  1998 Tony Award Best Musical "The Lion King."  
He reveals to BroadwayWorld.com (Philippines) that he had been to "The Lion King" auditions several times for the past eight years. 
Nevertheless, hard work and patience are paying off for Mr. Jacobs. Most theater critics have observed that the part of Simba fits him like a glove. 
"Disney has managed to cast new young performers, like Adam Jacobs' Simba, who avoid cynicism and make the ascension of Pride Rock still look like the realization of some great personal ambition. It was all there in the steeling-himself moment prior to the assumption of rock and throne. Such details, such maintenance of quality, are why "The Lion King" roars on." - Chris Jones, Chicago Tribune
"Adam Jacobs was a stellar Simba." - Wendy Dallian, Vancouver Observer
"Adam Jacobs and Syndee Winters (Nala) are equally as charming, creating strong and multi-dimensional characterizations." - Bill Beard, Rock River Times
Combining African masks made to be worn over the head; age-old tradition of bunraku and shadow puppet theatre; and jaw-dropping set and lighting designs; The North American touring productions of "The Lion King" have been seen by over 12.5 million theatergoers in around 60 cities, and grossed over US$ 815 million to date. The touring production featuring Mr. Jacobs as Simba, Dionne Randolph as Mufasa, J. Anthony Crane as Scar, Brenda Mhlongo as Rafiki, Tony Freeman as Zazu, Ms.Winters as Nala, Ben Lipitz as Pumbaa, and Nick Cordileone as Timon among others, is one of seven productions running worldwide, along with Broadway (playing for 13 years now), London, Hamburg, Paris, Tokyo and Las Vegas. 
Directed by award-winning film and stage director and costume designer Julie Taymor ("The Tempest", "Spider-Man: Turn Off the Dark"), "The Lion King" highlights Elton John and Tim Rice's hit songs "Circle of Life", "I Just Can't Wait to Be King" and "Can You Feel the Love Tonight" from the 1994 full length animated film of the same title. The Broadway score also thrives in its additional three songs by Mr. John and Mr. Rice; new musical materials by South African Lebo M, Mark Mancina, Jay Rifkin, Ms. Taymor and Hans Zimmer; and music from "Rhythm of the Pride Lands", an album inspired by the original music in the film, written by Mr. Lebo M, Mr. Mancina and Mr. Zimmer.
 
BroadwayWorld.com (Philippines) had the opportunity to interview the Pridelands' mighty king recently.  Here's the full transcript of our interview with Mr. Jacobs.
 
BWW: Did you audition for "The Lion King" while you were on tour for "Mamma Mia"? How was the audition process?  
AJ: I did audition for "The Lion King" while on tour with "Mamma Mia", but it wasn't my first time auditioning for Simba.  The audition process actually began back in college when musical director Joe church happened to see me in a New York University (NYU) production of "Songs For A New World" and strongly suggested to me afterward that I come in for an audition.  I remember auditioning for Mark Brandon of Binder Casting at the time, and he gave me great directions for Simba, and things I needed to work on.  Over the course of eight years (that's right, I said eight years) I auditioned for him and the Disney creative team and each time I got better. Until finally, I was offered to come out on the tour.  Mark and I still joke about how long it took to convince the producers I was right for the job!  Needless to say, it was a great personal victory for me when I got the offer. 
BWW: Playing Simba must be your biggest break after Marius on Broadway, how's it essaying an iconic role that is Simba?  Any pressure on your shoulders? 
AJ: I get to play the title character of the show, so of course that comes with a considerable responsibility.  "The Lion King" is ultimately the story of Simba, so I do feel the pressure a bit-- I'd have to be a machine not to-- but I welcome the challenge!
BWW: Who were your Disney heroes as a child?
AJ: My favorite Disney heroes as a kid were Aladdin, Mowgli, and The Hunchback of Notre Dame.
BWW: How many times have you seen "The Lion King" (the movie and the stage musical) before landing the role of Simba?
AJ: I've seen the movie countless times and I think I've seen the show on Broadway about five times. 
BWW: What do you like best about playing Simba?  What are your other dream roles?
AJ: At the moment, I'm really enjoying being able to sing "Endless Night" every show.  I think it's beautifully written. Another dream role for me would be Fabrizio Naccarelli in "Light In The Piazza."   
BWW:  How do you vocally and physically prepare for "The Lion King"?
AJ: This is probably the most physically demanding show I've ever had to do, so I have a pretty extensive warm-up routine that includes about 30 minutes of stretching, pushups and other isometrics.  I'm also living in my upper vocal register for the majority of the show so I have to make sure I warm-up the chords for that. 
BWW:  What makes "The Lion King" so successful as a stage musical? 
AJ:  I think Julie Taymor did a phenomenal job with her direction and overall artistic vision.  She took the elements of the movie that were universal and created a unique environment around it that has the ability to transport the audience every night and still tell the story very clearly. 
BWW:  Have you ever been to your home country, the Philippines? What comes to mind when you hear the words "The Philippines"?
AJ:  I have yet to visit the Philippines!  I was actually planning on going this year until I booked this gig.  I really have been wanting to go for some time.  I want to visit the places of my grandparents in Pangasinan and learn more about where my family and I came from.  Maybe I'll get lucky and the next job I do will take me over there.  We'll see!
BWW:  No doubt that you are living your dreams: What words of encouragement can you share to aspiring young stage actors out there?
AJ:  I always tell young actors to believe in yourself and in who you are.  I know that sounds cliche, but it's true.  Even though acting can involve character work, occasional accents and all that jazz, it's ultimately about telling the story truthfully, and the way that you tell the story will be different than anyone else because of who you are.  And that's what the audience is paying to see.  You are your most powerful tool in the actor's toolbox, so use it whenever possible!  Also, don't let anyone take away your passion.  It's easy to give up, especially in this business where rejection runs rampant, but if you stick with it and work hard, you will succeed.
BWW:  Do you believe that Asian American actors belong to the minority groups in the arts?  Is this a tough situation to be in? 
AJ:  Here's the thing about being a minority-- You can either see it as an obstacle or as an advantage.  I prefer the latter.  Like I tell the young actors, who you are is your greatest asset.  I am proud of my Filipino heritage and I credit a lot of my success to my mixed ethnicity.  Honestly, I probably wouldn't have been able to book the role of Simba if I looked like a Ken doll!
BWW:  BTW, if you were Simba in real life, would you have changed "The Lion King" story in any other way? 
AJ:  Hmm... Maybe for the 3rd Act, Simba and Nala get roped into a traveling circus by an evil lion tamer and their young cub has to find a way to rescue his parents.  Just an idea...
***
To purchase tickets to "The Lion King" at the Cadillac Palace Theatre in Chicago, IL, visit www.broadwayinchicago.com or call 800-775-2000. You can also visit www.lionking.com.
Photos by Joan Marcus


Adam Jacobs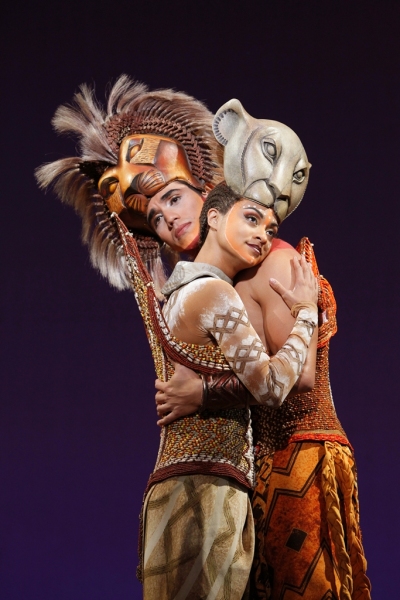 Syndee Winters, Adam Jacobs

Cast of Disney Theatrical Productions' North American touring production of "The Lion King"