BWW Review: SILENT SKY Gathers Women With Requisite Blend of Grace and Ferociousness
Manila, Philippines--Chalk it up to antiquated gender politics that a woman must shatter a glass ceiling to validate her achievement. Despite a long history of injustice, the establishment is relatively unscathed and rarely accountable.
To be fair, there's encouraging news of feminist resurgence, brought on by lurid indiscretions of powerful men and catalyzed by the #MeToo movement. There's a fierce reckoning in the air as legions of women seize mass media and take men to task for their alleged abuse of power and privilege.
And when Oprah takes the podium, the message transcends celebrity status: stifling any woman's genius is a bad idea.
Theater has done its good share of advocacy on the issue. Repertory Philippines (REP) steers the conversation with a feminist accounting of its own, pulled from the yellowed archives of the same era that inspired women's pursuit to be counted at the ballot box.
SILENT SKY is a thought-provoking play by Lauren Gunderson that uncovers the prodigious talent of one Henrietta Swan Leavitt, a pioneering Harvard astronomer whose work with Cepheid variable stars changed the course of inquiry and influenced the way we perceive the universe.
Suffice it to say that Henrietta Leavitt, along with her fellow female "computers" (a euphemism for data entry clerks), toiled in a high-brow industry curated by a good-ol'-boy network. Women like Ms. Leavitt had no access to the coveted refracting telescope as men claimed exclusive rights to the more arcane facets of research. Women had their "rightful" place in the menial task of examining photographic plates to measure the brightness of stars.
Gunderson is a playwright with a bold initiative to write about "women in science and history." While the storytelling paints an uneven arc, she writes a glib dialogue and is clearly at home in crafting a unified sorority salvaging a world rigged by imperious men.
At 35 years of age, Gunderson is a precocious talent and hardly a novice in writing dramaturgical pieces, earning decent recognition for a prolific repertoire: "Emilie," "Ada and the Engine," "I and You," and "The Taming," among others. She's a big fan of Sara Ruhl's and currently owns theater's sublime perch as one of the most produced living playwrights in the United States.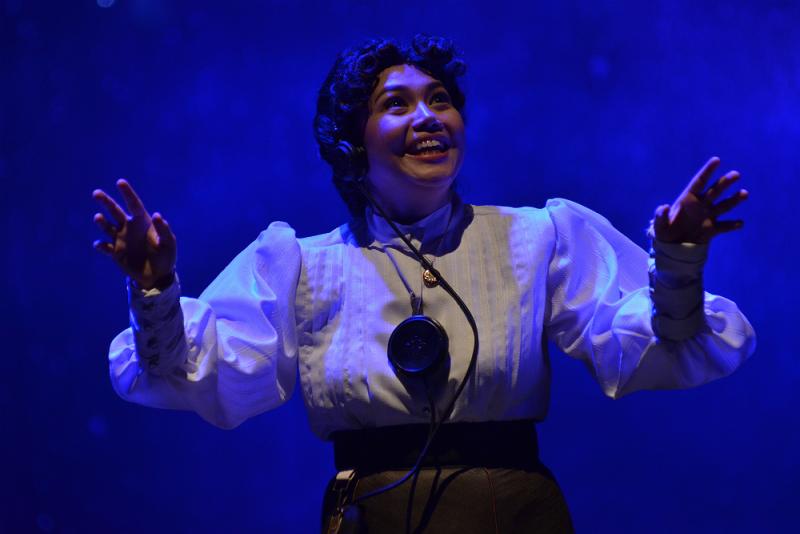 In SILENT SKY, the playwright lends a credible voice to a forgotten woman whose contribution allowed future astronomers to measure the distance between the Earth and remote galaxies. Without exhausting the irony, Edwin Hubble is immortalized for his groundbreaking thesis on the expanding universe, but it was Leavitt's intuitive gift and "invisible" labor that set the stage for Hubble's cosmology.
It's easy to recall "Hidden Figures," a 2016 biopic about black female "computers" working for NASA in the 1960s, though Gunderson's play preceded the film by a few years.
It's par for the course to render a formulaic appeal where a subject of a distinctly technical sort is brought to the stage. Gunderson counteracts Leavitt's cerebral vocation with a humble biography that conveys intimate yet complex familial bonds and a familiar conflict of interest pitting her busy career against romantic interests. The latter is a trite design, contrived even, but nonetheless an honest effort to alleviate the hifalutin chalk talk on astrophysics.
Because casting the show is a vital piece, REP rises to the occasion and handpicks a female-centric ensemble worthy of Gunderson's vision. It affirms director Joy Virata's leverage as a REP maven, who has gathered a proven group of women with the requisite blend of grace and ferociousness.
Cathy Azanza-Dy illuminates Henrietta Leavitt with a piercing intellect, suffused with a reverent mindset that marks Henrietta's brand of scientific inquiry. Azanza--Dy channels Leavitt's restlessness, presumably a byproduct of her ravenous curiosity and the anguish of leaving her humble Midwestern upbringing in search of academic advancement out east.
Margaret Leavitt is Henrietta's amiable sister back in her native Wisconsin, married with children and given to preserving traditional values. She's musically endowed and dreams of composing a symphony. It's a nod to Gunderson's insight and to Caisa Borromeo's remarkable talent that we should find ourselves supporting Margaret's conventional views as we root for Henrietta to cross uncharted territories. (We've seen Ms. Borromeo in a few outings now and there's no doubting her versatility.)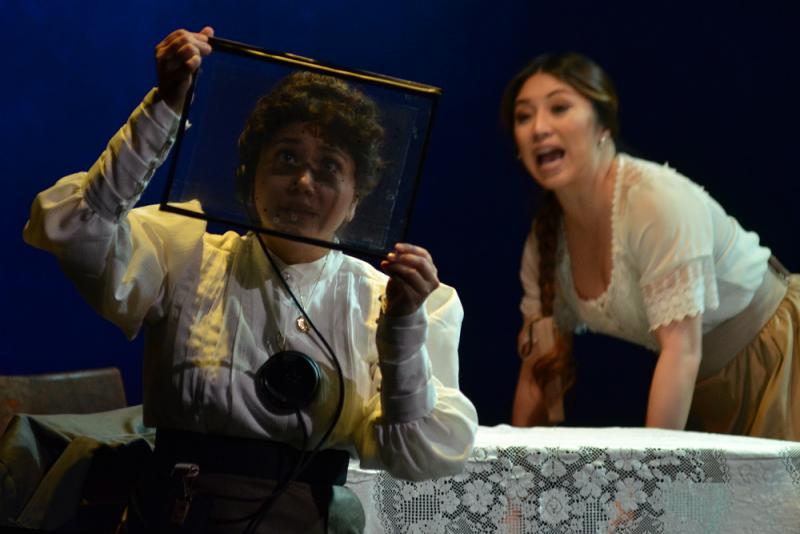 Unlike Henrietta, Margaret cultivates an ordinary existence, regulating a grounded family life and serving as a church musician while staying committed to her modest personal ambition. As another shred of irony, Margaret's music reveals the coup de grace that solves the celestial equation consuming Henrietta (who suffers from hearing impairment). During a visit to her hometown one evening, Henrietta discovers a pattern in the pulsation of stars, triggered by the rhythmic pattern and pitch intervals in the piano concerto Margaret is composing. From this layman's conclusion, their combined epiphany leads to the discovery of galaxies beyond our own (which was, until now, a heretical proposition).
Sheila Francisco plays Annie Cannon, a senior computer with a matriarchal presence and a stern wit. Ms. Francisco brings a veteran authority to the role that keeps everyone in line, but is vulnerable enough when confronted with the stark reality that women are generally disadvantaged in the workforce and are much stronger as a movement (she ends up marching unabashedly for women's suffrage). Annie Cannon works in tandem with Williamina Fleming, a computer by default after an incompetent male lost that position. Fleming is played with youthful delight and a nifty Scottish brogue by Naths Everett, who earns some of the play's best punchlines:
"At present, we're cleaning up the universe for men and making fun of them behind their backs. It's worked for centuries."
In that regard, Gunderson's comparative challenge is her depiction of the play's lone male character in Peter Shaw. We acknowledge the effort to personify an accessible male foil, but she does so at the expense of a genuine opportunity to expose a cabal of repressive men; by contrast, she settles for the conventional sketch of a wonky Ivy Leaguer estranged from his own feelings.
Topper Fabregas is one polished, intuitive actor who does more than enough to elevate the stereotype. As a stoic department assistant and Henrietta's bumbling suitor, he's adorably self-conscious, leaving behind the potential mistake of adopting the sophomoric parody of a science nerd. Fabregas endears us to Peter Shaw with impeccable timing and his knack for self-deprecating humor.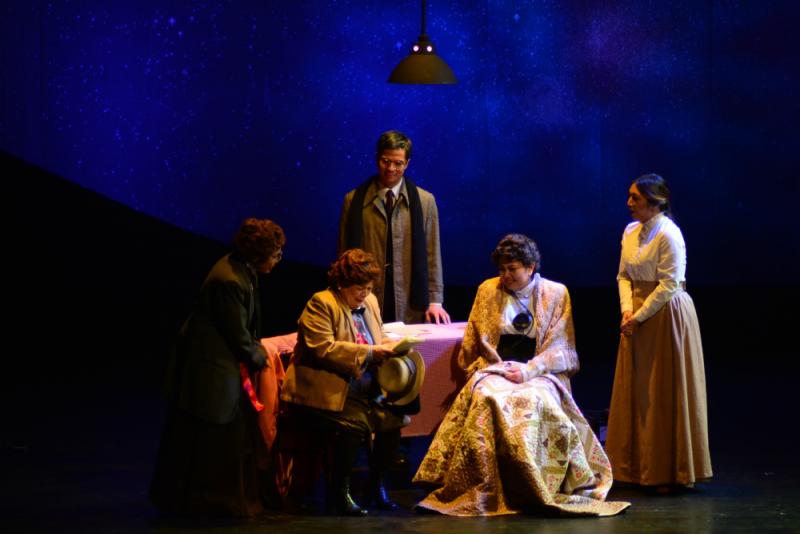 Despite individual acting nuggets of gold, REP's ensemble falls short of the organic cohesiveness derived from a collective justification of beat changes and high stakes. Gunderson practically dispensed with a host of significant others to allow a small band of actors to carry the emotional weight of a cepheid, but we have yet to be knocked senseless by a climax written with a heavy mix of desperation and triumph. Henrietta is dying, after all, and it's hard to ignore the excruciating pain she must be carrying. And while she fully accepts her imminent passing, her resolve to seek the truth till her very last breath ought to be a united struggle. (It starts with Azanza-Dy leading the charge by taking us deeper into Henrietta's dark descent, a grave moment we all need before we can soar along with her rapturous final oratory.)
For now, those connections are perfunctory, at best, though one suspects this seasoned cast will deepen those moments in the coming days.
From a technical glance, Gunderson's script calls for a set "cradled" by stars, which must stay lit throughout the play. An apt metaphor, considering the sky is a constant reminder of our small, ephemeral lives. Lest we forget Mrs. Virata's scope for a stellar production (excuse the pun), we're assured of just that through her collaboration with REP's most consistent crew. Hats off to Joey Mendoza for a minimalist set that allows a lyrical narrative to unfold. Mendoza assists Bonsai Cielo for costume accuracy (though it's somewhat incongruous to find Henrietta dressed in professional garb while convalescing in her Wisconsin home).
John Batalla presents a subtly effective lighting design that works without disrupting the fluid stream of sky projections, while Jethro Joaquin's meditative sound wields our focus underneath the stellar display.
So what to do with all this chatter about stellar luminosity and galactic expansion? The mind hits an impasse in our effort to comprehend how it all fits in the grandest of schemes. The answer is always elusive, but perhaps more urgent is asserting the elemental question implied by our play: What can we do to make this seemingly inconsequential life matter, given our infinitesimal presence in an infinite universe?
Henrietta implores, "Where do we fit in all this vastness?" She references the sky and insists no artificial boundary can stop her from exploring it. Margaret finds fulfillment in her only insurance that her domestic roots stay intact. We are made to believe neither quest proves the other inferior.
Hence an old refrain becomes a tonic that settles our dread of melting into the great unknown: Live each moment in passionate pursuit of the truth.
It's what Henrietta Swan Leavitt wanted even as she grappled with her looming demise from cancer. Shakespeare had the same glimmer of wisdom, assigning a beloved speech to the least likely of soothsayers, Prospero:
"We are such stuff as dreams are made on, and our little life is rounded with a sleep."
So dream on and clinch your truth, mortals, this sweet maudlin end be damned. Take heed of Henrietta's grit and let no fictitious ceiling daunt the imagination.
SILENT SKY plays Onstage Theatre now through Sunday, March 25.
Buy tickets (P1,200-P1,500) at TicketWorld.com.ph.
Photos: Repertory Philippines