Click Here for More Articles on NEWSIES
BWW Review: NEWSIES Is Exceptionally Entertaining, Bursting With Raw Energy!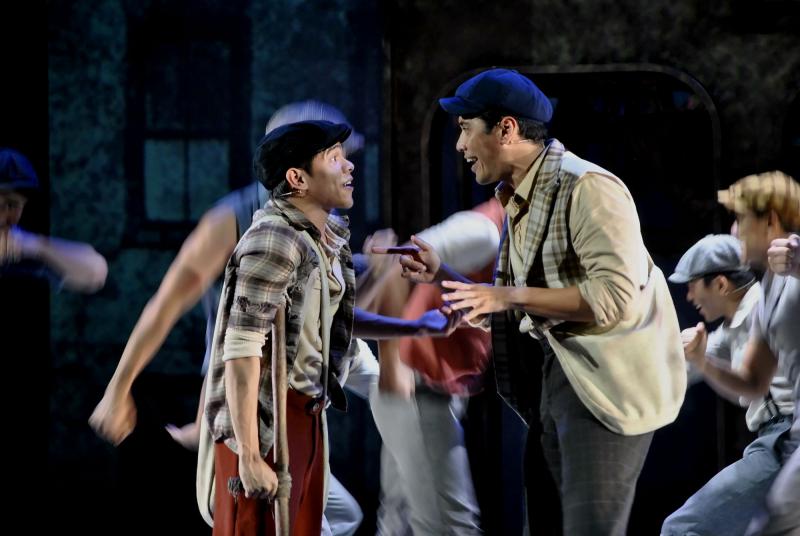 Manila, Philippines--Disney's Newsies is a Tony Award-winning musical derived from the motion picture of the same title. Produced for the first time in Manila, it has commanded the day's headlines and kept a viewing public abuzz with excitement. We can assume Disney's ubiquitous brand had preceded its product, given the film's relative failure to draw critical and commercial acclaim in the early '90s.
Considering its cult following after the release of the home video, it makes sense to bring musical theater back to its logical milieu where live performance of a Broadway musical is unparalleled. This production has been every bit as advertised: it's electric, witty, and poignant.
It doesn't hurt the image that Disney, the most decadent of corporate giants, ascribes historical significance to a modern-day political controversy, dispensing a commentary about income inequality and corporate aversion to labor unions. Intentional or not, it helps us connect the dots and empathize with those who struggle to create a level playing field in the workforce.
Newsies is about all that and more, with a dab of perfunctory romance thrown in for good measure. Based on the Newsboy Strike of 1899 that changed the way child labor was compensated, it sheds a follow spot on the lives of street boys who sold newspapers for a living across the boroughs of New York City.
The harsh economic reality of the time pitted a powerless group of young boys and teenagers against a famed mogul of the late 19th century: newspaper publisher Joseph Pulitzer. The story conjures up David and Goliath. Occupy Wall Street. The Rise of the One Percent.
You get the picture. It's an old wound and an ageless theme.
Indeed, Harvey Fierstein's book on this unique labor strike hits a sympathetic chord. That said, it's a formulaic principle that lands a bit short of the standard defined by a few predecessors -- pioneered as a musical comedy in the re-telling of another industrial conflict set in the 1950s Midwest: George Abbott's The Pajama Game (1955 Tony Award recipient for Best Musical), from Richard Bissell's novel 7 ½ Cents.
But when Disney comes to town, you have to believe there's more to the show than the script.
If you saw Newsies on the big screen, it probably didn't make a lasting impression. Not to worry--Newsies live is a league of its own, exceptionally entertaining and bursting with raw energy.
Interestingly enough, Pulitzer's eye-grabbing headlines spawned a trend in sensationalistic journalism. But here, it's no hyperbole to declare that Globe Live and 9 Works Theatrical have created a triple-threat extravaganza that rivals some of the best local productions seen in recent memory. It's not yellow journalism; this Newsies deserves the great buzz it's generating--New York urban accent and all.
Six weeks of intensive cross-training in ballet, jazz, and gymnastics grounded the cast before starting official rehearsals. It was a smart investment that returned large dividends, setting a precedent for how theater companies may approach workhorse musicals in the future.
In his program notes, Director Robbie Guevara mused about the way "we as a people haven't really set a standard with dance as high as we have with singing and acting." It turns out he's right, and Newsies might have just set that bar for the rest of the industry.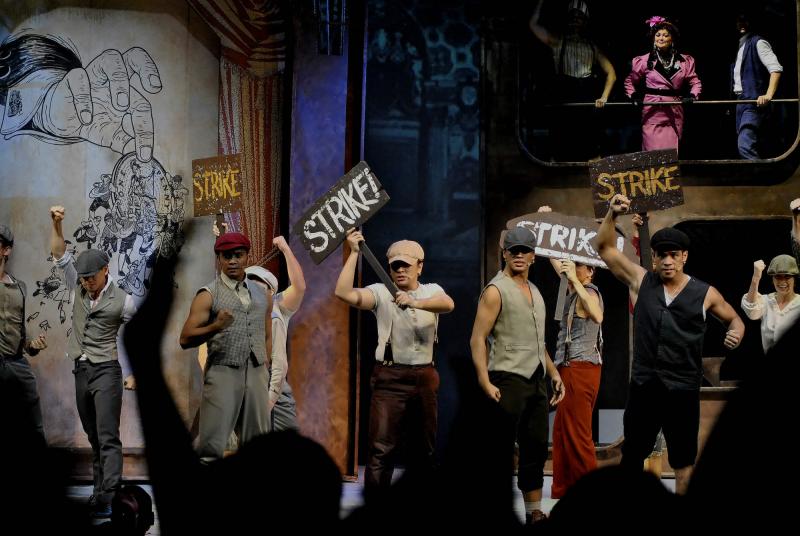 Guevara himself has extracted a rambunctious performance from a gifted and intrepid ensemble, harnessing a collective power that defied the heavy rains that threatened to steal the glory on Saturday night [July 15] at Bonifacio High Street Amphitheatre. Fortunately, nature yielded to the man-made tempest, a savage storm forged by inspired singing, dynamic choreography, and a sizzling live band.
Daniel Bartolome's 12-piece band is a musical experience to reckon with, an absolute necessity for a score arranged to support--nay, augment--the spirited movement across the vast proscenium stage. PJ Rebullida manifests an appropriately crisp choreography designed for dancers and actors with varying skill levels. It's a rare gift to acknowledge the fine art of fusing those abilities and managing a uniformed outcome. Though "riveting" is a complimentary word to describe a performance, it doesn't apply here. Several numbers are certain to keep many members of the audience off their seats.
Undoubtedly, the centerpiece of this grand undertaking is the sprightly and vigorous cast led by Gian Magdangal, whose bang-up job as the brash-talking youth leader, Jack Kelly, anchors the street boys' imposing narrative. Magdangal submits a solid vocal range, a serviceable dancing skill, and a most distinctive sense for acting beats. Because of the daunting requirements to play a strong teenage character who must do it all, we'll give him a pass for an otherwise much older physicality.
Danielle Chopin makes her Philippine debut as the love interest Katherine Plumber, a veritable ingenue who works as an aspiring reporter and falls for Kelly. While clearly accomplished as a singer with classical roots, Chopin seems just a tad uncomfortable in dance sequences. Not a fair assessment, perhaps, because who would want to move while swaddled in excessive layers of Victorian garb? Chopin's best work happens in the transition from an aloof professional to a smitten lass, all the while keeping the prescribed "feminist" comportment that endears us to the lone teenage girl in a sea of burgeoning testosterone.
Kudos yet again to Jef Flores -- Boy Wonder of Manila's theater scene -- who continues to amaze with a nuanced performance as Davey Jacobs. A timid young man forced to sell newspapers to help his struggling parents, he becomes an unlikely partner in Kelly's desire to form a union as a way to resist the unfair price increase by wealthy powers that be. Flores has been around the block as a principal actor in many a best-seller, and it's a credit to an impressive work ethic that he continues to explore ways of fine-tuning each character he lands.
Daniel Drilon, who plays younger brother Les Jacobs, is the youngest cast member with a talent that refuses to take a backseat.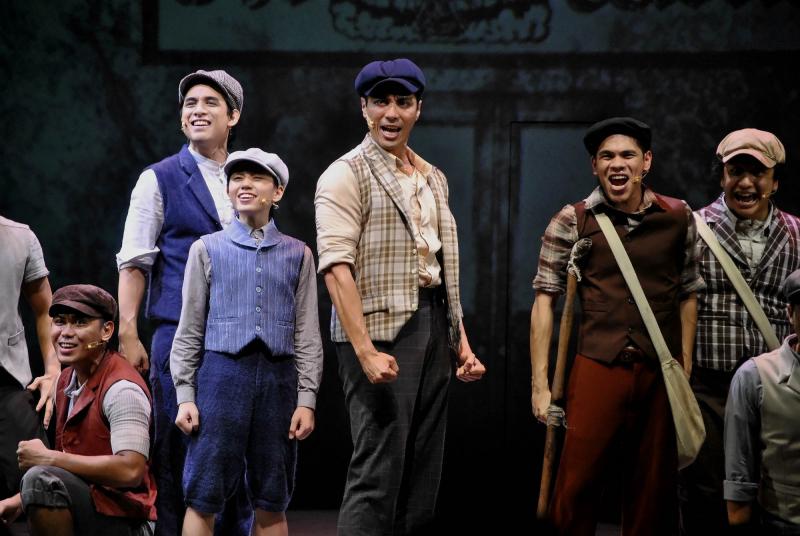 Luis Marcelo delivers some of the show's more tender moments as Crutchie, a precocious boy with a bad leg and a big heart. Early in the second act, having been locked up after participating in a street brawl, he renders an intimate rendition of "Letter from the Refuge," a song certain to tug the proverbial heartstrings.
As Joseph Pulitzer, Greg Dulcie is a towering presence with a high baritone that intimidates, though it's hard to avoid imagining his potential as a Las Vegas crooning act, a la Engelbert Humperdinck. Humor aside, his big-boss demeanor could inspire a little more terror and a few notches of desperation in his effort to save face against an angry mob of hungry boys.
Bestowing the gift of fresh air and sultry diversion is Pinky Marquez as theatre owner Medda Larkin. Larkin has an affinity for the homeless boys, with a particular fondness for Kelly whose hidden talent as a visual artist comes in handy for painting her theatre backdrops.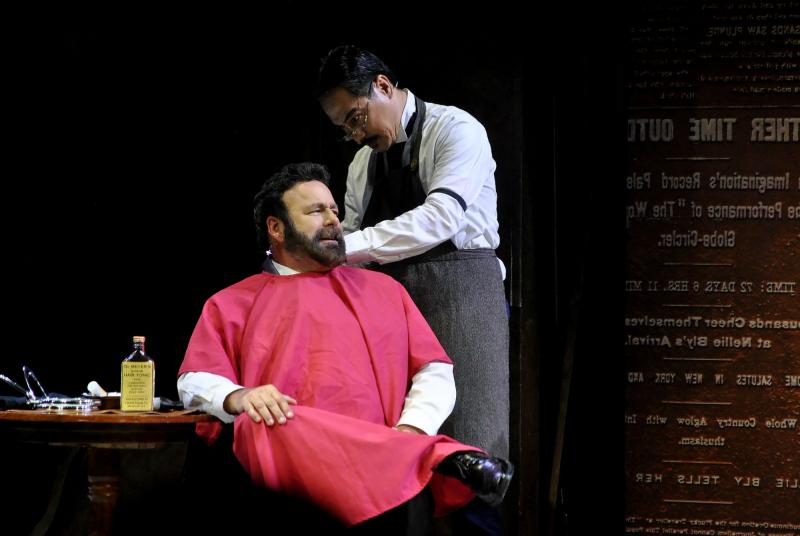 Last but not least, Raymund Concepcion is the utilitarian jack of all trades, sporting multiple characters with enviable ease--from Nunzio the Barber to policeman to Teddy Roosevelt. Quick peeve: in a musical that features such memorable melodies, it's unfortunate that we should miss out on Concepcion's gorgeous singing voice.
Given the show's unique venue, there's a reason for genuine concern in mounting a production of this magnitude. Acoustics will always present a principal challenge al fresco, as was the case on the evening it rained throughout most of the performance. And though the stage and house were covered from above, ample distraction surrounds the area where mundane reality promises a better option if the show suffers a technical snag for even a minute. Luckily, the cutting out of certain wireless microphones was minimal and corrected with no obvious difficulty.
Speaking of technical elements, it's appropriate to acknowledge Ed Lacson for a shrewd, multi-level set design that proved symbolic and functional. Three massive structures resembling a printing press would turn and shift to denote environmental change, replete with platforms and stairs to facilitate the transition between offices and living areas. Martin Esteva makes sure those acting areas are suitably lit with a design so specific to both mood and environment. Add to that Eric Pineda's historically relevant costume design, and there was enough visual enchantment of which even Disney would be proud.
Finally, let's not lose sight of the musical foundation responsible for making Newsies the Broadway hit that it is. It does tend to get redundant, but there's no better person at the helm for this genre than Alan Menken, who has garnered more Academy awards than any person on the planet. If you ever doubted his mettle and worth, Newsies proves it once and for all.
Newsies runs through Sunday, July 30, at the Globe Iconic Store: Bonifacio High Street Amphitheatre, Bonifacio Global City, Taguig.
For tickets (P2,000), visit TicketWorld.com.ph.
Photos: Oliver Oliveros
BONUS PHOTOS
Jef Flores (Davey Jacobs), Alex Diaz (Race)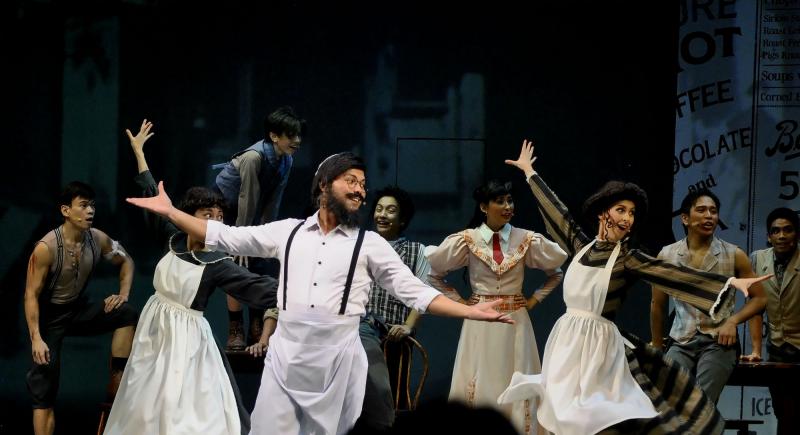 The company of Newsies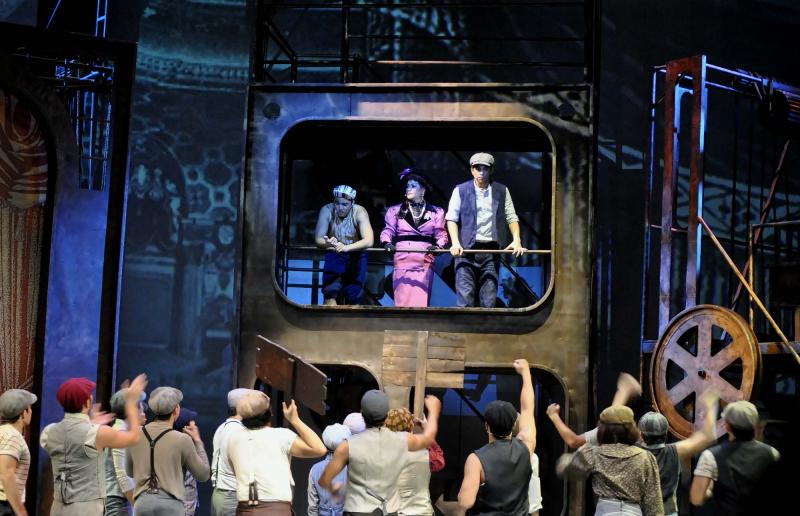 The company of Newsies
The company of Newsies