BWW Review: DUP's NANA ROSA Is Alternately Mournful And Optimistic
Manila, Philippines--Stay woke, as it were, while a new battle is waged and revisionist delusions are trending. On that note, leave it to war-crime apologists to rely on well-worn talking points to keep the beasts of old from rearing their noggin.
You might as well take their euphemisms with a grain of salt -- like "comfort woman," which attempts to soften the blow of an otherwise heinous offense. It wears the ambiguity that passes for a mediocre joke, yet it's dumb enough to assume we might conjure up some exotic paramour who bestows boundless affection.
Nothing could be farther from the truth. The appellation, after all, is derived from the Japanese word "ianfu," presumably a gentler alternative to "prostitute."
There's no way around this epithet unless you're someone who prefers to gloss over the sinister reality of Asian women and girls abducted from their homes, subsequently used as "sex slaves" at the hands of Japanese soldiers during World War ll.
Despite the horrific allegations, this fragment of history is slow to gain social currency. In some measure, it's attributed to the sensitive politics surrounding renewed Philippine-Japanese relations (it helps to have the complicit media on your side).
To be fair, there's another compelling reason for this delayed historical awakening: five decades of secrecy from the surviving women who were reticent to expose their lives of indignity.
With trauma and shame that deep, who could blame them?
In August 1991, Korean human rights activist Kim Hak-sun came out with a damning revelation about her brutal life as a military sex slave. The news inspired a group of Filipino activists, comprised mostly of women, to create a task force to uncover a similar bombshell in the Philippines.
Persistent radio broadcasts from the task force convinced Maria Rosa Luna Henson to emerge from her quiet provincial life, risking public scrutiny by disclosing in graphic detail her own experience of the abduction, followed by nine months of relentless rape by soldiers of the Japanese Imperial Army. Before long, Lola Rosa's story would inspire other grandmothers, former "comfort women," to join her call to action.
"Nana Rosa" is Dulaang UP's season finale, written by esteemed playwright and thespian Rody Vera. Mr. Vera is also an accomplished screenwriter, so it comes as no surprise that while it's fiercely theatrical, the production assumes a cinematic point of view to recount the lives of Rosa Henson and several girls during the Japanese occupation of the Philippines.
The upshot is a shockingly intimate confrontation with a gruesome past. Although it's certainly necessary viewing, "Nana Rosa" is excruciatingly difficult to watch, what with all the carnage you'd perhaps rather only read about. The timing is uncanny, with so many citizens in the modern world (not excluding ours) up against the explicit and routine violations of their own rights--thanks but no thanks to a draconian authority that gladly rids of innocent lives to serve a delirious political agenda.
The play's gut-wrenching narrative is realized by an earnest acting ensemble, driven not merely to report what we already know, which is the harrowing torture of the girls and the immediate skepticism of its reporting; ultimately, it's a collective effort to elicit our empathy to facilitate a national healing of memories.
Director José Estrella stages a deliberately fluid exposition: Nana Rosa's solitary moments with her diary are juxtaposed intermittently with the ghosts of her teenage self and her single mother, and the brief passing encounters with her estranged father (she was an illegitimate child of Don Pepe Henson, a wealthy landowner).
As we might expect, pacing then builds to an ominous crescendo: a growing ensemble disrupts Rosa's lyrical storytelling, punctuated by the riveting staccato of marching soldiers. The abrupt separation of wall units creates a disorienting but familiar past, as if to suggest the inevitable destruction of a woman's dignity and the extinction of a nation's soul.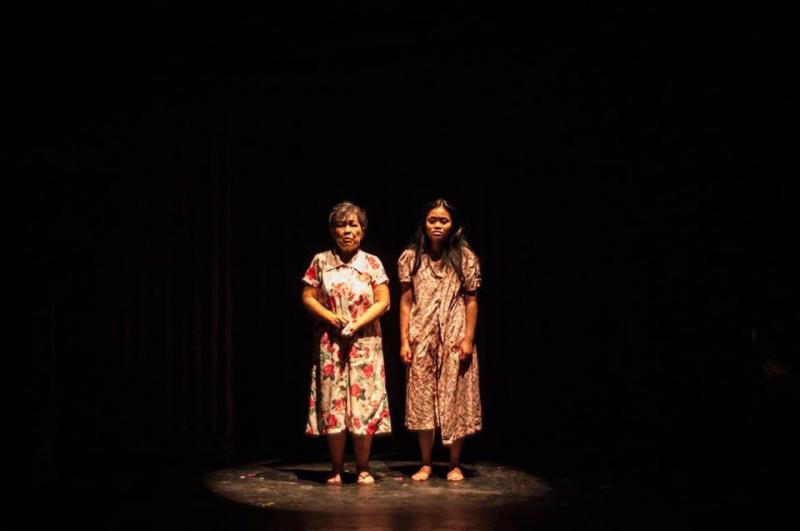 Stagecraft Unity
It's appropriate to mention Charles Yee's scenic conceit here. A monochromatic palette features a set of nondescript and versatile wooden slats on invisible wheels, rendered to adhere to multiple interior and exterior functions. Imagine them as a garrison fortress, a radio station booth, or windows of a discreet hospital room: there is no problem transporting us anywhere that Nana Rosa decides to situate her traumatic sequences.
Jon Lazam and Marie Angelica Dayao's sound design employs a foreboding atmosphere while keeping levels to a minimum. Barbie Tan-Tiongco's lighting changes are subdued and smart (the red leko that lights up the incoming ghosts from upstage right are stunning, which creates a walking silhouette denoting an otherworldly presence).
Overhead, a stream of stark images depicting the memories of her childhood setting adds invaluable texture to Nana Rosa's narration. Occasionally, Joyce Garcia's projection of cursive handwriting sprawls across the proscenium like a magnified entry from Lola's diary.
All these elements combine to create the immersive reality of the playwright's vision. Most impressive are the recurring moments where a swarm of Japanese men (portrayed by a Filipino cast speaking in Niponggo) overwhelms the open stage with the savagery and hubris of a mad tyrant. Brutal scenes flaunt the mass seizure of the most prized and vulnerable of treasures -- our sisters and daughters.
Acting-Directing Connections
Most of us will never know what holds any human being together to survive such an affront to her body and soul. Evidently Rosa Henson wondered about it herself, recalling suicidal ideations in the depths of her despair before she managed to reimagine a "normal" existence for herself, getting a chance to marry and bear three children of her own after the war was over.
Last Friday evening's Nana Rosa was brought to life by Peewee O'Hara, who imbues our heroine with maternal affection and a delicate physicality that bears the burden of untold suffering. She is routinely haunted by her adolescent self, played by Krystle Dianne Valentino with aching vulnerability, yet with a ferocity that justifies young Rosa's eventual escape and survival.
Though it's clear that much of the directorial focus has been brought to the orchestration of a large ensemble, performances are still uneven--at least in terms of individual arc and emotional investment. This is par for the course in the magnificent collaborative process of staging an ambitious original project. Kinks have to be worked out and good companies usually address those issues after the first weekend.
While we're at it, let me single out a specific observation. The "task force," in particular, could use a boost to raise the level of passion and rage that fuels the sort of activism that results in meaningful response. We appreciate the pedantic direction, but the delivery feels static and it underwhelms at the moment. Because stakes should feel much higher, it wouldn't hurt to risk a near-fanatical intensity from this side of the debate to counter the formidable memories of Japanese imperialism. The task force is our glue. It is our conduit between ignorance and edification. And it's incumbent upon all its members to infuse the impulsive zeal that shatters political comfort zones.
Several standout appearances are worth mentioning: Sheryl Ceasico as Rosario, Nana Rosa's supportive daughter; Lei Ann Quinquilleria as the ghost of Rosa's mother; Jonathan Ivan Rivera as Tanaka, and Victor Sy, who doubles with aplomb as Don Pepe and the Japanese Koronel.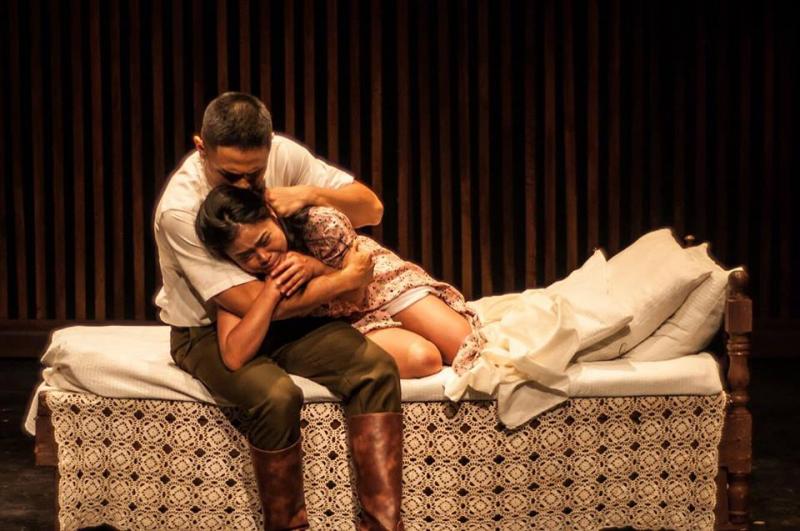 Societal Impact
Central to Nana Rosa's decision to divulge her 50-year old secret is a desire to empower other survivors to abandon the shadows of humiliation for which they should never have felt responsible. Under the guidance of their committed task force, the grandmothers can pressure the Japanese government to advance the necessary reparations, or at the very least perform an authentic act of a formal public apology.
In April 2018, a statue of a comfort woman by sculptor Jonas Roces was removed from its site on Roxas Boulevard by the Department of Public Works and Highways. It's a move backed by President Duterte, who refused to "antagonize" our Japanese friends, claiming in a speech that Japan has already made numerous apologies and that reparations are complete. But UN rights experts beg to differ, saying Japan hasn't atoned enough for its wartime atrocities and has yet to provide the unequivocal acknowledgment of responsibility. (The Asian Women's Fund was established to collect "atonement payments" from private Japanese citizens, not from the government.) Adding insult to injury, Japanese Prime Minister Shinzo Abe denies that Japanese soldiers were ever engaged in any coercive sexual activity during the war. (I have yet to find the euphemism to describe the state between amnesia and denial.)
Meanwhile, only a few grandmothers remain, and they don't have much time left. When they are gone, the country will grapple with a lingering challenge: How will we keep their memories alive? And who will continue their fight?
At Dulaang UP, we can hear our grandmothers' ardent plea in a heartfelt production that's alternately mournful and optimistic.
Nana Rosa died in 1997, but Rody Vera keeps her story alive. The play runs for two more weekends, and it would do us all a lot of good to take advantage of the opportunity to absorb her powerful life.
"Nana Rosa" plays at the Wilfrido Ma. Guerrero Theater, 2nd floor, Palma Hall, UP Diliman, Quezon City, now through March 17, 2019.
Get tickets from Nico Varona, 63917 519 8879.
Photos: Dulaang UP