BWW Review: A DOLL'S HOUSE, PART 2, A Fine Tribute To A Great Literary Classic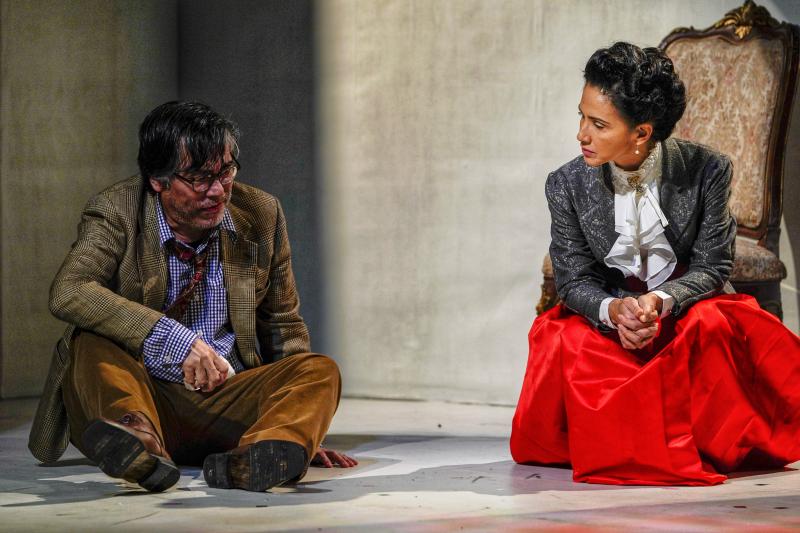 Manila, Philippines--George Bernard Shaw is believed to have given his stamp of approval on one of the theater's most famous acts of defiance. He called it "the door slam heard around the world."
Over a century later, the woman who slammed the door returns to public consciousness, thanks to playwright Lucas Hnath and trendsetting companies like Red Turnip Theater. That she is back to conduct some unfinished business is a dandy piece of news, the sort of irony that might cause an old man's grave to roll over.
I speak of the main culprit, of course: Norwegian dramatist Henrik Ibsen, who weaponized the theater to upend the conventional morality of the early 20th century. Widely known as the "father of realism," Ibsen was one of the most influential playwrights of the European tradition, a maverick hellraiser who hardly flinched from the scandals wrought by his own plays.
It's unlikely that Ibsen would have thought a whole lot of the repercussions "A Doll's House" would trigger on behalf of women. Nevertheless, his play had a watershed impact on the way we would think about marriage and social ethics. After all, it dared to expose the most unthinkable transgression a woman could make against her society of that era: Nora Helmer, his protagonist, walks out on her husband and her children--with nary a clue about the future.
If you went to the theatre to affirm your cherished values, Ibsen was your nemesis in waiting.
It requires no effort to presume a woman scorned for ditching a world devised by men. What remains an impasse is the necessary regard for the harrowing decisions a woman makes in the face of untenable social norms. While considerable progress in the women's movement is noteworthy, we're reminded daily of the inexorable demand for authentic reform and continued dialogue around gender equality.
Whatever happened to Nora after she left her family? She was a nascent voice of the feminist movement, but formulaic speculations lingered well into the 21st century. She could have moved out of town and worked in a factory. She could have remarried. She could have been destitute, gotten sick and died. Her departure, which was a shock of upsetting magnitude, deserved a cogent resolution. And with such ideas abounding there's no lack for grist in a capable playwright's mill.
Enter Lucas Hnath's "A Doll's House, Part 2" (2017 Tony Award nominee for Best Play), with a potent rendition of Nora's imagined future, suffused with narrative elements certain to disrupt common theories about character development. "A Doll's House, Part 2," is Hnath's vernacular sequel that picks up the pieces of Ibsen's cryptic and beautiful mess--Nora knocking on the same door she closed behind her 15 years ago.
It takes a temerity of Ibsen's distinction to drive Hnath's judgment to return to Nora's place of trauma. Granted, reentry in a place of carnage isn't notably subversive--heck, it's the stuff of garden-variety teleserye, even. It's suitable here because it's ironic and easily the least expected closure amongst Nora-inspired conspiracy theories.
Once she enters the door, our heroine isn't merely the embodiment of an accountable woman, but in her effort to track her footsteps, she unveils a new conflict certain to rupture an old scab. She's the same strong-willed woman and we expect her to plunge into her fears head-on, which she does. By so doing, she discovers how strong she really is. Even better, she finds out how much stronger everyone around her becomes.
Nora is now a successful feminist author--how's that for a logical evolution? She is doing well financially and her writing has empowered countless women who've read her books. Though she's known by her pseudonym, she must clear her name nonetheless because it turns out Torvald, the husband she left behind, never filed for the divorce to which she thought he'd agreed. Realizing she's still married after 15 years of thinking otherwise--and enjoying the life of a single woman with a serial history of romantic affairs--she suddenly fears that her celebrated life is a sham, a predicament that could land her in prison. The stakes are much too high, so in spite of herself, she must face Torvald and insist on finalizing the divorce. (A man may file for divorce at will, but a woman must first show proof of a man's mistreatment before she is granted one. Nora has no other choice.)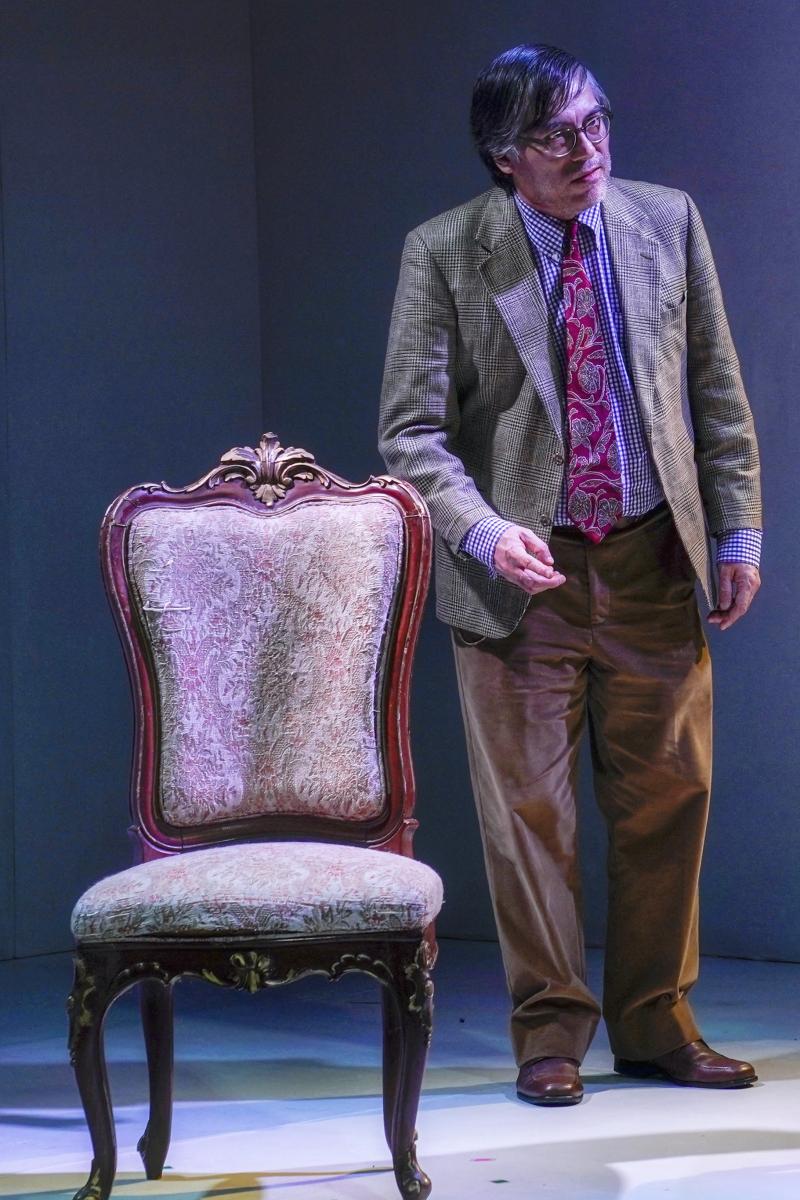 Not so fast, though: Torvald has a big axe to grind and he's not so quick to acquiesce. Besides, he has led everyone to believe that Nora had died and that he'd been a widow all these years, a lie that could cost him his reputation and his job at the bank.
Thus begins a litany of you said-I said- and how-dare-you declarations. Here we find the allure of the young playwright's precocious talent: his taut, rich dialogue, underpinned in deep compassion for each character's point of view. Every member of the family is both right and wrong and no one has the corner on the absolute truth.
Menchu Lauchengco-Yulo's Nora radiates exceptional confidence and resolve, yet she's clearly vulnerable to the heartaches of those she had left behind. She assumes Nora's newfound independence and prosperity and is most credible in her remorseless disposition about the caged life she once lived. Paired with her ability to hurt deeply, Lauchengco-Yulo gives Nora the dignity she deserves in a world that prefers to remember her as a pariah.
As Torvald, Carlitos Siguion-Reyna plays a gentle, wounded man resigned to a hollow and regimented existence. It's a lonely place to be, pretending to be alive when nothing short of a sudden coronary could offer a reprieve. Though first, he appears silent and restrained, Torvald discovers his grit and unleashes a barrage of bottled sentiments after Nora surprisingly rejects the divorce papers he'd reluctantly filed in favor of preserving his honor. Siguion-Reyna endears us with his heartbreaking honesty and a rather mordant sense of humor.
Nora's unyielding access to Torvald is facilitated by an amicable and unwitting conduit--housekeeper and confidante Anne Marie, whose prior correspondence with the former matriarch stages her anticipated return. Sheila Francisco is one seasoned dame, ever so calculated in every unit of action. It's a treat to sit in a venue so intimate just to observe her mental activity in closeup as she waffles in allegiance between Torvald and Nora, whom she had served unconditionally for many years. She, too, exhibits her well-conserved frustration halfway through her scene, a rage that belies her obsequious nature, dishing a few anachronistic f-bombs of her own. Francisco does a sensitive job protecting Anne Marie's own shadows but makes a committed effort to stand by her wits as they go awry.
Absent from the iconic prequel is Nora's young daughter, who now makes her appearance as an adult woman with a confidence and smarts not unlike her mother's. We discover the fitting embodiment of those qualities in Rachel Coates, an actress whose distinctively mature choices betray her youth. We believe her when she insists that she grew up just fine in her mother's absence. We are impressed by her intellectual vigor, and we identify with her desire to marry the man of her dreams (so she thinks), a notion that triggers Nora's apprehension as a cultivated feminist in a culture sorely unprepared for a woman's role of equal partner. Nora will do what it takes to convince Emmy of the perils of a woman's status as a man's property. But youth has to withstand its own folly, and Emmy will have to learn from the consequences of her own choices.
As they say, Nora, in the end, has a bigger fish to fry. She has a world to change and has never faltered in her willingness to sunder family ties to make a better world. Love her or hate her, but most heroes are, in fact, too complex for common logic. They choose a higher road and it's usually narrow and steep.
It's not hard to imagine a first-time director achieving the outcome that Cris Villonco is seeing in her debut production. Not with her impressive credentials as an actor and certainly not with the fine caliber of actors she has assembled. Attuned to the serious requirements of scene work, Villonco exhibits a knack for pacing and dynamic and for various levels of juicy subtext. I'm risking a tired cliché here, but she's a natural.
Without exploiting the obvious, directing is made infinitely easier with a technical unit that's dependable and battle tested. Theater critics would be remiss not to notice the ubiquitous touch of John Batalla's lighting design (is there a production in town he's not working on?), and Joey Mendoza's understated but compelling scenic idea: a sparsely furnished living room with two period cushioned chairs under an elegant chandelier (we're not sure if that one's a fixed theatre item). The empty walls painted in French gray (with minimal projections by GA Fallarme) evoke a stark sense of abandonment. Mendoza's scenic design suggests a life devoid of maternal care, which is an eerie sight as Nora recalls the meaningful items that once conveyed her presence.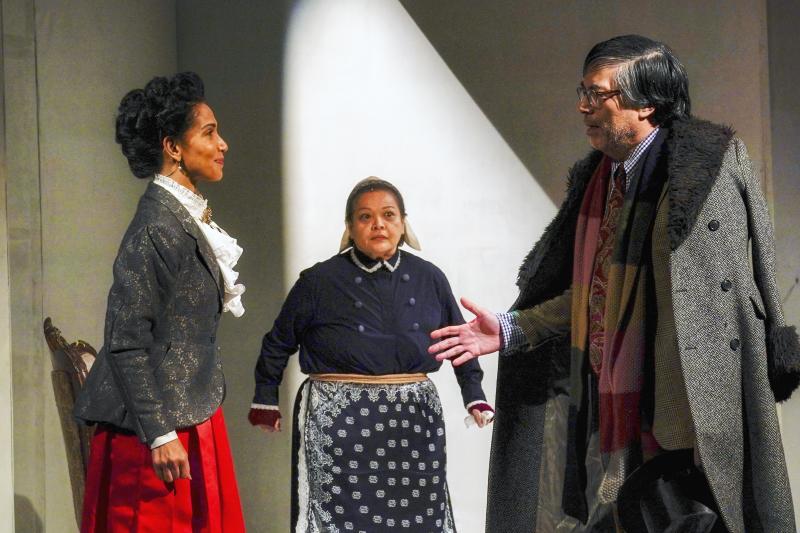 Perhaps most gratifying to a habitual theatergoer is the knowledge that there exists a company like Red Turnip Theater, whose vision of "championing the straight play" is near and dear to this reviewer's heart. With Manila's theater scene in full blossom, there's sufficient material for audiences of all ilk. But nothing brings home the goods like an urgent and transformative confrontation between people fighting to survive and advance.
"A Doll's House, Part 2" is one forceful shoutout to badass women and a fine tribute to a great literary classic. Come to think of it, if he were around, Ibsen might even enjoy seeing what's really become of Nora.
It's a small venue, so make sure to get your tickets before it's all over.
Red Turnip Theater's "A Doll's House, Part 2" plays at the Zobel de Ayala Recital Hall, BGC Arts Center (26th Street corner 9th Avenue, Bonifacio Global City, Taguig City) now through October 7, 2018.
Buy tickets (P1,200-1,500) from TicketWorld.com.ph.
Photos: Red Turnip Theater