Photos: OLIVER! Comes To Philadelphia For The Holidays At Quintessence!
Quintessence Theatre Group is proud to present Lionel Bart's beloved musical Oliver! Adapted from Charles Dickens' Oliver Twist, this tale about finding hope and a chosen family in the bleakest of situations will provide an adventurous escape and moving holiday parable for many Philadelphians starting November 14, 2018. OPENING NIGHT is Saturday, November 17 at 7:30pm, and performances run through December 23, 2018.
After a hard day's labor in a parish workhouse for children, a nine-year-old orphan named Oliver asks for a second serving of gruel. The workhouse master, annoyed by Oliver's impertinence, sells him into an apprenticeship with a drunken undertaker and his abusive wife. Fearing for his life, the boy escapes to London, where he falls in with the Artful Dodger and a band of juvenile pickpockets led by the criminal Fagin. Oliver discovers heroes and villains in all manner of strange places as he learns how to survive and thrive on the streets of the city.
Quintessence will transform the Sedgwick Theater and present an immersive Oliver! while exploring Dickens' classic in a post-Brexit dystopia. Come take your seat in the workhouse, the thieves' kitchen, and the Three Cripples Tavern and join in the fun for a musical theatre adventure you'll never forget.
Helen Hayes Award winning actor and Shakespeare Theatre Company ensemble member Wallace Acton makes his Quintessence debut as Fagin. Quintessence favorites Marcia Saunders, Bradley Mott, and Steven Wright return to take on Dickens' timeless characters. Eleni Delopoulos, Brock Vickers, and Hanna Gaffney all make their Quintessence debuts. The ensemble also includes Kristin Devine, Daniel Miller, Tasha Waters. The role of Oliver will be played by Lyam David-Kilker (Waiting For Godot) and Ben Snyder on alternate performances. The children's ensemble includes: Mia Bompensa, Cole Byrne, Susannah Hughes, Ethan Jih, Blaze Mann, Camiel Warren Taylor, David Tibbs, Cella Reser and Caleb Ward.

Quintessence Artistic Director Alexander Burns directs the company's second musical. Philadelphia actor, designer and stylist extraordinaire Doug Greene (Wild Tales, My Fair Lady) returns to Quintessence to create a post Brexit dystopia. Christina Lorraine Bullard (Love's Labor's Lost, Uncle Vanya, My Fair Lady) creates the costumes for London's denizens and aristocracy. JoJo Glodek (Richard II, As You Like It, Aesop's Fables) returns to create the lights of the workhouses, backstreets and underworld. Kaki Burns (Merchant of Venice, Alice's Adventures in Wonderland, My Fair Lady) brings her special flavor and flow to the choreography on the streets of London. Tom Fosnocht is the music director.

All performances are at the Sedgwick Theater, 7137 Germantown Ave., Mt. Airy, Philadelphia, 19119. To purchase tickets, visit www.QTGrep.org or call 215.987.4450.


Wallace Acton (as Fagin), Hanna Gaffney (as Nancy), Brock Vickers (as Bill Sikes), and Jacob Entenman (as the Artful Dodger). Photo by Shawn May.

Lyam David Kilker (as Oliver) and Jacob Entenman (as the Artful Dodger). Photo by Shawn May.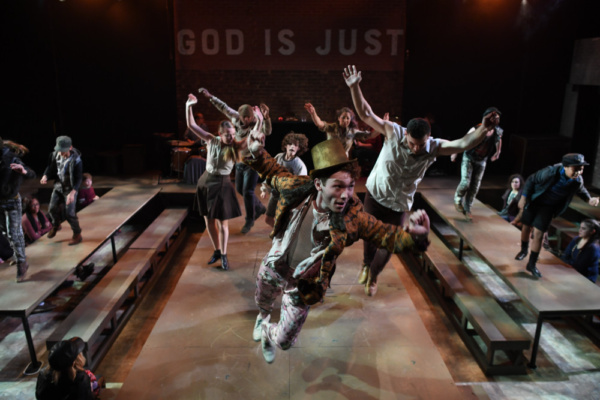 Jacob Entenman (as the Artful Dodger). Photo by Shawn May.

Lyam David Kilker (as Oliver). Photo by Shawn May.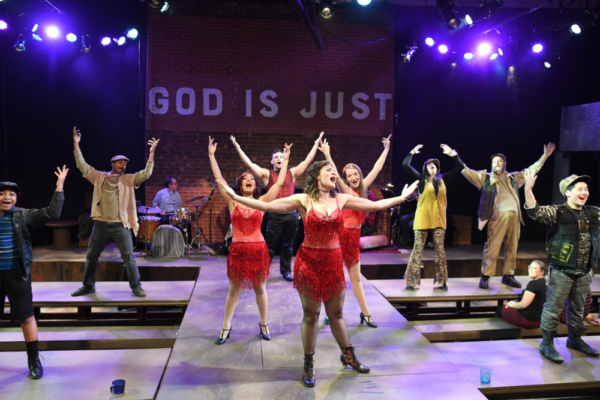 Hanna Gaffney (as Nancy). Photo by Shawn May.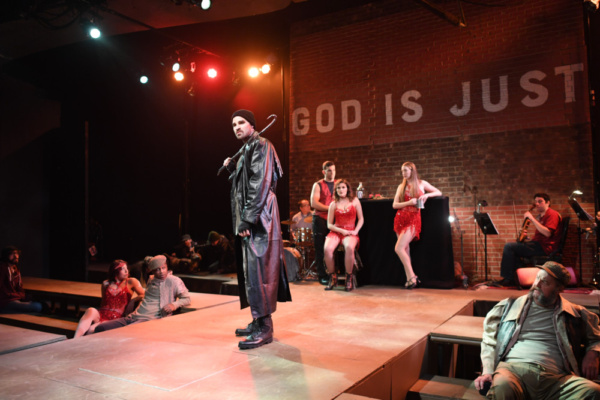 Brock Vickers (as Bill Sikes). Photo by Shawn May.