Latest News on Joe Abraham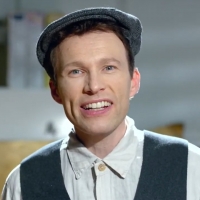 VIDEO: Watch Jeffrey A Johns & More Perform 'That's Broadway' in a Clip From STILL WAITING IN THE WINGS
by Stage Tube - May 15, 2020
The new film Still Waiting in the Wings a?" an all-star heartwarming musical homage to Broadway a?" is available worldwide on DVD and all digital platforms, including Amazon, iTunes, and Google Play, today, May 15, 2020. The movie is directed by Q. Allan Brocka and written by Jeffrey A. Johns and Arie Gonzalez.
STAGE TUBE: SHREK Tour Premieres New Song 'Forever' on Facebook
by BroadwayWorld TV - Oct 13, 2010
An entirely new work, SHREK THE MUSICAL is based on the story and characters from William Steig's book Shrek!, as well as the DreamWorks Animation film Shrek, the first chapter of the Shrek movie series. SHREK THE MUSICAL tells the story of a swamp-dwelling ogre who goes on a life-changing adventure to reclaim the deed to his land. Joined by a wise-cracking donkey, this unlikely hero fights a fearsome dragon, rescues a feisty princess and learns that real friendship and true love aren't only found in fairy tales. The national tour of the production recently kicked off and is now underway. Click below for a first listen of the brand new song - created entirely for the touring production - the has just been released on the show's facebook page!