Latest News on Teresa Zimmerman
Teresa Zimmerman News
BWW Review: The Alley Theatre Presents a Challenging Portrait of the U.S. in AMERIKIN
by Christian Gill - Feb 18, 2022
There's a question at the heart of Chisa Hutchison Amerikin. Should we sympathize with hateful people? The piece in many ways acts as an exercise in empathy. We have characters willing to do reprehensible things yet suffer great turmoil. Do they deserve sympathy? If they do, whose job is it to give it to them?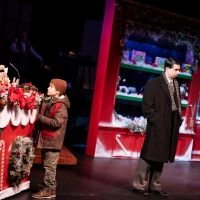 BWW Review: THE CHRISTMAS SHOES at A.D. Players At The George
by Alric Davis - Nov 29, 2021
The A.D. Players shows many walks of life with their poignant production of The Christmas Shoes!
BWW Review: Theatre Under the Stars' ROCK OF AGES Blows the Roof Off of The Hobby Center
by Armando Urdiales - Oct 11, 2021
Theatre Under The Stars bursts with Rock n Roll energy as they reopen at the Hobby Center after a 19-month intermission with Rock of Ages. On October 7th, Chris D'Arienzo's rock party opened to great applause as a nostalgic night out greeted Houstonians becoming a much-needed break from the turbulent world. As one walks into the Hobby Center, one can feel a sense of normalcy of a pre-pandemic life as patrons can feel the buzzing of excitement they are about to witness.
PARASITE, JOJO RABBIT, and More Take Home Writers Guild of America Awards; Full List!
by Stephi Wild - Feb 2, 2020
The Writers Guild of America Awards were handed out yesterday! Big winners for the night included Parasite and Jojo Rabbit in the film categories, and Succession and Barry for television.
Photo Flash: First Look at JEROME ROBBINS' BROADWAY at TUTS
by Julie Musbach - May 28, 2019
Get a first look at TUTS' Jerome Robbins' Broadway - the final show in the company's 2018/19 Season.

BWW Feature: Queensbury Theatre's Season Finale SIDE SHOW Showcases Houston Talent
by Audrey Morabito - Apr 9, 2019
As the season finale of Queensbury's inaugural season of both classic musicals and world premieres, SIDE SHOW vibrantly illustrates why you should keep your eye on Queensbury Theatre. Queensbury aims to engage the community, cultivate the future, and redefine the expectations of Houston theatre. SIDE SHOW accomplishes all three of these intents with a remarkable local cast, top-notch Houston designers, and a captivating true story that is sure to entertain.

Photo Flash: Queensbury Theatre Presents VIOLET
by A.A. Cristi - Sep 6, 2018

BWW Review: Stages' GREAT AMERICAN TRAILER PARK MUSICAL Is the Most Fun You've Had in a Long Time
by Pnina Topham - May 7, 2018
THE GREAT AMERICAN TRAILER PARK MUSICAL has officially joined the ranks as one of my all-time favorite musicals. Set on 'this side of the tracks,' the show will steal your heart and make your face hurt with laughter.
Holiday Classic A CHRISTMAS CAROL to Reopen the Alley's Hubbard Theatre After Hurricane Harvey
by BWW News Desk - Nov 24, 2017
The Alley Theatre's holiday production of A Christmas Carol - A Ghost Story of Christmas celebrates the return to the Alley stage and reopens the Hubbard Theatre following Hurricane Harvey.
Iconotheatrix's New SLAY Cabaret Series Will Put a Spell on You
by BWW News Desk - Oct 31, 2017
Iconotheatrix has announced their new cabaret series: SLAY.