Rob Jost News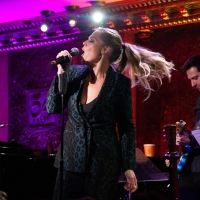 Review: Elizabeth Stanley Owns NEW YORK POPS UNDERGROUND Benefit at 54 Below
by Stephen Mosher - Sep 21, 2022
When Betsy Wolfe had to, unexpectedly, step out of the NEW YORK POPS UNDERGROUND gala benefit for the New York Pops PopsEd program, fellow Broadway alum Elizabeth Stanley stepped in and made a great night happen for everyone involved, from the organization planners to the patrons holding tickets.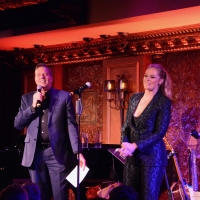 Photos: Elizabeth Stanley Headlines THE NEW YORK POPS UNDERGROUND CABARET
by Genevieve Rafter Keddy - Sep 20, 2022
Elizabeth Stanley headlined The New York Pops Underground cabaret on Monday, September 19, 2022 at 54 Below. New York Pops Music Director and Conductor Steven Reineke hosted the program. Check out photos here!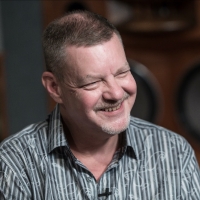 Newvelle Records Releases KIMBROUGH - 61 Original Compositions by Frank Kimbrough
by Chloe Rabinowitz - Jul 16, 2021
Featuring tributes from 67 of Frank's former bandmates, students, and friends across multiple generations, KIMBROUGH was recorded over three and a half days in New York as the musical world began reawakening in May 2021.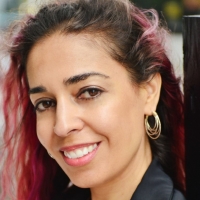 ARENA RIFFS Concludes Next Week With Musical Premiere Of A MORE PERFECT UNION
by A.A. Cristi - Apr 7, 2021
Arena Riffs is a three-part commissioned music series that features three different composer and lyricist teams with musical selections infused with sounds of folk, indie and hip-hop.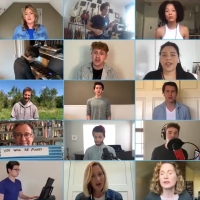 VIDEO: DEAR EVAN HANSEN Broadway, North American Tour and West End Company Members Perform 'You Will Be Found'
by Chloe Rabinowitz - Dec 23, 2020
Company members from the Broadway, North American Tour, and West End productions of Dear Evan Hansen have come together to perform a rendition of 'You Will Be Found'. The video features Jordan Fisher, Gabrielle Carrubba, Jessica Phillips, Christiane Noll, David Jeffery, Ivan Hernandez, Jared Goldsmith, Phoebe Koyabe, Zachary Noah Piser & more.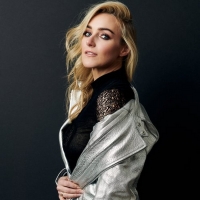 BWW Review: BETSY WOLFE: Laid Back and Ready for Stardom at Feinstein's / 54 Below
by Brady Schwind - Oct 5, 2019
With her latest appearance at Feinstein's / 54 Below Betsy Wolfe is poised for Broadway stardom.

Photo Coverage: Mandy Gonzalez Makes NJPAC Cabaret Debut in AMERICAN SONG Series
by Genevieve Rafter Keddy - Mar 31, 2019
On Saturday Night, March 30, 2019, Mandy Gonzalez KNOCKED IT OUT OF THE BALLPARK - twice, with 2 performances at NJPAC'S Chase Room. The room was SRO - full of fans, family and friends for the debut of her new show, titled MANDY GONZALEZ: MORE THAN FEARLESS … and it was something to behold.

Mandy Gonzalez Debuts Her New Show, MORE THAN FEARLESS This Weekend at NJPAC
by Robert Diamond - Mar 27, 2019
Mandy Gonzalez fans and her FEARLESS Squad can get very excited about the debut of Mandy's new show, MORE THAN FEARLESS, playing 2 shows, this Saturday, March 30th, at NJPAC, in the Chase Room.

Chiara Izzi and Kevin Hays Will Hold Album Release Show 'Across The Sea' At Birdland
by Stephi Wild - Feb 9, 2019
Italian label Jando Music, in collaboration with Via Veneto Jazz, have announced the February 22nd release of Across the Sea, the new collaborative album from award winning singer-songwriter Chiara Izzi and internationally acclaimed pianist and vocalist Kevin Hays. Across the Sea is brought to fruition by bassist and French hornist Rob Jost and drummer Greg Joseph, in the company of very special guests, Chris Potter on saxophone, Gregoire Maret on harmonica, Omer Avital on oud, Nir Felder on guitar and Rogerio Boccato on percussion. A work of ingenuity, imagination and passion, Across the Sea is a visionary journey between jazz and pop, America and Italy, dream and lyricism. The multi-lingual, pan-stylistic 10-tune recital comprises well-wrought original pieces and lyrics by each protagonist and highly personalized interpretations of songs from composers and songwriters who both artists love and admire. Izzi and Hays will celebrate this release at Birdland Jazz Club on February 28th at 5:30pm.

Mykal Kilgore, Kenita Miller, Jonathan Raviv, and More to Join Rona Siddiqui at the Kennedy Center
by Julie Musbach - Nov 2, 2018
New York based composer and lyricist, Rona Siddiqui will be joined by Mykal Kilgore (Motown), Kenita Miller (Once on this Island), Samia Mounts (We Live in Cairo workshop), Jonathan Raviv (The Band's Visit), Sherz Aletaha (Disaster!), and Waseem Alzer (We Live in Cairo workshop) at The Kennedy Center in a concert, Rona Siddiqui: Halfghan on a Mission, featuring her original music on November 15 at 6 PM.