Latest News on Leah Miller
Leah Miller News
THE STINKY CHEESEMAN AND OTHER FAIRLY STUPID TALES Opens Next Week At DreamWrights
by Chloe Rabinowitz - Mar 14, 2023
DreamWrights Center for Community Arts, located in York City, Pennsylvania will present the family friendly, all ages appropriate, wickedly entertaining stage adaption of the popular children's book 'The Stinky Cheeseman and Other Fairly Stupid Tales'.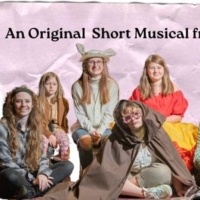 New Musical LOST BOYS to be Presented at DreamWrights Center For Community Arts in December
by Chloe Rabinowitz - Nov 29, 2022
With five touching new songs and a script entirely in rhyme, this versatile Theatre for Young Audiences piece, Lost Boys, is appropriate for all ages and will perform December 10 & 17 @ 3 p.m. in rep with Peter & The Starcatcher at DreamWrights Center for Community Arts.
MTH Theater presents The Who's TOMMY
by A.A. Cristi - May 24, 2017
The MTH Theater at Crown Center is pleased to announce the cast of THE WHO'S TOMMY, its second MainStage musical of the season. Artistic Director Sarah Crawford will direct an eighteen person ensemble led by Chicago based Tom Vendafreddo in the title role. The remainder of the ensemble includes Leah Miller, Josiah Mullins, Shelby Floyd, Daniel Vershelden, Ryan Hurza, Eric Morris, Maddox Bane, Delilah Pellow, Beth Borders, Blane Brungardt, Bob Linebarger, Randa Meierhenry, Christian Thomas Owen, Abby Peek, Kenny Personett, Tony Pulford, and Luke Walker. Jeremy Watson will lead the band and choreography will be provided by Kenny Personett.
BWW Reviews: Musical Theater Heritage's OLIVER! Steals the Hearts of Kansas City
by Steve Wilson - Dec 7, 2014
It amazes me how a musical performed with little or no scenery, props, or costumes, and on a small intimate stage can become one of the preeminent shows of the season. That is exactly what Oliver! accomplished on opening night Saturday December 6 at the Off Center Theatre in Kansas City. This achievement speaks volumes to the creative team of Musical Theater Heritage that labored to near perfection.
Queen City Flash to Present THE COMPLETE TOM: 1. ADVENTURES, 8/20-28
by Tyler Peterson - Aug 7, 2014
Queen City Flash, a new Flash Mob-style theater company, debuts with THE COMPLETE TOM: 1. ADVENTURES, based on the works of Mark Twain and adapted by Trey Tatum, Aug. 20 through 28, 2014. Directed by Cincinnati Art Ambassador Fellow Bridget Leak, this production is funded by the City of Cincinnati.
Photo Flash: Opening Night of glory|struck's BARE
by Christina Mancuso - Sep 11, 2013
Glory|struck productions presents BARE. This electrifying rock musical stars Payson Lewis (NBC's 'The Sing Off', 'Victorious'), Jonah Platt ('The Office'),Lindsay Pearce ('Glee', 'The Glee Project'), Katie Stevens (FOX's 'American Idol'), Nathan Parrett (NBC's 'The Voice'), Caitlin Ary, Kelsey Hainlen, Casey Hayden, Christopher Higgins, Reesa Ishiyama, Harrison Meloeny andKatherine Washington. Check out the opening night photos below!
Photo Flash: 'Angels, The Musical' Develops in New Orleans
by BWW - Dec 14, 2007
New Orleans, with no active pre-Broadway tryout venue since the devastation caused by Hurricane Katrina, has been given new hope in becoming a major theatre development center as early as next year, when the Australian-born Angels, The Musical, which created a stir with its New York debut in the New York Music Festival (NYMF), intends to develop, rehearse and tryout the musical in 2008 in both Shreveport and New Orleans prior to a New York opening.