Latest News on Khanh Doan
Khanh Doan News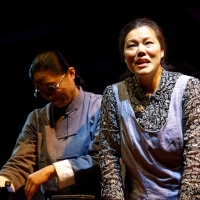 Review: THE BONESETTER'S DAUGHTER at Book-It Repertory Theatre
by Kelly Rogers Flynt - Jun 25, 2022
Memories, secrets, and what is believed to be true are held in a delicate balance in the hands of The Bonesetter's Daughter at Book-It Repertory Theatre. There are the stories we tell and the stories we hide. Can you really know who you are if you don't know the past? The bonds of mothers and daughters will be tested when all is revealed. Book-It Repertory Theatre takes you on a journey through three generations to discover the truth of a family's roots.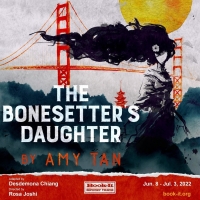 World Premiere Adaptation of Amy Tan's THE BONESETTER'S DAUGHTER to be Presented by Book-It Repertory Theatre
by Chloe Rabinowitz - May 10, 2022
Book-It Repertory Theatre will present the world-premiere of Amy Tan's haunting familial epic, The Bonesetter's Daughter. Adapted by playwright Desdemona Chiang (she/her) and directed by Rosa Joshi (she/her), audiences will be treated to a production filled with emotion, tension and gripping adventure.
THE MANDALA OF SHERLOCK HOLMES Announced for Audio Book-It
by A.A. Cristi - May 11, 2021
Written by one of Tibet's most prolific activists and authors, Jamyang Norbu (he/him), this Holmesian pastiche marks artistic director Gus Menary's (he/him) Audio Book-It directorial debut.
BWW Review: ACT's DRACULA a Chilling, Bloody Good Time
by Jay Irwin - Oct 25, 2019
The Granddaddy of horror icons has descended upon Seattle and he's just as romantically malevolent as you might want him to be. ACT has brought us Steven Dietz's retooled adaptation of Bram Stoker's a?oeDraculaa?? and this classic tale of the original bloodlust is just what you need for your Spooky Halloween season.
Playwright Steven Dietz Brings His Take On DRACULA To Seattle
by A.A. Cristi - Aug 15, 2019
ACT a?" A Contemporary Theatre Dracula marks the return of award-winning playwright Steven Dietz to ACT. Dietz's bold adaptation of Bram Stoker's classic tale of terror and seduction will mark his twelfth production at ACT. An all-star cast of Seattle actors will join director John Langs, including five of ACT's Core Company Members with Brandon O' Neil in the title role.

BWW Review: Seattle Rep's A DOLL'S HOUSE, PART 2 Fails to Connect
by Jay Irwin - Mar 21, 2019
A few years back I was fortunate enough to see Lucas Hnath's wonderful play, "A Doll's House, Part 2" on Broadway and was blown away. So, when the Seattle Rep announced it as part of their season I was absolutely thrilled. Then when they announced the powerhouse cast of some of Seattle's finest actors, Pamela Reed, Michael Winters, Khanh Doan, and Laura Kenny in the play, I was over the moon. This should be a slam dunk! Which then begs the question from me, "What happened?" as the performance I saw last night felt stiff and disjointed at times as if the actors were simply reading from the script. It picked up a bit by the end, but this is certainly not what I've come to expect from the Rep.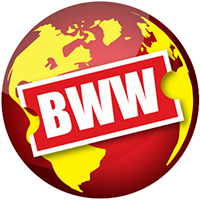 Pamela Reed And Michael Winters To Star In A DOLL'S HOUSE, PART 2
by A.A. Cristi - Feb 27, 2019
The 2017 Tony Award nominee for Best Play, A Doll's House, Part 2, makes its Seattle debut at Seattle Rep this spring, helmed by the extraordinary talents of Michael Winters (The Cider House Rules) and Pamela Reed (The Humans, 2017). Written by Tony Award nominee Lucas Hnath and directed by Seattle Rep Artistic Director Braden Abraham, A Doll's House, Part 2 runs March 15 - April 28, 2019 (opening night is March 20, 2019) on the Leo K. stage. Single tickets are on sale now (starting at $17) and are available through the Seattle Rep Box Office at 206.443.2222 or online at SeattleRep.org.
KING OF THE YEES at Baltimore Center Stage - A Challenging Take on the Chinese Experience
by Charles Shubow - Nov 15, 2018
Talented cast knows how to some some laughs.
KING OF THE YEES Comes to Baltimore Center Stage
by A.A. Cristi - Oct 15, 2018
Baltimore Center Stage has announced the cast and artistic team for its second play of the 2018/19 season, King of the Yees. Written by award-winning playwright Lauren Yee, King of the Yees is the hilarious and heartfelt generational story of a Chinese-American family.

BWW Review: ACT's Searing THE CRUCIBLE Shines with all Substance and Very Little Flash
by Jay Irwin - Oct 20, 2017
Arthur Miller's classic The Crucible remains a kind of mainstay of theater across the country from professional productions down to the myriad high school productions. But for it to ring true it must resonate with society's repeated history with mob mentality whether that be the literal Salem witch trials of the story or McCarthyism or even more recent moments in our history where truth is over shadowed by fear. And while ACT's current production of the classic nails those themes it also manages to make the production all about the stellar performances and the brilliant script than about any set or costumes or flashy presentation.
Khanh Doan Videos