Review: Charming Meta Journey with KING OF THE YEES at ACT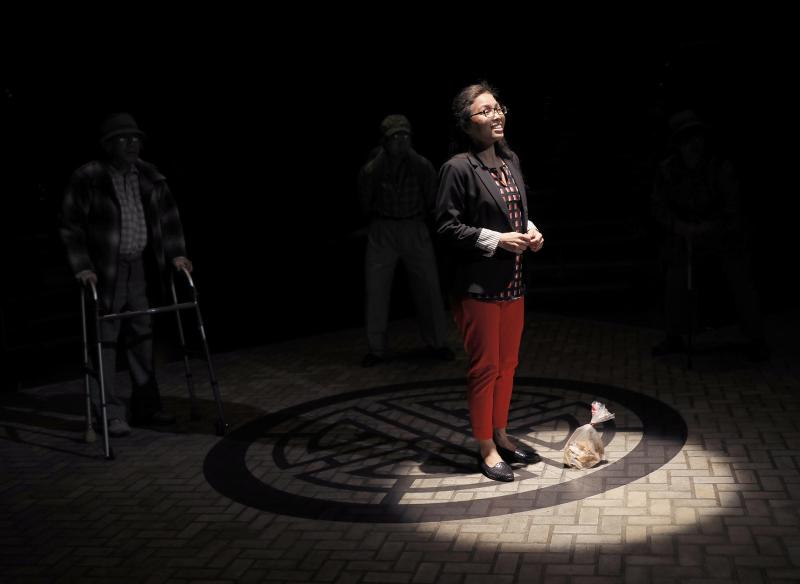 It's a world we may not know much about, that of old school Chinatown, with their family associations and insider customs. Hell, Lauren Yee grew up in this world and even she seems to be cut off from it and her Father Larry Yee runs the Yee Family Association. But that's the point of her play "King of the Yees" currently playing at ACT. Bur before you think this is another one of those dreadful family therapy on stage shows (and you know how I loathe those, Dear Readers) the show, with its quick witty dialog goes to a delightful meta and eventually metaphysical place making it an absolute joy.
In this play within a play we meet the incarnation of author Lauren Yee as played by Khanh Doan who's trying to put up a rehearsal of her play, "The King of the Yees" with her actors (Ray Tagavilla and Annelih GH Hamilton) when the incarnation of her father Larry played by Stan Egi shows up to help out. He's got water for the cast (and some for the audience), helpful advice and so much information about Chinatown and the Yee Family Association. But as we progress we discover Lauren doesn't really know or understand much about her Father or the culture and when he mysteriously disappears she is taken on a spiritual (somewhat Wizard of Oz-esque) journey through Chinatown to track him down.
The play itself does suffer from a bit of a dichotomy. Act One goes into the quirkier meta aspect while Act Two dives into the more metaphysical and at times it feels like two different plays are happening. Sure, they come together but that duality can make the flow feel a bit clunky at times. But this is a minor issue as the dialog and resulting story are so utterly charming and witty that you're laughing too much to care. And director Desdemona Chiang keeps that clunkiness to a minimum with a well-paced and intelligently directed piece.
The cast is superb. Doan takes on the role of the straight man of the piece beautifully, the one around whom all the chaos exists, and creates a lovely arc of a journey as a result. Egi is adorably formidable as her Father as he interjects his way through each scene with a totally welcomed interruption. And Tagavilla, Hamilton, and Joseph Ngo who are simply listed as Actors 1, 2, and 3 fill out the rest of the world with multiple hilarious and riveting characters with the swagger of Tagavilla's gang boss, the sassiness of Ngo's Model Ancestor, and the take no prisoners or guff attitude of Hamilton's liquor store owner to name just a few highlights. Not to mention the truly hysterical lesson on how to speak with a Chinese accent from Tagavilla and Hamilton. Priceless.
But the show does more than throw a couple of cultural belly laughs your way, it takes you on a very sweet and heartfelt journey and explores what it is to navigate these racially turbulent times as an Asian-American without beating you over the head with it. And so, with my three-letter rating system, I give ACT's "The King of the Yees" a charmed YAY. And who knows, you may even find out you're a Yee at the show. Or at the very least a cousin.
"The King of the Yees" performs at ACT through October 1st. For tickets or information contact the ACT box office at 206-292-7676 or visit them online at www.acttheatre.org.