Latest News on Happy Salma
Latest News on Happy Salma
Happy Salma News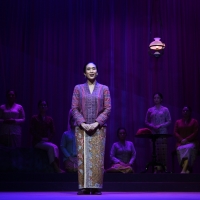 BWW Review: TEGAK SETELAH OMBAK's Story of Perseverance Inspires, Both On and Off Stage
by Rakaputra Paputungan - Jun 5, 2022
After a two-year delay, the musical monologue TEGAK SETELAH OMBAK ('Standing Tall After the Wave') by Titimangsa Foundation offers a look into the life of Inggit Garnasih, the second wife of Indonesia's founding father Soekarno.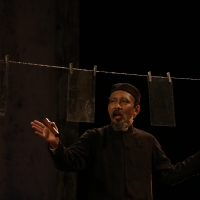 MATA KAMERA Monologue Serves Snapshot of Nation's First Professional Photographer
by Rakaputra Paputungan - May 7, 2022
In 2021, Titimangsa and KawanKawan Media premiered Di Tepi Sejarah ('On the Edge of History'), a series of monologues highlighting oft-forgotten historical figures. This year, the series returns with Mata Kamera ('The Eye of the Camera'), a monologue of one Kassian Cephas, the first native Indonesian to become a professional photographer.
BWW Previews: Original Cinema Play RUMAH KENANGAN to Star Butet K., Happy Salma, Reza Rahadian, Wulan Guritno
by Rakaputra Paputungan - Aug 11, 2020
As part of the #NontonTeaterDirumahAja program by Bakti Budaya Djarum Foundation, an original cinema play, Rumah Kenangan, is to make its debut on August 15th. The COVID-19-inspired drama is produced in collaboration with Titimangsa Foundation and will boast big name stars.
Walking Tour and Script Discussion with 3 Figures Behind the Scene of PEREMPUAN-PEREMPUAN CHAIRIL
by Yuliani Supandji - Oct 9, 2017
Before the stage of PEREMPUAN-PEREMPUAN CHAIRIL next month, Titimangsa Foundation held a 'flashback trip' to commemorate the Poet Chairil Anwar's love story, visiting some spots that used to be his hangout places during his lifetime, in PEREMPUAN-PEREMPUAN CHAIRIL's Walking Tour and Script Discussion program.
BWW Interview: Agus Noor Talks His Creative Process, Directorial Myths and Possible Collaborations
by Yuliani Supandji - Sep 8, 2017
Agus Noor is famous for writing essays, play scripts and monologues, as well as screenplays for television, film director and show director of many theatrical performances and music concerts. Since 2011, he act as Artistic Director of Indonesia Kita program, as well as writing for them, that is held regularly in Taman Ismail Marzuki Jakarta in 4 performances a year. Also, this year is a pretty busy time for him. There are four shows that he has to prepare with Indonesia Kita (PRESIDEN KITA TERCINTA, PESTA PARA PENCURI, LASKAR BAYARAN, and KORUPTOR PAMIT PENSIUN), followed by BABE (MUKA KAMPUNG REJEKI KOTA) collaborated by Teater Abang None and Maudy Koesnaedi, and PEREMPUAN-PEREMPUAN CHAIRIL with Happy Salma and Titimangsa Foundation.

BWW Preview: Titimangsa Foundation presents 'PEREMPUAN-PEREMPUAN CHAIRIL' in Teater Jakarta, 11-12 November 2017
by Yuliani Supandji - Sep 7, 2017
After the success of 'BUNGA PENUTUP ABAD' in Jakarta last year and in Bandung last March, Titimangsa Foundation is back to present their upcoming 18th production, 'PEREMPUAN-PEREMPUAN CHAIRIL' in 11-12 November 2017 at Teater Jakarta, Taman Ismail Marzuki. Before they begin the rehearsal process, Titimangsa Foundation held a ceremony at Dia.Loe.Gue Artspace, Kemang, Jakarta in August 19.
Regional Roundup: Top 10 Stories This Week Around the Broadway World - 8/26; THE TEMPEST in South Bend, HAND TO GOD in Austin, HUNCHBACK at Music Circus and More!
by BWW Special Coverage - Aug 26, 2016
This week, we go around our Broadway World to feature stories in South Bend, Austin, Sacramento and more. Check out our top 10 stories around our Broadway World below, which include THE TEMPEST at The Shakespeare Festival at Notre Dame, the regional premiere of HAND TO GOD in Austin, and THE HUNCHBACK OF NOTRE DAME in Sacramento, just to name a few.
BWW Review: BUNGA PENUTUP ABAD at Jakarta Art Building
by Albertus Raynaldi - Aug 25, 2016
Titimangsa Foundation and Bakti Budaya Djarum Foundation presents a colossal theater production called Bunga Penutup Abad, an adaptation of Nobel Laureate nominee Pramoedya Ananta Toer's literature works. 'This production marks the 10th anniversary of his death, to appreciate the works of a great Indonesian writer to the stage, and as one of the hopes to introduce and expose the young people in Indonesia to their home country's literature,' as quoted by Happy Salma, one of the main cast as well as the producer of the production.