BWW Interview: Agus Noor Talks His Creative Process, Directorial Myths and Possible Collaborations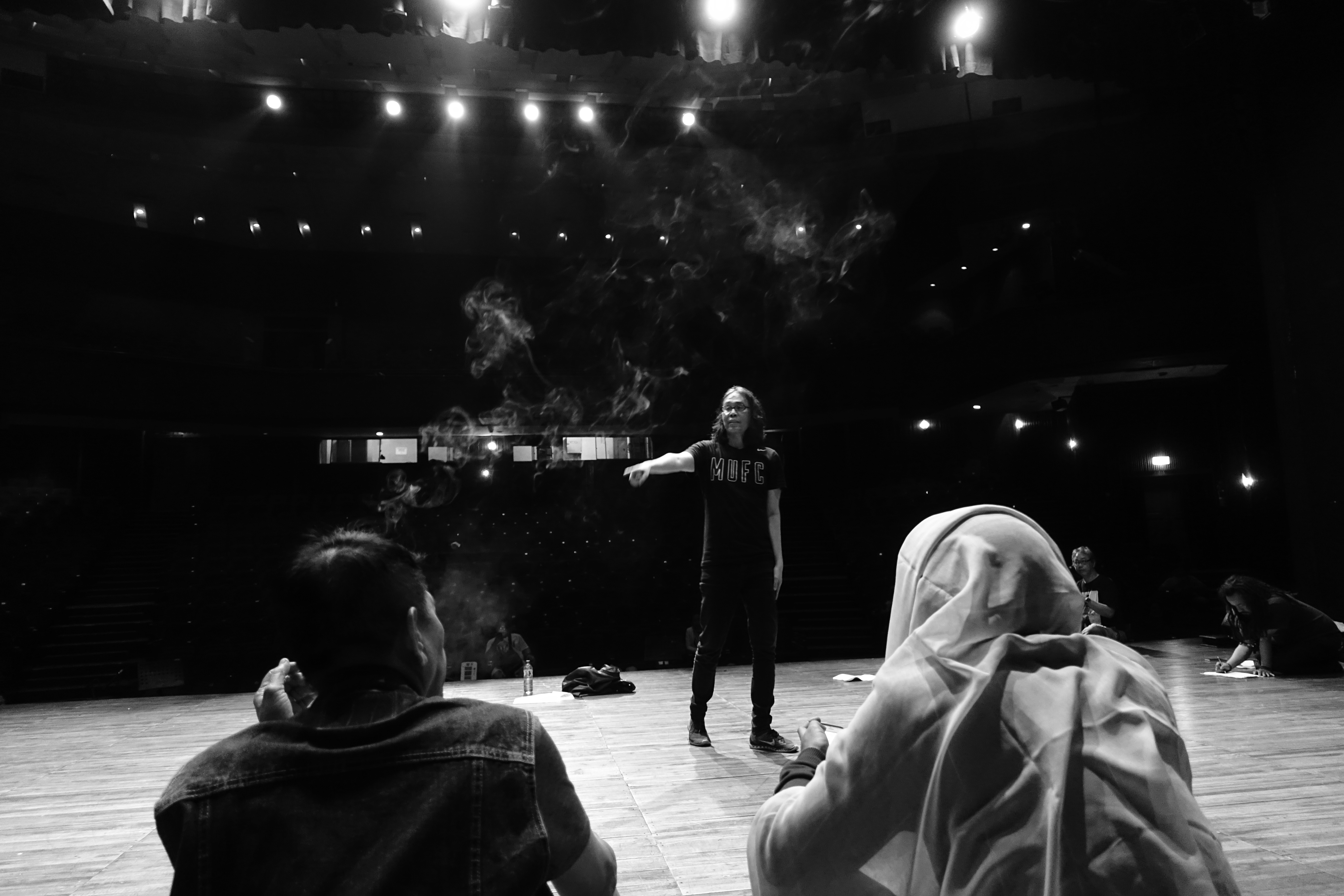 Agus Noor is famous for writing essays, play scripts and monologues, as well as screenplays for television, film director and show director of many theatrical performances and music concerts. Since 2011, he act as Artistic Director of Indonesia Kita program, as well as writing for them, that is held regularly in Taman Ismail Marzuki Jakarta in 4 performances a year. Also, this year is a pretty busy time for him. There are four shows that he has to prepare with Indonesia Kita (PRESIDEN KITA TERCINTA, PESTA PARA PENCURI, LASKAR BAYARAN, and KORUPTOR PAMIT PENSIUN), followed by BABE (MUKA KAMPUNG REJEKI KOTA) collaborated by Teater Abang None and Maudy Koesnaedi, and PEREMPUAN-PEREMPUAN CHAIRIL with Happy Salma and Titimangsa Foundation.
Since his childhood, Agus Noor loves drama. At elementary school he played drama, also when in junior high, he always staged a drama (make a story and directing it) at school events. He start his "theatrical journey" after he lives in Yogyakarta. In this city, he felt the creative environment that made him fall in love with the theater world. First, theater as a community that is capable of resistance from political hegemony. Second, the theater process became a life-learning process as well as a medium to fight against political hegemony at the time. Finally, he was involved in the performance of PAK KANJENG (written by Emha Ainun Nadjib), a play that was full of social criticism, and had been complicated by the performance permit, even the play was canceled before it's showtime in Surabaya. In year 2000, he joined Teater Gandrik, while staging BRIGADE MALING.
For him, every show has their own challenge. But, mostly is about time. The theater production process is always relatively long, not to mention when they start calculating artistic research and preliminary discussions when the staging will be made. Dividing time is needed to understand the time for everyone that is involved in the process. Accommodate them, then find the solution artistically. It can be flexible, depends on its fluid form of stance and provides a great improvisational space. When working with different groups, he takes a different approach, firstly by understanding the character of the people involved in the play. Secondly, he always wants everyone involved to feel that the theater process is fun.
The process in the theater is a process of working together, complement each other, as well as an expression space for all. He will also place himself as a discussion friend, especially if the one involved is arguably a professional actor, he is not too busy taking care of his/her acting or performance anymore, but more on the big dramaturg concept and the performance concept.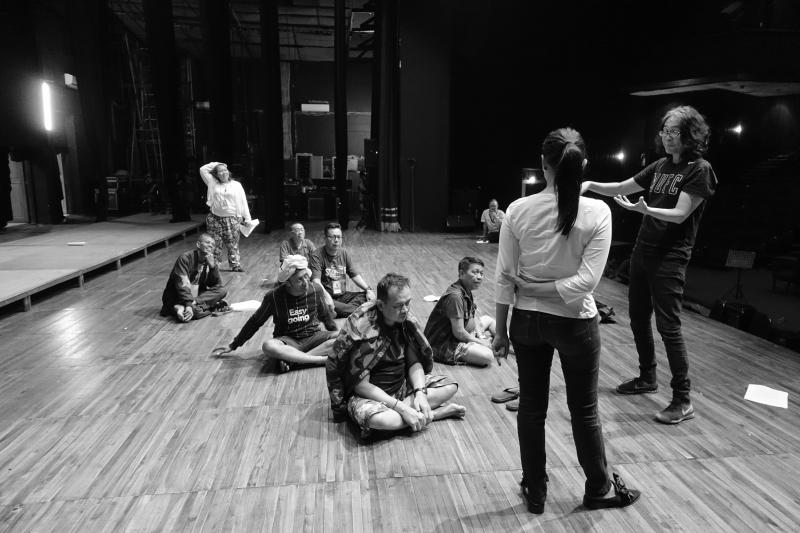 Born in Tegal, June 26th, 1968, Noor stated that the role of playwright and director making him more adaptative when preparing the play. This is certainly very advantegous, because they come from the same person, the director understands the problems they face when they start performing. Perhaps, Noor wondered, this is also related with a long history of playwright and director in Indonesian theater world. From such a long time, almost all theater directors write for their own theatre's plays. Rendra wrote plays for Bengkel Teater. Arifin C. Noer wrote plays for Teater Ketjil. N. Riantiarno wrote the plays for Teater Koma. Putu Wijaya wrote plays for Teater Mandiri.
In the midst of the various problems facing Indonesia's theaters, writing a full stage play becomes a kind of demands. He recounts his fascinating experiences with the Teater Gandrik. The number of main actors Teater Gandrik is certain. The playwright needs to aware, how many key roles should be written in the play. If there are additional roles, it can be talked about. It involves the cost of production and training process. By recognizing the problem and also the characteristics of the group, the playwright will not be a burden for the production cost.
From that experience, as a writer he has to understand from the beginning, for whom the play likely be staged. That way, he can consider the artistic application that may be embodied in the stage. As a director, he must take into account what artistic order is most likely to be realized, which will not effect the production cost, but is also capable of bringing the desired artistic order. As a writer, he certainly has a lot of imagination or artistic ideas that want to be realized. Such creative process, making him as a writer and director to be very accommodating on each form of staging to be done.
Noor earned his undergraduate from Performing Arts / Theater major, Institut Seni Indonesia, in Yogyakarta. According to him, the director is often to be the leader or the main vehicle of the theatre group. Theater became the revelation of the artistic idea of ??the director. Even, the aesthetic ideas of the whole theater group represent the idea of ??the director. There is a myth the director is the main as well as the "beating heart" of the theater group. As a result, when the director is not active anymore, the group followed. He wants to get out of that myth. For him, the director is not the center of ideas, but rather the role to accommodate many ideas of all involved. More important is the "staging idea". Director are expect to understand the staging vision, while the technical aspect can be done by everyone involved.
Noor goes on. He believes that the director is not the center that determines everything, but rather gives an artistic vision of the show to be made. The director will try his best to make the staging style idea to be possible. He also has the flexibility when working together on the show. In the process of staging Indonesia Kita, for example, the process is going pretty well, they can perform up to 4 times in the span of one year. Rarely anyone can do that.
Like many Indonesian performing art workers that I interviewed, Noor wished a local theater to be a "spectacle industry". In our society's tradition, theater grows with the people. Just like our local ketoprak or ludruk, they have this "closeness" to the community. He wants a modern theater to be like that. He longed for a time when theater becomes the choice many people's need, to fill their souls. After all, the theater performance has an aesthetic power that can not be fulfilled by other entertainment art. This must be sought and developed by our performing arts industry, becoming part of the spirit to find "freshness", so they can be easily accepted by the audience.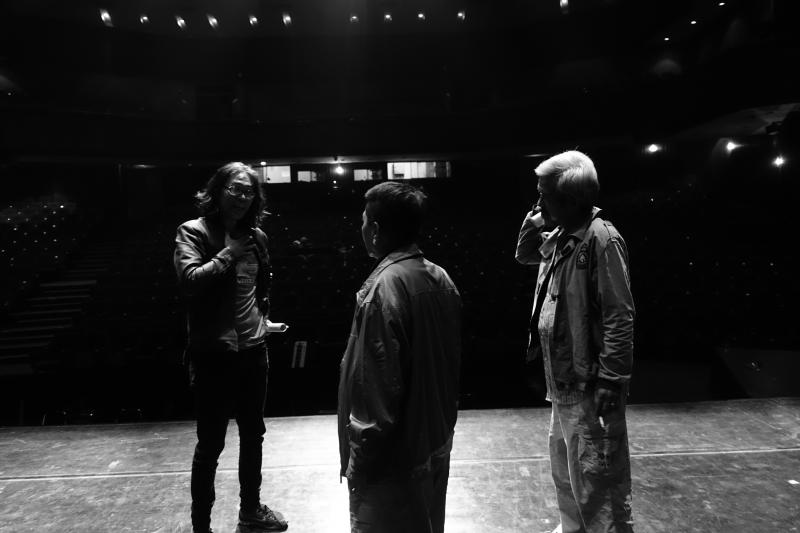 When he visits New York, he saw how the theater became part of the "lifestyle" of the people there. He dreamed that, for example, the middle class Jakartans has a habit of watching the theater. Or even better, to be in their weekly agenda. They can buy tickets or give them to their relations. In the era of social media as it is today, enjoying a great and exciting events can be a lifestyle. They upload photos when they watch performances. It's very exciting development if they can apply it into a part of theater or show production. He imagines that there is a theater production that can routinely make the show, and is accepted by the audience, a shared agenda. "I'm sure there are 'audience societies' who can accept theater. I call this a symptom of community willing to pay for the show they expect. Look at music concerts with expensive tickets, and the audience buys them. I miss the theater in the spectacle industry like that".
Noor consider his working relationships with all those involved in theatrical performances to be crucial. Noor even always tried to work with different people, so that he always deliver "fresh" staging. He collaborated with many artists. He wants to collaborate with other countries' theater groups, maybe for Indonesia Kita stage. For him, the collaboration possibilities become an interesting stage idea. If the local theater is about to become a spectacle industry, the open spirit for the various possibilities must always be sought.
Agus Noor's first short story "Kecoa" was published in Kompas newspaper in 1987. He's so productive, that his shorts are always published almost every weekend in major newspapers like Suara Pembaruan, Media Indonesia, Pelita, Surabaya Post, Jawa Pos, Surya, Kompas, Bernas, Kedaulatan Rakyat, Matra, Horison to Esquire. He also published his own books, including Bapak Presiden yang Terhormat, Memorabilia, Selingkuh itu Indah, Rendezvous, Matinya Toekang Kritik, Cerita di Kartu Pos, and Sepotong Bibir Paling Indah di Dunia. His poetry compilation, Ciuman yang Menyelamatkan dari Kesedihan, published in 2013. In 2017, Agus Noor published a new book Cinta Tak Pernah Sia-Sia, a compilation of his short stories in newspapers for 27 years.
For more information about his future works and to buy his recent book Cinta Tak Pernah Sia-Sia, you can follow him on twitter @agus_noor and instagram @agusnoor_
Photo Credit: Anggoro Tri Wicaksono
Related Articles View More Indonesia

Stories

Shows
Originally from Jakarta-Indonesia, Yuliani graduated from Journalism and Media Studies in 2009. Aside from her busy schedule freelancing in various events, she also done some (read more...)