Latest News on Graham Bickley
Latest News on Graham Bickley
Stage Credits
  [West End]
2022
Mr Price [Replacement]
  [West End]
London Revival, 2005
Dexter Haven
  [West End]
London Revival, 2003
Tateh
  [West End]
Original London Production, 1997
Performer
  [West End]
Original London Production, 1992
Bishop Daniel
  [West End]
Original London Production, 1989
Steven
  [West End]
London Production, 1982
Ensemble
Stage
Performances
  [West End]
2022
Mr Price [Replacement]
  [West End]
London Revival, 2005
Dexter Haven
  [West End]
London Revival, 2003
Tateh
  [West End]
Original London Production, 1997
Performer
  [West End]
Original London Production, 1992
Bishop Daniel
  [West End]
Original London Production, 1989
Steven
  [West End]
London Production, 1982
Ensemble
Graham Bickley Awards and Nominations
Olivier Awards - 2004 - Best Actor in a Musical
Graham Bickley, Ragtime
Graham Bickley News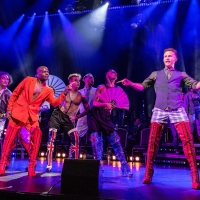 Photos: First Look at KINKY BOOTS-THE MUSICAL IN CONCERT, Theatre Royal Drury Lane
by Aliya Al-Hassan - Aug 9, 2022
Kinky Boots is the feel-good musical by Harvey Fierstein and Cyndi Lauper, based on the popular 2005 film of the same name. Leading the cast is Cedric Neal (Back To The Future, Motown The Musical) as Lola/Simon, Joel Harper-Jackson (C O C K, Chess The Musical In Concert) as Charlie Price and Courtney Bowman (Legally Blonde, SIX) as Lauren. Kinky Boots the Musical in Concert will be stepping out and painting the town red for an extra night and we have photos of the cast in action!
Daisy Wood-Davis and Hannah Lowther Join KINKY BOOTS Concert, Plus Additional Date Added
by Stephi Wild - Jul 1, 2022
Kinky Boots the Musical in Concert will be stepping out and painting the town red for an extra night on Tuesday 9 August at the Theatre Royal Drury Lane this summer. 
New Book and Music Releases For the Week of March 30 - PRINCE OF EGYPT; ALMOST, MAINE; and More!
by Stephi Wild - Mar 31, 2020
Need something new to listen to or read? Check out this week's list of new and upcoming releases!
Sunday Night Socials Come to the Union Theatre
by Stephi Wild - Feb 1, 2019
Kieran Brown, in association with Chris Matanle and Union Theatre today announce a new season of monthly concerts - Sunday Night Socials.

Celebrate Voice Festival to Host AN EVENING WITH GRAHAM BICKLEY
by Julie Musbach - Oct 15, 2017
Star of the West End and the BBC's Friday Night is Music Night, GRAHAM BICKLEY presents an evening of hit West End songs and stories from his thirty years as a leading man in Musical Theatre.
BWW Review: MADDIE 20th Anniversary Deluxe Edition London Cast Album
by Jenny Ell - Oct 6, 2016
Further empowering their ethos of preserving 'lost' British theatre, Stage Door Records are releasing their latest cast album, Maddie, with a 20th Anniversary Deluxe edition bumper pack of a CD. Originally developed at Oxford University in 1990 during a Stephen Sondheim masterclass, emerging and ambitious producer Kenny Wax opened the show at Salisbury Playhouse in 1996 following a series of workshops. The production then went on to open in the West End the next year following superb reactions from the critics. The two-disc album includes the original recording, alongside a collection of studio demos which include cut songs and alternate versions, and three bonus tracks recorded this year.
London MADDIE Recordings with John Barrowman to Be Released 10/14
by Liz Cearns - Sep 5, 2016
Stage Door Records are pleased to announce a 2 CD Deluxe Edition issue of the 'Maddie' Original London Cast Recording will be released on October 14th, 2016. The album features 5 previously unreleased 1991 recordings by John Barrowman alongside a host of top West End performers. The CD release celebrates the 20th Anniversary of 'Maddie' and continues Stage Door's commitment to preserve 'lost' British theatre scores of the past 50 years.
BWW Review: JACKIE THE MUSICAL, King's Theatre, Glasgow, 26 July 26 2016
by Natalie O'Donoghue - Jul 27, 2016
Once there was a time with no mobiles, no online dating and no Facebook, when teenage girls waited with bated breath by the letterbox for their weekly issue of Jackie Magazine. In Jackie The Musical we revisit those heady days, and tell the story of a recent divorcee who seeks advice once more from the pages of her old Jackie annuals.
JACKIE THE MUSICAL Tour to Stop at King's Theatre Glasgow
by BWW News Desk - Jul 26, 2016
?Written by Mike James, with choreography by Arlene Phillips and directed by Anna Linstrum, JACKIE THE MUSICAL will play at the King's Theatre Glasgow from Today 26 to Saturday 30 July 2016, as part of a nationwide tour. 
Graham Bickley Frequently Asked Questions
How many Broadway shows has Graham Bickley been in?
Graham Bickley has not appeared on Broadway.
How many West End shows has Graham Bickley been in?
Graham Bickley has appeared on London's West End in 7 shows.
What was Graham Bickley's first West End show?
Graham Bickley's first West End show was The Pirates of Penzance which opened in 1982
What awards has Graham Bickley been nominated for?
Best Actor in a Musical (Olivier Awards) for Ragtime .
What is Graham Bickley next theatre project?
Graham Bickley's next show will be Kinky Boots - The Musical In Concert which opens on 8/8/2022 on West End.