Latest News on Don Percassi
Stage Credits
  [Off-Broadway]
Musicals in Mufti Concert, 2000
Joe / Lubliner / Guard
Joe/Lubliner/Guard
  [Broadway]
Original Broadway Production, 1980
Ensemble
Andy Lee (Understudy)
  [US Tour]
National Tour, 1976
Al
  [Broadway]
Broadway Transfer, 1975
Alan DeLuca
Alan DeLuca [Replacement]
  [Off-Broadway]
Original Off-Broadway Production, 1975
Alan DeLuca
  [Broadway]
Original Broadway Production, 1974
Grips
Grip
Wally (Understudy)
  [Broadway]
Original Broadway Production, 1973
Harold
Mr. Sullivan (Understudy)
  [Broadway]
Original Broadway Production, 1972
Cabdriver [Replacement]
Spats's Gang
  [Broadway]
Closed on the road, 1971
Dancer
  [Broadway]
Original Broadway Production, 1969
Ensemble
  [Broadway]
Original Broadway Production, 1966
Ensemble
Townman
  [Broadway]
Original Broadway Production, 1964
Ensemble
Ensemble/Other Roles
  [West End]
London Production, 1958
Luis
Stage
Performances
  [Off-Broadway]
Musicals in Mufti Concert, 2000
Joe / Lubliner / Guard
Joe/Lubliner/Guard
  [Broadway]
Original Broadway Production, 1980
Ensemble
Andy Lee (Understudy)
  [US Tour]
National Tour, 1976
Al
  [Broadway]
Broadway Transfer, 1975
Alan DeLuca
Alan DeLuca [Replacement]
  [Off-Broadway]
Original Off-Broadway Production, 1975
Alan DeLuca
  [Broadway]
Original Broadway Production, 1974
Grips
Grip
Wally (Understudy)
  [Broadway]
Original Broadway Production, 1973
Harold
Mr. Sullivan (Understudy)
  [Broadway]
Original Broadway Production, 1972
Cabdriver [Replacement]
Spats's Gang
  [Broadway]
Closed on the road, 1971
Dancer
  [Broadway]
Original Broadway Production, 1969
Ensemble
  [Broadway]
Original Broadway Production, 1966
Ensemble
Townman
  [Broadway]
Original Broadway Production, 1964
Ensemble
Ensemble/Other Roles
  [West End]
London Production, 1958
Luis
Don Percassi News
A CHORUS LINE: La revolución musical que llega a Madrid
by Angeles Diaz - Sep 20, 2021
Por fin veremos en la capital la producción de Antonio Banderas y hacemos un repaso de su génesis.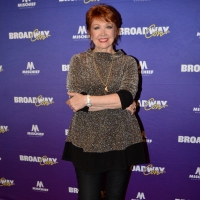 A CHORUS LINE Will Celebrate 45th Anniversary On STARS IN THE HOUSE With Donna McKechnie, Ronald Dennis and More
by Chloe Rabinowitz - Jul 24, 2020
A-Five, six, seven, eight! 45 years to the day after the curtain first rose on 'A Chorus Line,' Seth Rudetsky and James Wesley announced today that many members of the original cast of the singular sensation will come together on 'Stars In The House' LIVE Saturday, July 25th at 8 PM ET on the Stars In The House YouTube channel.
Special Photo Feature: Masterworks Broadway Golden Age Gallery Vol. 2
by BWW Photo Special - May 24, 2010
Masterworks Broadway showcases an unparalleled collection of historical recording session and production photos culled from over 60 years of the Columbia Records and RCA Victor archives. Painstakingly researched and catalogued, these rarely seen images convey the story of the cast recording in a way no other anthology has done before.
Photo Coverage: Broadway By The Years 1954
by Genevieve Rafter Keddy - Apr 9, 2008
A Broadway Baker's Dozen of great talents will took The Town Hall stage by storm on Monday, April 7 at 8pm when Broadway by the Year saluted 1954. Songs from famous shows like The Pajama Game, Peter Pan, The Boy Friend, and Fanny were featured in this critically acclaimed concert series that is now in its 8th Season.
Photo Coverage: A Chorus Line Opening Night Arrivals
by Walter McBride - Oct 6, 2006
The revival of A Chorus Line opened at the Gerald Schoenfeld Theatre on Thursday, October 5, and original cast members such as Donna McKechnie were among the opening night arrivals!
Don Percassi Frequently Asked Questions
How many Broadway shows has Don Percassi been in?
Don Percassi has appeared on Broadway in 9 shows.
How many West End shows has Don Percassi been in?
Don Percassi has appeared on London's West End in 1 shows.
What was Don Percassi's first West End show?
Don Percassi's first West End show was West Side Story which opened in 1958