Latest News on Courtney Kofoed
Courtney Kofoed News
BWW Review: Go on a musical journey with Local Classic Repertory's NEW WORKS by Adam LaPorte
by Adrienne Proctor - Sep 10, 2020
Local Classic Repertory's online cabaret, NEW WORKS by Adam LaPorte, is a musical theatre journey. This online odyssey is a first for the richly collaborative new theatre company, which was born out of the COVID pandemic. NEW WORKS features gorgeous lyrical storytelling and a long list of incredible talent in this unique online event.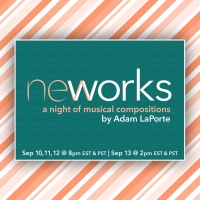 BWW Feature: Local Classic Repertory presents New Works: A Night of Musical Compositions by Adam LaPorte
by Adrienne Proctor - Sep 8, 2020
Local Classic Repertory is presenting an online cabaret. NEW WORKS is a night of musical theatre songs by Adam LaPorte. Songs from his three award-winning musicals, as well as nine new originals, will be headlined by 18 performers in this adaptive artform we now know and love - the online cabaret.
Lindsay Mendez and Ryan Scott Oliver's Actor Therapy Comes to Feinstein's/54 Below
by Stephi Wild - Mar 9, 2020
ACTOR THERAPY is back at Feinstein's/54 Below to celebrate our 50th Session and EIGHT YEARS of guiding New York actors to Broadway! A slew of AT alums from years past will reunite to perform, alongside special faculty & alumni guest stars, video messages from our friends working around the globe, and more!
Linda Eder, Alice Ripley, David Yazbek Ft. Lilli Cooper and More are Heading to Feinstein's/54 Below This Month
by Chloe Rabinowitz - Mar 2, 2020
This Month, FEINSTEIN'S/54 BELOW will present some of the brightest stars from Broadway, cabaret, jazz, and beyond. To purchase tickets or for more information, visit www.54Below.com/Feinsteins or call (646) 476-3551.
WILDHEART Will Be Presented At MTC Creative Center
by Stephi Wild - Nov 11, 2019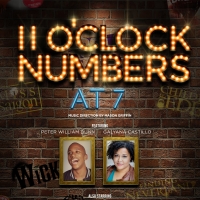 11 O'CLOCK NUMBERS AT 7 Returns Tonight
by Julie Musbach - Oct 28, 2019
11 O'Clock Numbers at 7, the showstopping cabaret series, makes it triumphant return to The West End Lounge tonight, Oct 28, at 7pm! 
Actor Therapy Spotlights SPRING AWAKENING At 54 Below
by Julie Musbach - May 2, 2019
ACTOR THERAPY is back at Feinstein's/54 Below- but with a twist! This time, they're singing the beloved score of Duncan Sheik & Steven Sater's rock musical SPRING AWAKENING. Directed by award-winning composer-lyricist Ryan Scott Oliver (35mm, Darling) & ACTOR THERAPY's Director of Events Mathieu Whitman, the show will feature 35 fabulous ACTOR THERAPY students performing alongside a 4-piece band.
Photo Coverage: Ryan Scott Oliver Kicks Off Murderous Musical Mondays at MURDER FOR TWO
by Jennifer Broski - Mar 25, 2014
The cast and creative team of the hit Off-Broadway musical Murder for Two have teamed up with some of New York's brightest up and coming composers and BroadwayWorld.com every Monday night for their spring concert series, Murderous Musical Mondays. Composer Ryan Scott Oliver launched the series last night, March 24th, 2014, immediately following the 7pm performance of Murder for Two at New World Stages (Stage 5 - 340 West 50th Street). BroadwayWorld was there for the special concert event and you can check out photos below!
Photo Flash: Meet the Cast of Pace University's HATCHED: FRESH WORK. FRESHMEN., Set for Tonight
by BWW News Desk - May 8, 2013
After the tremendous success of Hatched: New Work in New York (2012) and Rated RSO: College Edition (2011), Ryan Scott Oliver and Pace University's Musical Theater Class of 2016 will present a cabaret tonight, May 8th at 9:30pm and 11:30pm at 54 Below. The show, Hatched: Fresh Work. Freshmen., is a presentation of brand new work performed by brand new singers. Scroll down for portraits of the freshmen!