DTW's THE PRODUCERS Brings Much-Needed Laughs!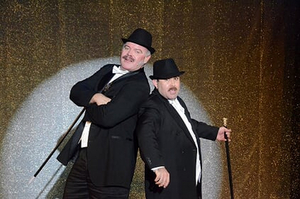 Just when gloom and doom seems to be coming at us from all angles, Desert Theatreworks presents one of the funniest, finest works they have ever staged. Following its laugh filled opening night, the company has put the show on hiatus per government guidelines, but it certainly must resume its run as soon as allowed.
Mel Brooks' 2001 musical is based on his 1967 film of the same name, and it was an instant hit which combined Nazis, outrageous characters, and show business inside jokes. At the top of the show, Broadway producer Max Bialystock (Michael Pacas) has produced yet another flop. Bookkeeper Leo Bloom (Jacob Samples) comes to his office to do some accounting and as he goes through the figures, he casually observes that a producer could make more money from a flop than he does from a hit. Bialystock decides that he should produce the worst show ever conceived and make a fortune. He enlists Bloom to help him co-produce, and convinces a lineup of wealthy widows to invest, in exchange for some naughty role playing. They hire an auditioning actress, Ulla (Kari Kirkland), to be in the show and also work as their secretary.
The worst play they can find, titled "Springtime for Hitler," was submitted by a Nazi residing in Brooklyn, Franz Liebkind (Christopher Doshier). They enlist a screaming queen, Roger Debris (Timm McBride) to direct, assisted by his partner Carmen Ghia (Kam Sisco). Their opening night is not, let us say, received as they expected!
The show rests on the shoulders of Bialystock and Bloom, and Pacas and Samples' shoulders carry the burden with seeming ease. Their teamwork, which reminded me of Harvey Korman and Tim Conway, was a constant joy. Both men have established their acting and singing skills across the valley, and they displayed those skills at their finest in The Producers. Samples also got to display his dancing abilities, including a very limber kick at shoulder height.
Kari Kirkland in her second DTW show was a delight as the statuesque Swedish bombshell Ulla. Her singing, acting, and dancing were terrific, and a necessary distaff to the two leading men.
Christopher Doshier brought great fun and energy to the Nazi playwright, joined by a cage full of singing doves. The laughs were non-stop once we met the flamboyant director played with over-the-top camp by Timm McBride. He is joined - and often scolded - by his partner, played by Kam Sisco. That role is often seen as a mere houseboy, but Director Daniela Ryan enlisted one of the valley's favorite comics to make the role much more significant. Half of the laughs garnered by McBride and Sisco were from facial expressions and movements that weren't in the script. Bravo to both of them!
Also, kudos to Ryan for keeping the show moving at a breakneck speed. Every performer on the stage seemed confident and experienced with what they were doing, and opening night displayed none of the fumbles that often come along with the pressure of the first audience.
The vocals throughout were of a very high level, and Musical Director Don Kelley kept the ensemble very articulate as they delivered some very funny lines within their numbers.
Ayanna Wilson's choreography was enjoyable and seemed to be well within the company's capabilities. As a special treat, there was considerable tap dancing, choreographed by Alana Mittleman.
Costumer Michelle Mendoza must have stayed up nights. The sizeable cast cycled through more than 100 costumes including showgirls, old ladies, and dancing Nazis, and they all looked and fit perfectly, including plenty of sequins, appropriate for this show business tale.
Artistic Director Lance Phillips-Martinez did double duty as set designer, and once again he utilized the limited space to maximum duty, including a couple of curtains which covered upstage changes and allowed the show to move with relatively quick changes. Those changes were smoothly made by stage manager Tresa Oden and assistant Tim Cagney. Phil Murphy's lighting kept our attention focused on the proper areas. I noticed that the lighting rig has added additional hardware for illuminating the aisles that run alongside the audience, a position that got used a couple of times in the show.
And a very special shout out to the sound amplification on opening night. Quality radio mics are a very expensive proposition, and operating sound during a performance is a demanding skill. On opening night, I did not hear a single mic crackle, the mix between recorded music and live singing was perfect, and the volume and mix of the full cast during the finale was indeed thrilling. Sound designer Tess Walker, Engineer Miguel Arballo, and operators Maddox Phillips-Martinez and Emily Tenwelp are to be congratulated!
Much as I love local theatre, most productions have performers who don't quite rise to the occasion or technical glitches that we try to forgive. I didn't spot a one in The Producers. The entire company was skilled, all singing voices terrific, and the whole cast appeared to be enjoying what they were doing. That was certainly infectious.
The Producers, as with all DTW musicals, is preceeded by a 10-minute revue by Kidsworks, the training branch of DTW. These young singer/dancers get better with each performance, and it's great training for them to have stage time with live audiences, sort of like the farm team being prepped for the major league.
It's not clear exactly when The Producers will be allowed to resume. They are tentatively looking at April 10, but no one can safely predict what's going to happen in the coming weeks. Whenever it is, The Producers is worth coming out of your house for!
Photo by Paul Hayashi