Mounts Botanical Garden To Host Annual Spring Benefit In Palm Beach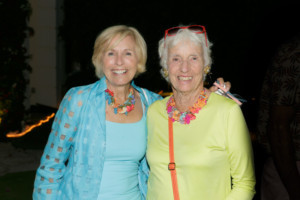 Friends of the Mounts Botanical Garden will be hosting their biggest annual fundraising event - the Mounts Spring Benefit - at a private home in Palm Beach on Sunday, April 7, 2019, from 5:30 to 8 pm. Funds raised at the Benefit will be used to reimagine and enhance the Garden's Welcome Center & Gift Shop.
The annual Spring Benefit is an enchanting event that will feature an open bar, hors d'oeuvres, live music by the Neil Bacher Trio, and a lavish silent auction featuring a diverse array of rare and exotic plants, orchids and eye-catching arrangements. The Benefit co-chairs are the current and past presidents of Friends of the Mounts Botanical Garden: Sandy Smith and Polly Reed.
The Mounts Spring Benefit sponsors include Rebecca and Randell C. Doane, Linda and Peter Grauer, and Sandy Smith and Raymond Tollman.
Tickets are $175 each and will be available for purchase by calling Linda Ruark at 561.233-1796. Sponsorships and underwriting opportunities are also available.
Now on Display at Mounts Botanical Garden
CUTTING CORNERS:
A Stickwork Exhibition
Daily - 10 am to 4 pm
Mounts, The Great Lawn
FREE for members; $10 for nonmembers; $5 for children ages 5-12
This awe-inspiring new eco-exhibition is part of the Garden's 40th Anniversary Ruby Jubilee celebration and runs through June. Located in the Great Lawn area of the Garden, this interactive, environmental exhibit features an original, massive, stickwork sculpture designed by internationally acclaimed artist Patrick Dougherty and created on site through a "community build" by 106 volunteers utilizing 30,000 pounds of willow. The exhibition invites visitors to wander through, admire, and become part of a living art experience.
Note: Tickets are available for purchase at www.mounts.org or at the Garden's main gate. To schedule a group tour, call 561-233-1757.
With a mission to inspire and educate through nature, Mounts Botanical Garden is Palm Beach County's oldest and largest botanical garden, offering gorgeous displays of tropical and sub-tropical plants, plus informative classes, workshops, and other fun-filled events. The Garden contains more than 2,000 species of plants, including Florida native plants, exotic and tropical fruit trees, herbs, palms, bromeliads and more. Two recent additions to Mounts include Windows on the Floating World: Blume Tropical Wetland Garden and the Zen-like Garden of Tranquility. Mounts Botanical Garden is a facility of the Palm Beach County Extension Service, which is in partnership with the University of Florida and Friends of the Mounts Botanical Garden. Mounts is located at 531 North Military Trail in West Palm Beach.
Mounts Botanical Garden is open daily (except Palm Beach County recognized holidays) from 10 am to 4 pm. For more information, please call 561.233.1757 or visit www.mounts.org.
More Hot Stories For You