BWW Review: SINGIN' IN THE RAIN at THE WICK THEATRE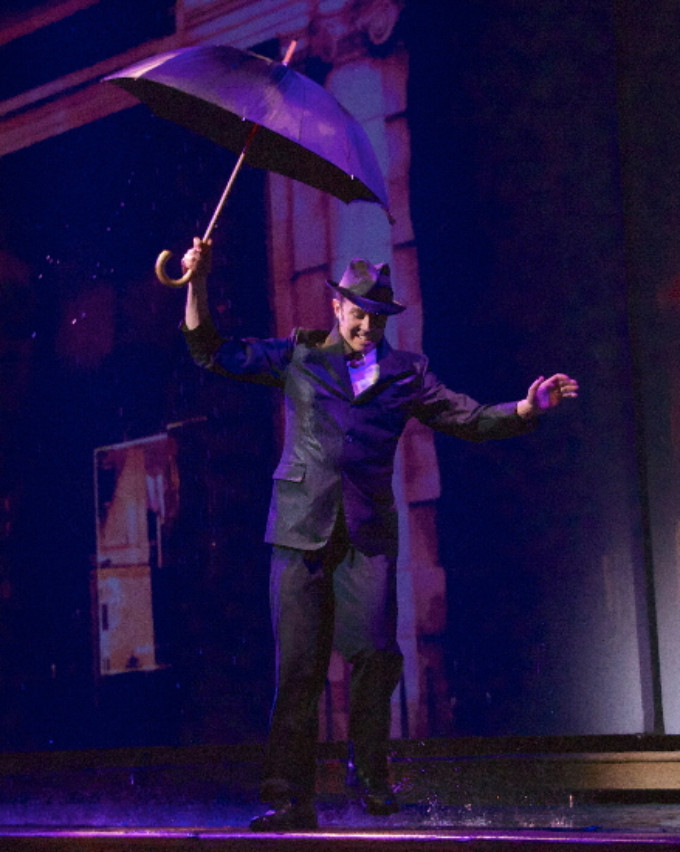 Each year, The Wick Theatre and Costume Museum stages a production selected by their fans, this season, the iconic Singin' in the Rain takes that honor. "We were so excited when Singin' in the Rain won our fan poll," said Marilynn A. Wick, Managing Executive Producer. Containing hits such as "You Are My Lucky Star", "Good Mornin'", "You Stepped Out of a Dream", "Make 'em Laugh", "You Were Meant For Me" and of course the title song "This is one of the most beloved films of all times, and watching it come to life with this amazingly talented cast will be an experience that audience members will treasure. We are thrilled to honor the memory of the delightful Debbie Reynolds with this production."
The classic 1952 film Singin' in the Rain starred Gene Kelly, Donald O'Conner and Debbie Reynolds, and is often cited as the "Greatest Movie Musical of All Time". The film was faithfully and lovingly adapted for the 1985 stage version of the musical, and features book by Betty Comden and Adolph Green, lyrics by Arthur Freed, and music by Nacio Herb Brown. The musical Singin' in the Rain opened on Broadway at the Gershwin Theatre on July 2, 1985 and closed on May 18, 1986 after 367 performances. The production received two Tony Award nominations and was subsequently dramatically revamped after large reported financial losses. A Theatre Du Chatelet production revival was slated for the fall of 2016. Though delayed, the musical is still expected to open on Broadway at a date and theatre yet to be determined.
Set in Hollywood in the waning days of the silent screen era, it focuses on romantic lead Don Lockwood (Jeremy Benton), his sidekick Cosmo Brown (Courter Simmons), aspiring actress Kathy Selden (Darien Crago), and Lockwood's leading lady Lina Lamont (Laura Plyler), whose less-than-dulcet vocal tones make her an unlikely candidate for stardom in talking pictures. As the head of the studio, R.F. Simpson (noted Broadway veteran Timothy Shew) tries to steer his company through the transition into talkies. He's met with the dilemma of what to do with his most bankable leading man and woman, when the beautiful Lamont speaks and sings so horribly. This is actually a real problem that was faced by film studios during this time period. Many actors and actresses known for their striking looks and exotic glamour had thick accents and/or speech issues which prevented them from making a successful transition to talking pictures. In this case, it is decided to allow Kathy Seldon to do all of Lina's voice-overs. But when Kathy's own solo career may be lost along the way, new-found love Don Lockwood comes to her rescue.
With a cast of 27, the stage is filled in large ensemble dance numbers, and much of the original choreography from the film is artfully recreated. Jeremy Benton (Don Lockwood) and Courter Simmons (Cosmo Brown) are genuine song and dance men, showing off their skills from the top of the show in "Fit as a Fiddle". And speaking of "Fit as a Fiddle", who could resist the charm of a Young Don and Young Cosmo played by Quinn Feerick-Hillenbrand and Blake Rubin in their brief stint on stage in that number?
Simmons is nimble as the quirky comedic side-kick to his slick long-time best friend Don Lockwood. Simmons has great timing and is a good physical comedian. My only disappointment is the missing dancing/flipping off of the wall and then threw it bit from the movie. It has been in every production I have seen on stage as well - except for this one.
Benton is all smoothness and finesse as Don Lockwood. While a good tapper, he demonstrates even stronger lyric dancing skills in the second act "Broadway Melody". Of course there is the much anticipated "Singin' in the Rain" complete with rain falling from above, and that lamp-post we know so well from the film. Benton hits all the iconic Gene Kelly poses, and dances his way through the puddles on stage right into the hearts of the audience.
Benton is joined by an eager Darien Crago as Kathy throughout the show in a union that works beautifully in both song and dance. Crago is enjoyable to watch whether with Benton, on her own, or in the energetic, audience-pleasing trio "Good Mornin'"!
Laura Plyler is perfection as Lina Lamont in the second act song "What's Wrong With Me?" Oddly, that is the only time in the show she nails her character. The rest of the show she delivers a watered-down version of Lina's accent and annoying nasal placement. Listening to the callow character speak should be like hearing nails on a chalkboard. Her under-delivery makes Dona and Cosmo appear unnecessarily dismissive of her at the top of the show.
There are other cameo moments in the show where cast members have not fleshed out their character or brought an accent or distinguishing physical attribute to the role. For example Ben Prayz seems to miss all the comedic possibilities at his fingertips as the Diction Teacher in "Moses Supposes", and Michael Hardenberg is terribly bland as the Production Tenor. It would seem that the strength of this cast is it's dancing ability, and perhaps some acting has been sacrificed along the way. So lets focus on the dancing.
Hurray! I have seen Singin' in the Rain several times, and have never seen a dance ensemble as strong as this one at The Wick. While some theatres and choreographers shy away from the lengthy and difficult "Broadway Melody" ballet, Director and Choreographer Rommy Sandhu has embraced and embellished it. It is very well staged and danced, and it is in this elegant moment that it becomes clear why some of the cast members have been brought in. It makes great use of the stage and space, and demonstrates beautiful lines, technique and style. Emily Tarallo as The Girl in Green duplicates all of the sensuous allure created by the talented Cyd Charrise in the role.
An unexpectedly exciting aspect of this production is the wonderful use of projections. Suddenly all those scenes done on various sets at the movie studio are fleshed out in a way that could not be done without projection. It adds immeasurably to the shows appeal, and completes the vision of each scene as we are immersed into the magic of the moment. Solid lighting design helps to soften the edges between the actual set pieces and the projections as they blend together. The rain sequence is done impeccably. It looks great, gives us everything we want, and doesn't interrupt the flow of the show or disrupt the scenic design. All of the memorable songs and dance moments are brought to life in a way that pays loving tribute to the golden age of movie musicals in this production of the iconic and much loved Singin' in the Rain at The Wick Theatre and Costume Museum.
The creative team of Betty Comden and Adolph Green provided lyrics, songs and screenplays to some of the most beloved and successful Hollywood musicals and Broadway shows of the mid-20th century. They have been called "the longest running creative partnership in theatre history". Often confused as a romantic couple, Comden and Green were only business partners, and both were married to other people. For six decades they collaborated with other leading entertainment figures such as the famed Jule Styne and Leonard Bernstein, and wrote for iconic musicals and musical comedy films such as Singin' in the Rain, On The Town, Good News, Wonderful Town, Bells Are Ringing, Band Wagon, Do Re Mi, The Barkley's of Broadway, Peter Pan, Applause, On The Twentieth Century and The Will Rogers Follies. Throughout their career they garnered four Tony Awards and numerous accolades.
This production of Singin' In The Rain will be appearing at the Wick Theatre and Costume Museum through February 18, 2018. The theatre is located at 7901 N. Federal Highway in Boca Raton, Florida. The Wick Theatre is a professional theatre company hiring equity and non-equity, local and non-local actors and actresses. They are also home to the Wick Costume Museum and Tavern Restaurant. Scheduled performances for this production are matinees Wednesdays, Thursdays, Saturdays and Sundays at 2pm; evenings Thursdays, Fridays, Saturdays at 7:30pm. Tickets are $80 and $85. For more information you may contact them by phone at 561-955-2333, 561-955-2333, or online at www.thewick.org.
Cast:
Don Lockwood: Jeremy Benton*
Kathy Seldon: Darien Crago*
Lina Lamont: Laura Plyer
Dora Bailey/Miss Dinsmore: Jane Brockman*
Zelda Zanders: Becca Fox
Olga Mara: Julia Feeley
R.F. Simpson: Timothy Shew*
Roscoe Dexter/Villain: Cleve Asbury*
Lady in Waiting: Lily Lewis
Production Tenor: Michael Hardenberg
Male Diction Teacher: Ben Prayz
Sid Phillips: Cody Knable
Girl in Green: Emily Tarallo
Young Cosmo: Blake Rubin
Young Don: Quinn Feerick-Hillenbrand
Ensemble: Em Varney, Lauren Kaye Cluett, Alisha Wickering, Michelle Attardo, AJ Hunsucker, Austin Carroll, Cindy Reid, Patrick Heffernan, Sebastian Goldberg, Ryan Lambert, Ross Thompson
Crew:
Director/Choreographer: Rommy Sandhu
Musical Director: Steven Dahlke
Lighting Design: Emily Becher McKeever
Sound Design: Justin Thompson
Projection Design: Josieu Jean
Costume Design: Jim Buff
Stage Manager: Debi Marcuci*
*Designates a member of Actors' Equity Association, the union of Professional Actors and Stage Managers in the United States.
Pictured: Jeremy Benton
Pic by Amy Pasquantonio
Review by John Lariviere
John Lariviere currently headlining throughout South Florida at local theatres and clubs. In August of 2016, John performed for the second year at the Florida (read more...)