The William Daniel Mills Apprentice Program Presents CARRIE: THE MUSICAL
CARRIE: The Musical is a thrilling and engaging retelling of Stephen King's classic novel Carrie.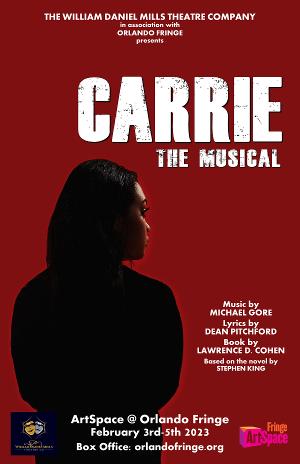 The William Daniel Mills Apprentice program presents CARRIE: The Musical at the new Orlando Fringe Artspace!
The William Daniel Mills Apprentice program was founded by Harold and Rosy Mills in honor of their late son Daniel. Under the leadership of Joseph Walsh, Roberta Emerson, Nick Bazo, and Anne Hering the program provides elite high school and early college talent around central Florida with professional training through expert master classes and professional work opportunities through paid performance opportunities.
CARRIE: The Musical is a thrilling and engaging retelling of Stephen King's classic novel Carrie. It tells the story of Carrie White, a teenager from a small town in New England, who is relentlessly bullied at school for being different and is harshly controlled at home by her fanatical mother. It's gonna be "a night you'll never forget." In 2012, this revised version with music by Michael Gore, lyrics by Dean Pitchford, book by Lawrence D. Cohen, and based on the novel by Stephen King opened Off-Broadway at the Lucille Lortel Theatre.
The Apprentice program is focused on developing young people who seek professional careers in Theatre from musical theatre, classical acting, to technical design & production directing, choreography to marketing and the business operations of a theatre company.
"Since the inception of the Daniel Mills Apprentice program in 2021, we are now working with our third cohort engaging with nearly 100 apprentices already from Central Florida, said Nick Bazo. Our partnerships with Fringe Artspace and the Orlando Shakes Theatre have enabled us to continue our success with the program and has spawned significant increased interest in additional partnerships here in Central Florida and nationally. We are
thrilled with our momentum and look forward to more announcements in the near future."
"I am so proud of these amazing young professionals along with us on this journey, said Roberta Emerson. Legacy is what this program is all about and they are truly the meaning of that. Having access to creating art in safe, equitable, and diverse spaces is how we build the future of this industry and leave a legacy that we are not only proud of, but will sustain these beautiful young adults for generations to come."
Directed by Joseph Walsh with Justin Adams as Music Director and Dayja Le'Chelle as choreographer this production features performances:
Friday Feb 3, 2023 7:30pm
Sat Feb 4, 2023 7.30pm
Sun Feb 5, 2023 2:00pm
Fringe Artspace - 54 W Church St Orlando
Tickets: General Admission $25-$32 - www.orlandofringe.org/artspace