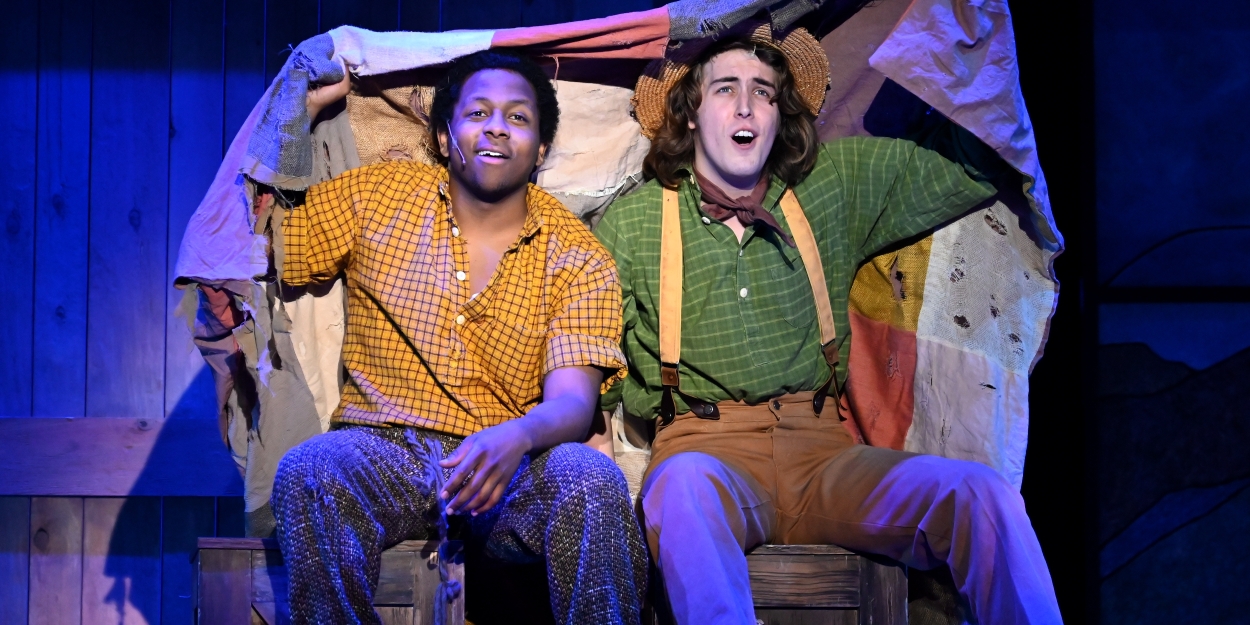 Review: Lyric Theatre Embarks On An Epic Journey With BIG RIVER
Lyric Theatre stages the musical, which has been adapted for young audiences, through March 11th at Lyric's Plaza venue.
Lyric Theatre's annual tradition of offering at least one show per year that is for children and their parents is always an anticipated event. Lyric's 2023 Theatre for Young Audiences production is BIG RIVER. The TYA version is adapted by Lyric and Adventure Theatre in Washington, DC. Based on Mark Twain's The Adventures of Huckleberry Finn and William Hauptman and Roger Miller's Big River, this version is geared toward children and marketed as an all-ages production. Many of the more adult elements have been changed or even omitted to make a safer, more kid-friendly version of this Tony winning musical.
Despite the family friendly vibe, the storyline itself features majorly problematic themes of racism and slavery in late 1800s Missouri. Bluegrass music and the Southern charm of this show are inviting, but don't completely detract from the uncomfortable subject matter. Slavery and the Civil War were the darkest moments in US History, and these are not topics that we should approach lightly. The musical, while re-written to make it more suitable for children, still has a mountain to climb towards making the storyline palatable.
Lyric Theatre's performances are, as always, solid, and at times brilliant, and bring some enjoyment to this heavy piece of theatre. The show is presented in such a way that the youngest children probably won't notice the discomfort, but their parents and older kids certainly will. The question must be asked, why is this show being produced now, in 2023, during Black History Month, and what lessons do we as a theatre community hope to teach, and to learn, from it?
Alex Rodriguez as Huck and Maximus White as Jim are inspiring in their roles. They certainly accomplish the goal of humanizing their characters, and the empathy White evokes for his character Jim is enough to make your heart ache. The "Worth the price of the ticket" Award is split between Nia Sier as Alice and Mariah Warren as The King. Sier is an incredible vocalist who brings the house down with her solo moments. Warren is always the best part of any show she's in, and her characterization of The Bad Guy is the most fun to watch. Elizabeth Dragoo is reliable and steady as Widow Douglas. Emmalee Hamilton is loving and sweet as Mary Jane. Joshua Morgan Thompson is comical and cautionary as The Duke. Greg Gore rounds out the cast as the would-be villain Judge Thatcher and the Sheriff.
Lyric Theatre is second to none when it comes to production value. Michael Baron, with Associate Director Monique Midgette, directs a visually gorgeous show. Lighting design by Fabian Garcia is warm and inviting and set design by Deb Sevigny is imaginative and clever. The artists and production team that created this show have produced a musical that is beautiful and light, well-paced and energetic. It is, however, not without its faults.
For Black History Month, let's lift Black voices. Let's tell stories by Black artists, featuring Black characters, that are hopeful and promising. Let's show children that we have indeed learned from our collective failures, and that we know we as Americans have committed wrongs that will take generations to right. Generational trauma is real, and we should always strive to acknowledge, and thus begin the process of healing, those traumas.