BWW Interview: David Herskovits Discusses PAY NO ATTENTION TO THE GIRL
David Herskovits is the Founding Artistic Director of Target Margin Theater currently remounting Pay No Attention to the Girl, bringing to life interwoven stories about the sexes - their conflicts, their love, their tricks -from various translations of The One Thousand and One Nights, a collection of Silk Road, Middle Eastern/North African), and South Asian tales.
These ancient stories of power and sex turn out to be not so ancient at all. When a slave girl comes forward to tell her story publicly about the prince's advances, he pushes back with his own story. The viziers try to silence her, but she insists on speaking up! Whose story is it to tell? The tales' Islamic context makes them especially urgent today; have we forgotten that "In the name of Allah..." is an invocation of mercy compassion and peace?
Herskovits took a moment to speak with BroadwayWorld about his powerful project.
What drew you to this source material/how did you come across it?
At Target Margin everyone in the group suggests program ideas and we spend lots of time reading and talking about the options. My Associate Artistic Director Moe Yousuf first suggested the 1001 Nights, several years ago, and we were all immediately excited by it.
The material is so culturally rich and complex! That is the immediate thing that grabbed me: these tales express centuries of storytelling across many different Silk Road cultures; they are Arabic, Turkish, Persian, Indian, and more; they date from pre-Islamic stories through to 17th century stories; they are sacred and profane, political and sexy and ridiculous and mystical. It's all in there.
The 1001 Nights is also shockingly timely today. We have never needed more to remember how generous and humane Islamic culture is. We have never needed more to reflect on cultural and religious difference, and to listen carefully to the voices of women. It is all the voice of a woman, Scheherazade, the master storyteller par excellence.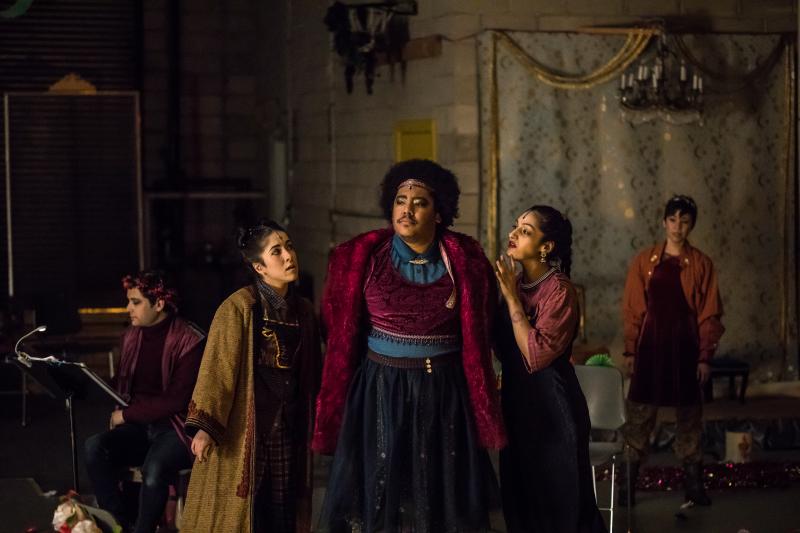 What kind of input have you gotten over the course of the play's development?
This play is a product of vast input from many people. We had early conversation with scholars and theater makers who have experience with this material, especially people from Silk Road cultures, and theater artists who have adapted some of the stories before. This is crucial because I have a special embrace for work that is new to me-I love the adventure! But I am a sort of permanent beginner, always looking to learn from people who are truly expert. Listening and learning from them has been a great joy to me.
Pay No Attention to the Girl is a play that we as a company made up together, over many weeks of work. When I say company I mean it. I want to hear from every human in the room, so designers, stage managers, production people, technicians, office staff, interns, and yes actors, all of us came into the process at various points. The language in the play, the music, and the ways of telling these stories represent every single one of them. That's a lot of people.
What's the most surprising thing you've learned from the experience and the piece?
I had no clue about how complex these stories are! I mean everyone thinks they know Aladdin, we think we have heard about Ali Baba, and Scheherazade, and Sindbad, but it turns out we hardly know them at all! We know the received Western adaptations that have dominated transmission of The Nights since the 1600s. Returning to the sophisticated complexity of the original tradition has been revelatory for me.
What methods do you employ to remain culturally and socially sensitive while still challenging the status quo?
Staying sensitive is precisely the way to challenge the status quo! The structures within which we work dictate that certain voices are centered and others marginalized. That is wrong. The point of this company is to create a place where the MARGIN is the thing we VALUE. Our radically inclusive process is an important part of this. We try to stay vigilant about core values: listening, difference, mystery, inclusiveness. Our work is artistically challenging but we also try to make it truly entertaining all the way through. We want everyone to feel welcomed into it-and we want everyone to be challenged by it. Personally, I embrace the fact of my own ignorance and try always to be honest about that. I like to say that my position as an artist and a human in the world is "Against Mastery"; I question the illusion of dominance we find everywhere and the power structures it creates.
What kind of audience response are you hoping for? What kind of questions do you hope the audience will ask themselves in dialogue with the play?
Goodness everyone! We especially love getting local Sunset Park residents, since we are new here in the neighborhood. So student groups and the local Arab American Association of NY have been important for us. But general theater audiences are our loyal friends, and we care about others in the theater too of course-we want to wake everyone up to this work. Everyone has seen adaptations of some of these stories. We think we can show them part of what they have missed!
What kind of future are you hoping this piece will have?
We are in luck. Pay No Attention to the Girl is going to visit the Spoleto Festival USA in May 2019 (and we have been invited to Festival in Harare, Zimbabwe too!), so we have more chances to reach more people all over. Beyond the touring, I am planning to continue to work on other sections of the 1001 Nights. In the spring we will premiere a new play based on the story of Ali Baba, and there is endless material beyond that too.
Pay No Attention to the Girl runs through November 18 at Target Margin Theater's THE DOXSEE. For tickets and information, visit targetmargin.org.
Photo Credit: Kelly Stuart
| | | |
| --- | --- | --- |
| | Donations | Arts Orgs |
Related Articles View More Off-Off-Broadway

Stories

Shows