THML Theatre Company Presents The NYC Premiere Of A SECOND BIRTH By Ariel Mitchell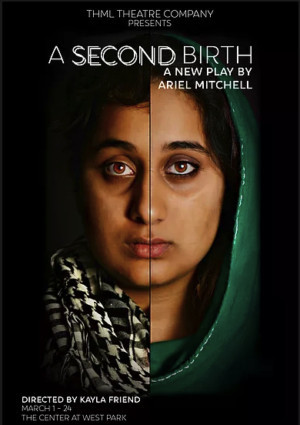 THML Theatre Company will open its spring season, 'Opening Doors, Closing the Gap,' with the New York City premiere of A Second Birth by Ariel Mitchell. The production will run from March 1st-24th as part of the Theater Artist Residency Program at The Center at West Park.
A Second Birth takes place in a rural village in southern Afghanistan; a family struggles with the tradition of bacha posh - the practice of raising a daughter to act, dress, and behave like a boy. As her feminine features begins to blossom, Nasim(a) must confront the relationships of her past and the traditions of her future to find out who she truly is.
A Second Birth is directed and costumed by Kayla Friend (Valer, Where Angels Fear to Tread) and features performances by Islam Balbaa (Ripcord, Stage Kiss), Bahar Beihaghi (What's a Contribution, Blood and Water), Grace Benedetto (Beauty and the Beast, You Can't Play Barbies When Someone Has Stolen Their Heads), Abuzar Farrukh (Disgraced, Honor Killing), *Jon Freda (Imagine Dat!The After Life of Jimmy Durante, George Tabori's Mein Kampf), Mukta Phatak (Arts Power touring ensemble, 52:15), and *Pilar Rehert (Orange Is the New Black, Disney World Resort). The creative team also includes Jennie Sommers as stage manager, Jennifer Cooper (Valer, Trial) as technical director, and Ruby Hurlock as assistant director.
THML is a majority female-run theatre company in New York City dedicated to engaging audiences with stories of women who survive and thrive. Our programming aims to provide opportunities for women in the "in-between" stages of artistic career development. We are proud to do our part to help achieve gender parity in all areas of the theatre. One hundred percent of our work in our current season is written by women, and more than eighty-five percent of our current creative teams for these projects are female-identifying or non-binary. Our production of A Second Birth is also partnered with The Ayenda Foundation to help promote the education and welfare of children in Afghanistan.
*appears courtesy of Actors' Equity Association. This is an Equity approved Showcase.
Tickets are available at https://www.eventbrite.com/e/a-second-birth-tickets-53977629543
For more information, visit https://www.thml.org/