Click Here for More Articles on STUDENT CENTER - COLLEGE EDITION
Philippe Quesne's THE MOLES Makes U.S. Premiere At NYU Skirball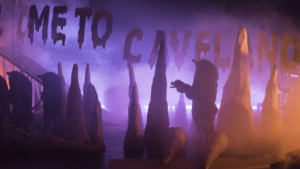 NYU Skirball will present the U.S. premiere of French theater director and visual artist Philippe Quesne's The Moles, three unique theatrical events running Thursday, September 12 - Saturday, September 14 , 2019 at NYU Skirball.
Philippe Quesne has created a rollicking, riotous parallel universe inhabited by giant punk-rock playing creatures who live deep underground, free of words and of humans. In this mysterious underground world, larger-than-life moles are not solitary creatures, but the architects of something between a utopian community and a punk rock band. New Yorkers of different ages will have the chance to meet the Moles in three distinct events: A free afternoon parade will be followed by a family-friendly matinee and two for-adults-only evening performances.
"When we dig, we discover caves, vestiges of the past," said Quesne. "The cave is a place of dreaming, open to the fantastical, but also ideal for reflecting on the darker and more mysterious aspects of the human. It's a world which evokes the idea of refuge, a burrow, a hiding place or a nuclear bunker, or even a theatre, since theatre is a form of cave art."
Parade of the Moles: Thursday, September 12 at 2 pm
The Moles will venture forth from NYU Skirball to explore the great outdoors and Greenwich Village landmarks. The public is invited to join in this free, informal parade as the creatures explore the NYU neighborhood. For all ages
Night of the Moles: Friday, September 13 & Saturday, September 14 at 7:30 pm
A burrow. Seven giant moles emerge from cardboard tunnels. They dig, cook, draw, fight giant earthworms, copulate and even form a punk-rock band. A disconcerting microcosm that could only have come from Philippe Quesne's imagination. Wordless theater of the ecological and philosophical underground, this is an improbable journey to the center of the earth. Appropriate for adults only.
Afternoon of the Moles: Saturday, September 14 at 3 pm
In this family-friendly performance, the Moles remain chaste, but still dig, cook, draw, fight giant earthworms, and form a punk band that rocks their underground world. There will be a pre-show activity for children and their families. For ages 5 and up.
Philippe Quesne studied fine arts, visual design, and stage design in Paris. In 2003, he founded Vivarium Studio. His many works, which have been presented to great acclaim internationally, combine scenography with visual art and performance. Since 2014, he has been artistic director of France's Nanterre-Amandiers theatre. In his work, Quesne creates spaces that function like ecosystems, where the performers explore the dynamics within a community. In addition to his work for the theater, he creates performances and interventions in public spaces or natural sites and displays his installations in the context of exhibitions. In 2019, he was named artistic director for the Prague Quadriennal. nanterre-amandiers.com
Welcome to Moleland is presented in cooperation with France's Thétre Nanterre-Amandiers.
Tickets begin at $20 and can be purchased online at www.nyuskirball.org, by phone at 212.998.4941, or in person at the Box Office, 566 LaGuardia Place at Washington Square: Tuesday-Saturday, 12:00-6:00 P.M. (holiday and summer hours may vary). NYU Skirball is located at 566 LaGuardia Place at Washington Square, New York, New York 10012. www.nyuskirball.org
Photo Credit: Martin Argyroglo
Related Articles
More Hot Stories For You