Happenstance Theater's BROUHAHA to Play Theater for the New City This Winter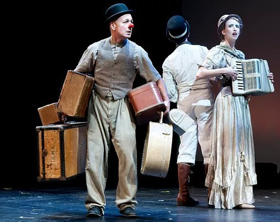 Theater for the New City presents Happenstance Theater's BrouHaHa in its NYC premiere, with previews January 4 & 5 for an opening on Saturday, January 6, and a run through January 21st, 2018.
BrouHaHa is an existential escapade inspired by images of refugees fleeing on foot, Edwardian workers, cinematic treasures like Fellini's La Strada and Bergman's The Seventh Seal, and the dark comedy of Samuel Beckett. In this devised, clown-esque piece, Happenstance Theater's troupe of eccentrics walks the precipice at the end of the world. Their play lights up the darkness like a firecracker. This timely show appeals to audiences of any age.
The ensemble cast will feature Gwen Grastorf, Karen Hansen (Winner, 2017 Helen Hayes Award for Outstanding Musical Direction), Mark Jaster (Winner, 2016 Helen Hayes Award for Outstanding Lead Actor in a Play), Sabrina Mandell, Sarah Olmsted Thomas, and Alex Vernon with Lighting Design by Kris Thompson and Costume Design by Sabrina Mandell (Winner, 2016 & 2017 Helen Hayes Awards for Outstanding Costume Design).
BrouHaHa has been performed at the International Festival of Arts & Ideas, Staunton Music Festival, Celebration Barn, NextNOW Festival at Clarice Smith Performing Arts Center, Baltimore Theatre Project, NY Clown Theatre Festival in Brooklyn, Capital Fringe Festival, Reston CenterStage and St. Mary's College. It was developed with a grant from the Morgan Fund and by support from the Share fund. This will be the show's New York City Premiere.
Watch a trailer for the show below!
---
IF YOU GO:
BROUHAHA
At Theater for the New City (155 1st Avenue between 9th and 10th Streets)
January 4-21 with performances Thursdays through Saturdays at 8pm and Sundays at 3pm with an additional performance on Monday, January 15 at 8pm
Performance is 70 minutes with no intermission.
Tickets: $25 General Admission $15 Students/Seniors
www.happenstancetheater.com/brouhaha | 212-868-4444
---
Happenstance Theater is a professional company committed to devising, producing and touring original, performer-created visual, poetic Theatre. Our ensemble is made up of multi-talented performers who craft all aspects of our work from concept to realization. We harvest imagery from the past and re-contextualize it in works that address eternal themes of life and death. With the simplest means - humor, music, silence, text and beauty - we seek to elevate the moment when the performers and audience meet, to lift the encounter beyond the daily and pedestrian into the realms of dreams, poetry, and art. Meaning is often found by happenstance.
In 2016 Happenstance received three Helen Hayes Awards for Outstanding Ensemble, Outstanding Costume Design and Outstanding Lead Actor. In 2017 Happenstance received two Helen Hayes Awards for Outstanding Costume Design and Outstanding Musical Direction.
Visit www.HappenstanceTheater.com for more information.
THEATER FOR THE NEW CITY (TNC) is a Pulitzer Prize-winning community cultural center that is known for both its quality artistic work and unique widespread community service. One of New York's most prolific theatrical organizations, TNC produces 30-40 premieres of new American plays per year, at least 10 of which are by emerging and young playwrights. Many influential theater artists of the last quarter century have found TNC's Resident Theater Program instrumental to their careers, among them Sam Shepard, Moisés Kaufman, Richard Foreman, Charles Busch, Maria Irene Fornes, Miguel Piñero, Jean-Claude van Itallie, Vin Diesel, Oscar Nuñez, Laurence Holder, Romulus Linney, and Academy Award Winners Tim Robbins and Adrien Brody. TNC also presents plays by multi-ethnic/multi-disciplinary theater companies who have no permanent home. Among the well-known companies that have been presented by TNC are Mabou Mines, The Living Theater, Bread and Puppet Theater, the San Francisco Mime Troupe and COBU, the Japanese women's drumming and dance group. TNC also produced the Yangtze Repertory Company's 1997 production of BETWEEN LIFE AND DEATH, which was the only play by Gao Xingjian ever produced in America before he won the Nobel Prize for Literature. TNC productions have won the Pulitzer Prize for Drama and over 42 OBIE Awards for excellence in every theatrical discipline. TNC is also the only Theatrical Organization to have won the Mayor's Stop The Violence award. Go to www.theaterforthenewcity.net.