Donand Olson's TRANSFORMATION: The Christine Jorgensen Show to Open at the Fresh Fruit Festival
In the show, we are whisked back to 1953 on the eve of Jorgensen's history-making stage debut.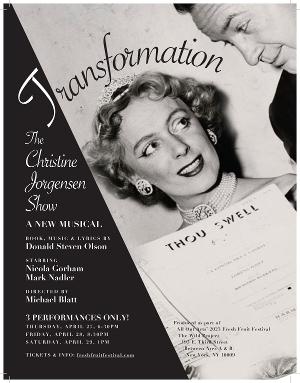 New York's preeminent LGBTQ Arts Festival, the FRESH FRUIT FESTIVAL returns for another season of exciting works on stage - on film - and on the air. The 2023 Main-Stage will premiere a dozen new works exploring the LGBTQ experience. For the 13th year in a row, the festival will take place at The Wild Project, 195 E 3rd St, NYC
A Featured Event of the Festival this year is the premiere of Donald Steven Olson's new musical play, TRANSFORMATION: The Christine Jorgensen Show.
This special event will have three showings in NYC: Thursday, April 27 @ 6:30 pm; Friday, April 28 @ 8:30 p.m.; Saturday, April 29 @ 1:00 p.m. @ The Wild Project, 195 E 3rd St, NYC. Contact jmcommnet@gmail.com for info on this and all Fresh Fruit Festival presentations.
Noted stage director Michael Blatt directs this NY premiere presentation.
Filled with witty original songs and an engaging story - even more timely today - we are whisked back to 1953 on the eve of Jorgensen's history-making stage debut.
The musical play follows Bronx-born Christine Jorgensen as she returns from Denmark following her headline-grabbing transformation from an ex-GI into a blonde beauty with the help of a down-on-his-luck nightclub entertainer determined to turn the new "her" into a cabaret chanteuse - despite her lack of experience and overwhelming stage fright.
Broadway and International entertainer, Mark Nadler brings to life the role of Myles Bell, the hard-boiled song-and-dance man whose life is transformed by his association with Christine Jorgensen, the world's first transgender celebrity. Making their own professional New York stage debut is trans film and cabaret star, Nicola Gorham, who will play Christine Jorgensen.
Can you believe this happened 70 years ago this year??!!
"It's time we meet the founder of the trans movement and applaud and appreciate her courage and determination to be true to herself, despite all obstacles," says Olson, whose work as an award-winning playwright, novelist and short story writer spans decades. Olson is internationally known for his envelope-pushing plays and novels about gay artists Aubrey Beardsley, Oscar Wilde, and Walt Whitman and his ground-breaking works on the trans community, gay parenting and LGBTQ political and personal issues.
"Considering the historic leaps the trans community has made recently," says Michael Blatt, director of the play, "the time to do this and to see it... is now." Michael produced/directed "Hello Again" by Michael John LaChiusa, "Thrill Me: the Leopold & Loeb Story" by Stephen Dolginoff, and "An Infinite Ache" by David Schulner for his new off-Broadway company, Little Red Light Theatre.
"In every community and culture, there is history that is obscured or downright ignored," says producer Jay Michaels, "and it is the artist's job to tell these necessary stories." Mr. Michaels began at the tail-end of an historic movement itself - the Off-Off Broadway movement. He produced, directed, wrote, and appeared in productions at many of the historic founding theaters - La Mama, Theatre for the New City, Theatre Genesis (for which his own company is named) and the American Theatre of Actors to name a few.
Mark Nadler received BroadwayWorld's Editor's Choice Award for Entertainer of the Year; his recent off-Broadway hit, "I'm a Stranger Here Myself," received a Nightlife Award and was nominated for a Drama Desk and two BroadwayWorld awards. He also appeared with Marvin Hamlisch and Martin Short in "Three Singular Sensations."
Nicola Gorham received great praise for their role on HBO's acclaimed series, "High Maintenance" as well as the independent features Townhouse Confidential, Josie & Jack, and I Am