BWW Review: Time Stands Still at 36 JUNIPER, Presented by Wrong House Productions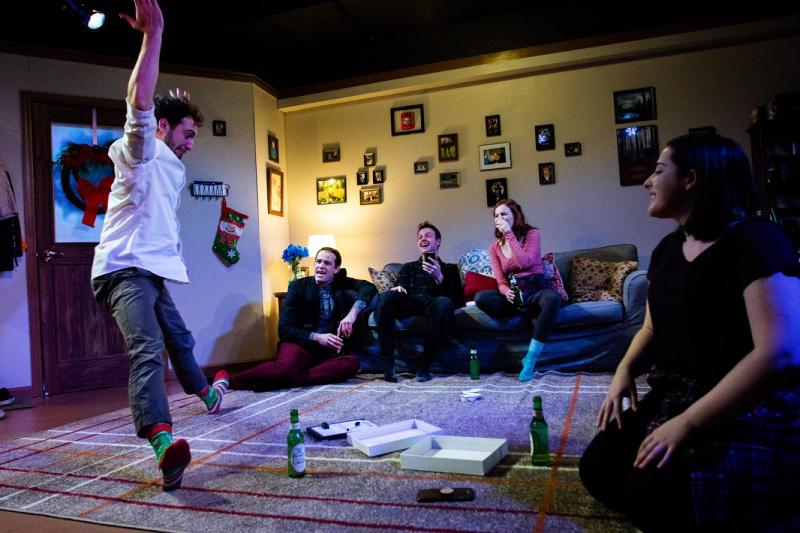 We place our hope in the belief that time will heal what once brought us pain; those feelings of sadness which plague us, though never completely gone, are dulled by the need to keep on living. We replace the fear of a certain moment and replace it with the fear of having to go back to it, like a trigger that eradicates all the progress we've made and puts in its place a once-again damaged human being. People are meant to cope with tragedy by distancing themselves from any memory of it, even if it once brought happiness; they are not so keen on the idea of such a memory coming back to haunt them, let alone prepared. Five high school friends come together for bittersweet evening - one of remembrance and reminiscence - that turns into a psychological nightmare no one could have ever foreseen coming, It all happens at 36 Juniper, now in performances at Teatro Circulo and is, simply put, just a really great production.
Written by the team of Jessika McQueen, Shannon McInally and Alyssa Abraham, directed by Greg Pragel and celebrating its World Premiere in the heart of the East Village, 36 Juniper is an unexpected and riveting theatrical gem. It is over an hour of emotional and psychological suspense that builds and builds until everyone - from character to audience alike - is mentally exhausted. A plot that begins under the innocent pretense of a reunion of friends soon becomes more burdensome as the collective "we" of this once inseparable group trickles down to portray the issues each person now faces a decade later. Life-changing problems such as addiction, irreparable feelings of fear and remorse and an ironic nostalgia for a time that reminds each of their failed attempts of moving on, five friends meet at 36 Juniper to pay their respects to the memory of an old friend - a memory that becomes forced upon people who were better off not knowing the truth of what happened an entire decade ago.
36 Juniper begins with Theo cleaning up his house, seemingly in anticipation of guests soon to arrive. Once the doorbell rings and Amy walks into his home (quite early), the plot begins to take on a more definitely form: there was a memorial service that morning, and this meeting of old friends is poignant but uncomfortable, to say the least. Tom, Ben and his cousin Bobbi arrive later on, and the group (expecting others from the service to also gradually show up) easily delves back into the antics of their high school days; they soon discover that the joyful moments of their past also inevitably bring with them the bad. When it is discovered that no one else is coming, that Theo arranged only his closest friends to meet and resurrect the memory of a tragic event ten years before, we see the wonders of human nature come crashing down around us. As each character deals with the death of a fellow classmate, renewing the misery that has never left their hearts, they discover truths that trap them further in this vicious cycle of remembrance.
I was honestly taken by the strength of this show, not only because of an incredibly well thought-out plot with characters whose development (or demise) is so carefully crafted (as any good storyteller knows how to do), but also because of how it compels the audience to feel right alongside these unfortunately souls who must endure the consequences of a school shooting. 36 Juniper is a play about millenials and the struggles they face due to trauma, but it is also about how the human spirit - any spirit - can utterly break when confronted with something it is unable to handle. This production is an unbelievable display of unbridled emotion, rubbed raw by the truths that are soon uncovered: Theo hid his motives to relive a past everyone was trying to forget, and then tells how the shooter - his brother - may not have truly acted alone.
This is a show that the audience will strive to understand on so many levels, even if we are not able to experience everything as completely as those we witness before us. Whether we are frightened by Bobbi's screams or empathetic towards Theo, so unable to move beyond his past, this show is comprised of these moments of individual pain that come together to create a microcosm of collective suffering. When speaking to my friend about this show (as we were compelled to do once the bows were taken), we were amazed by how this production does not focus on the shooting itself, but more so the aftermath of one person's choice to use a gun and end the lives of so many; my friend was intrigued by this. We also agreed how experiencing the pain and anguish of these five friends, plus one's fiancé, as they become the trapped prey of their own minds, led to such curiosity as to what happened before Theo's brother Kyle walked out of the house on that faithful day. Did Theo know, and what thoughts went through both of their minds (if so) to allow such a travesty to befall and unsuspecting group of students?
There are so many questions that really compel the audience to explore, as they sit in the living room with these five people, what it is that makes a person suffer, and how they are meant to deal with it.
36 Juniper, aside from having a captivating story to tell, has a stellar cast that knows no bounds in talent. Not only do these individuals chart a clear path for how their characters come to change from beginning to end, but their uninhibited emotion is just unbelievable; it must have been so therapeutic in itself to get all of that anger out, albeit acting! Brendan Byrne, Shannon McInally, Joe Reece, Jacob Dabby, Alyssa Abraham and Jessika McQueen round out a very talented and able-bodied cast that knows how to capture our minds and attention from the start.
On the creative side is Steven Brenman as Technical Director, Zach Weeks as Lighting Designer, Alex Duncker as Sound Designer, Kelsey Vivian and Claudia Smith as Stage Managers and Executive Producer Jack Creaghan.
36 Juniper began performances at Teatro Circulo Theatre (located downstairs at 64 E. 4th Street) on November 29th and will run thru December 8th. The remaining performance dates are as follows: December 7th at 8:00 pm and December 8th at 2:00 pm and 8:00 pm. Tickets are $22 and be purchased by visiting www.thewronghouse.com.
Enjoy the show!
Photo Credit: AK47 Division