BWW Review: The Bond of Friendship Remains Unearthed in Panettieri's A BURIAL PLACE
A Burial Place
The idea of change is a frightening concept for some people: whether that change indicates the end of a relationship, a career or something that causes a disruption in the balance we call our daily existence, some do not take comfort in the cycle known as their life being disturbed like that in any way. Yet think about this in terms of being a best friend to someone - someone that only comes around on the same date once a year to take part in a traditional sleepover that even his disappearance three years ago cannot stop from happening.
It is said that true friendship does not wither with time, yet does that bond become even stronger or in fact weaken when the very basis of friendship is questioned altogether? As inexplicable and strange as what happens in Owen Panettieri's new play A Burial Place may seem, there is something so real, so humanly relatable to its ethereal quality that it becomes this heartwarming story that audiences will not only very much enjoy, but will be compelled to ask how far any one of us is willing to believe in the bond we share with those in our lives...even when we fight against its fading away.
Presented by New Light Theater Project, in association with 5000 Broadway Productions, A Burial Place recently opened at the Dorothy Strelsin Theatre and marks Director Joey Brenneman's third collaboration with its playwright. This play, representing what true camaraderie is among three childhood friends who come together for a much anticipated night of fun, in its simplicity really brings up quite a few thoughts about what friendship really means; it also made me quite curious to know how the idea for this plot came about.
True friendship is almost an agreement among people to share the essence of themselves with others who are either like them or make the world a bit more pleasant because others are part of their existence; it creates a bond that, even if not renewed, stays in unquestionable tact. But does it ever go too far - what happens if who you are, what you try to be and try to understand makes the whole thing just too difficult to bear? What if friendship becomes more of a burden than a joy, especially when you can't know why the past continues to haunt you so?
The basis of the story is this. Every year for the past three years, Emmett, Marcus and Colby come together for an annual sleepover where it's just "the guys" hanging out at Emmett's clubhouse; every year do they wonder whether Marcus will actually show up. With Emmett and Colby recently broken up, Marcus arrives and automatically lightens the mood, thus beginning what will be the typical fun night all three of them have come to expect. Yet, certain things have changed that foreshadow that this night spent together will be a bit different than the others: the old TV is gone, the boys' time capsule has been prematurely dug up, and Emmett and Colby have just broken up.
With this foreboding uneasiness already making a tangible mark, Marcus' carefree demeanor is threatened by widespread news he apparently knows nothing about: a plethora of bodies were discovered right by his home. In what becomes a very intriguing bunch of revelations made long ago but now discussed without reservation, they each try to comprehend the chance that Marcus is the friend they once knew years ago...and not for the reason you would think.
Once the audience enters the theater, they are immediately immersed into this world that is as straightforward as you could expect, but not in the least bit menacing - homely, with elements of disarray that aptly portray the troubled transitions that all of these characters are making. The space is small but with plays like this, those that are so reliant upon the actors to stimulate the drama that is to come, it is the absolute perfect setting. Once the lights dim and you figure out that the person who has been fixing his room is not the stage manager but indeed including the audience in his story before they even realize, Max King (Colby), Deshawn Wyatte (Marcus) and Evan Maltby (Emmett) come onto the stage truly give a wonderful performance that was passionate, heartfelt and albeit will make everyone a bit tense in what turns into a very cathartic experience, but is really a great performance. It is such that you can simply sit there and absorb everything that is happening by just listening - something very easy to do and lose yourself in doing during this show.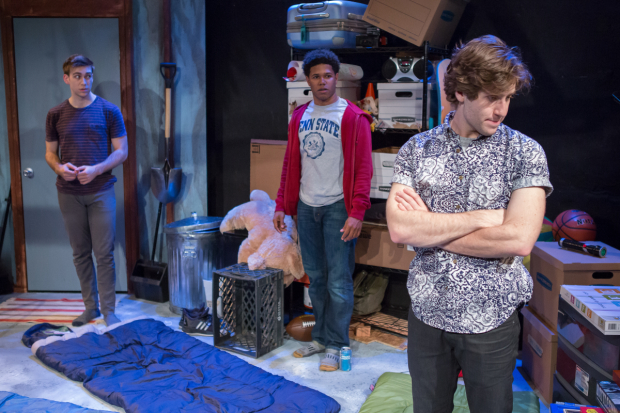 In discovering what it means to not only question how a friendship can last under such conditions but continue to believe that it can even after reason says not to, all three actors really bring this bond of friendship to such a fundamental core, that there is little the audience can do but share in the experience, wondering if they could be as strong as these characters are.
Andy Evan Cohen as Sound Designer, Ali Hall as Lighting Designer, Charlotte Harrison as Prop Designer, Jen Medina-Gray as Technical Director, Ashleigh Poteat as Scenic Designer, Connor Scully as Assistant Stage Manager and Allyson Namishia as Production Stage Manager all deserve credit as well for helping to bring this entrancing show together.
A Burial Place began performances on November 3rd and will continue thru November 19th at the Dorothy Strelsin Theatre, located at 312 West 36th Street in Midtown. Tickets are $19 and can be purchased by visiting http://www.newlighttheaterproject.com/a-burial-place. The performance schedule is as follows: November 8th thru November 12th, November 14th and November 16th thru the 19th at 8:00 p.m., with 3:00 p.m. matinees on the 12th and 19th. This production has general seating.
Enjoy the show!
Photo Credit: Hunter Canning