BWW Review: Oh How Joyous is Royal Family Productions' ANNE OF GREEN GABLES!
How wonderful would it be to go through life with a temperament that allows one to feel everything to the fullest capacity - to view a river as a sparkling abyss, and to experience anger with the force of one who knows herself all to well? To possess the unique quality of allowing life to fully penetrate all that we are, and to be fully present in every moment it offers us. Such a character as the passionate, redheaded Anne Shirley is truly the envy of every adult and child alike. She is a force strong enough to withstand her misfortune but naïve enough to believe in the fantastical, in a world where only reality holds true. Lucy Maud Montgomery's iconic literary work is brought to the stage and placed in the capable hands of an exceptionally gifted group.
Presented by Royal Family Productions, Anne of Green Gables: Part 1 is dazzling audiences of all ages with its enthralling cast and beautiful message: that life, when experienced to the fullest, is truly worth living.
Adapted and directed by Chris Henry, Anne of Green Gables: Part 1 is now celebrating its World Premiere at the Royal Family Performing Arts Space, located in the heart of Times Square; it is nothing short of mesmerizing, a production that casts a spell upon its audience, beckoning them to watch this adored character make her way from whimsical orphan to the "interesting" little girl who falls under the care and protection of Marilla and Matthew Cuthbert. Anne Shirley is a fascinating young woman - charmingly opinionated, outspoken where it most counts and a role model to those who find life a little less than magical. Not only is the plot riveting to the young, the old and all those in between, the cast (led by the super-talented Ali Ewoldt) brings such vibrancy, versatility and warmth to the stage, allowing the audience to experience the almost ethereal quality of this orphan's world - a girl who not-so-secretly has nothing but hope in her heart.
Ewoldt, who recently appeared as Christine in Broadway's The Phantom of the Opera, now extends her acting abilities by not only playing one character, but several. With the nuances of each one down-packed and the confidence of a truly seasoned performer, the transition from one person to the next is done with the grace of child's play; that would explain the number of children in the audience. One particular boy was so engaged with the plot, he called out his answers to questions asked on stage; this gave everyone a good laugh and only added to the mirth of the performance. Joined by an ensemble of dancers who assist Ewoldt in the lighthearted telling of this story, Anne of Green Gables: Part 1 really could do no wrong. The one thing I wish is that a song was added to the production for Ewoldt (Phantom may be my favorite musical...).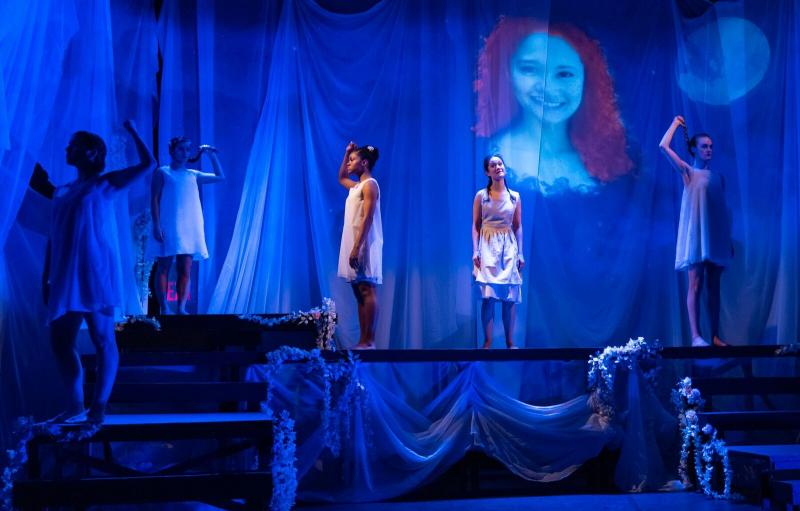 For those of you not familiar with the plot of Anne of Green Gables, the story begins with middle-aged siblings Matthew and Marilla Cuthbert and their search for a young boy from the local orphanage; in Matthew's old age, he needs helping tending the fields. When a mistake is made and Anne Shirley is sent to the Cuthbert's instead, the initial verdict is that Anne must be returned; she cannot possibly do the work of a boy, who is more able-bodied. A line repeated over and over, and which serves as both a nightmarish phrase for the young orphan and a mantra for girls everywhere to be stronger, she is adamant in becoming part of a life she only once dreamed could be real. Marilla succumbs to Anne's unique ability to embrace life and decides to raise the orphan as her own; with no experience and only her motherly instinct to guide her, it is a daunting task - a risk that ultimately makes for one incredibly heartwarming story.
Anne of Green Gables: Part 1 is a unique opportunity to see just how diverse is the act of storytelling. While Ewoldt plays all characters with speaking roles (from Anne, to Marilla and Matthew and all those in between), the ensemble of talented dancers complements what she says or does. Their movement takes many impressive forms: from comical charades to shows of graceful choreography, they are much-needed assets in the proper telling of Anne's story. Together, this cast brings out every emotion to the fullest, and really compels the audience to think about its life, collectively. Can anyone be as truly happy as Anne, carrying wonder around like a physical object we can't let go of? Can misfortune be pushed away if we approach it with a genuine heart? Even if only a work of fiction, there are many good things to take away from this production; I ask that you witness it for yourself so you can see what I mean.
Kudos must be given to all those involved in making this show possible. Ali Ewoldt, Brooke Averi, Hannah Hall, Nichole Forde, Kara Menendez, Juna Shai and Stephanie Young are joined by many talented folks behind the scenes. Associate Director Jessica Wu, Set, Costume and Lighting Designer Cheyenne Sykes, Sound Designer Chet Miller, SM/ASM Tyler Danhaus and Faye Oyang and Choreographer Lorna Ventura; original music is provided by Amanda Armstrong, Lars Jacobsen and Bart Kuebler.
Anne of Green Gables: Part 1 opened at the Royal Family Performing Arts Space (located at 145 W. 46th Street) on January 24th, and will run thru February 11th. Tickets are $29-$59 ($250 VIP) and can be purchased by visiting www.royalfamilyproductions.org. The second installment of Montgomery's novel (in workshop form) will take place from January 31st thru February 10th The performance schedule for Part 1 is as follows: Monday, Friday and Saturday @ 6:30 pm, and Sunday @ 2:00 pm. Running time is 75 minutes.
Photo Credit: Russ Rowland