BWW Review: Identity Politics Twist in MONICA: THIS PLAY IS NOT ABOUT MONICA LEWINSKY at 59E59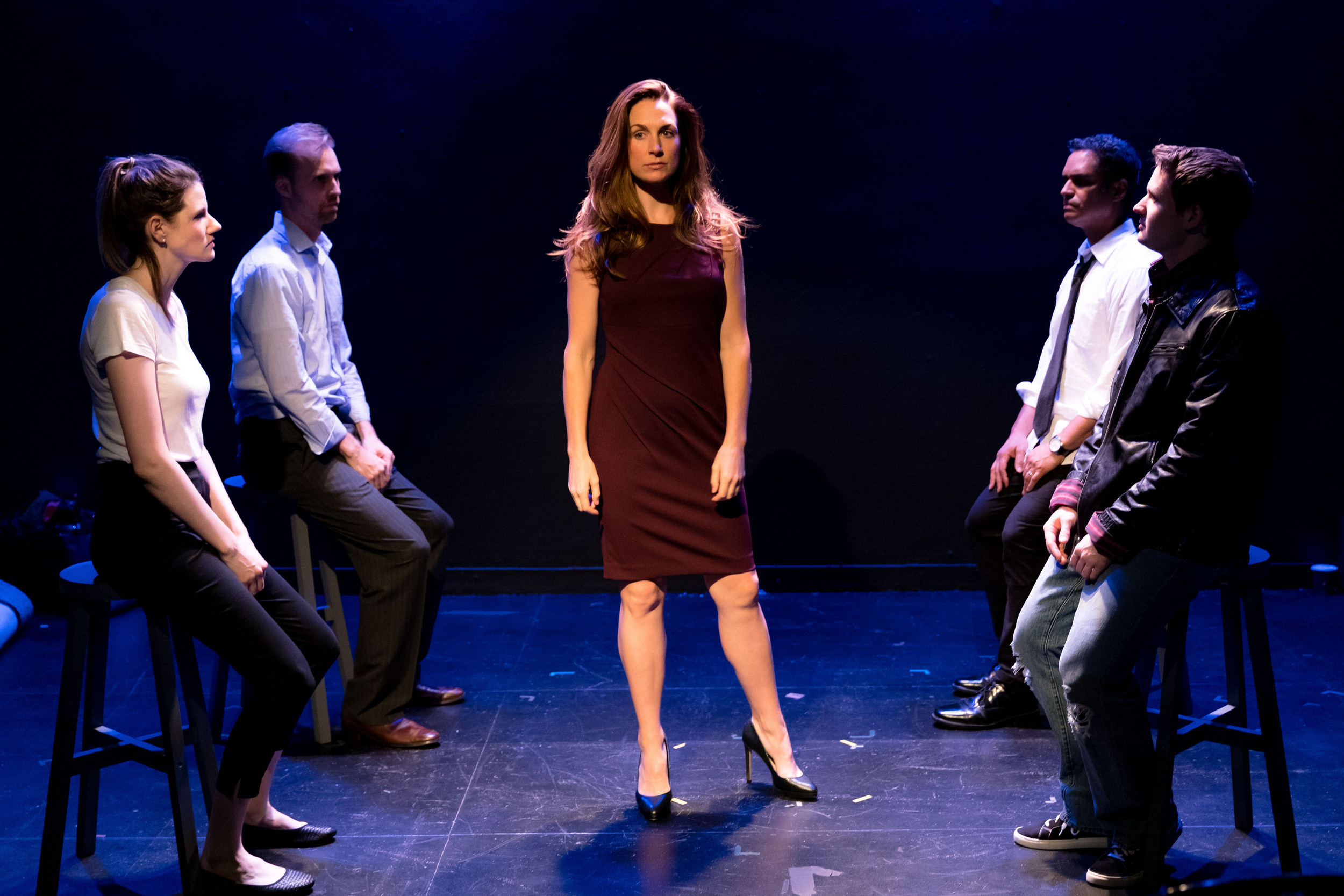 This review is not about Monica Lewinsky. Monica: This Play Is Not About Monica Lewinsky, stars Caroline Kinsolving as the complex, archetype-defying quasi-Monica. This clever time-shifting one-act play from Via Brooklyn succinctly captures the tension between holding on and letting go of one's identity in an era where private lives are frequently made public either strategically or by scandal.
Like a double helix, the play evolves non-linearly across several years between 1990 and now. Set in London and the United States, the scenes are interspersed with digital projections and sound bites of that time period's media menu, eg. Y2K, Madonna, O.J., Oprah, and the Clinton impeachment.
Playwright Dianne Nora's script (an abridged version to be produced at the Edinburg Fringe Festival) is clever and concise, threading philosophical questions through provocative yet plausible dialogue. The humor inherent in Monica never takes a cheap shot nor does it need to: the male characters such as The Expat/The Yuppie (Rafe Terrizzi) and The Youth (Jack Collard) mansplain plenty, to Monica's chagrin.
The overall direction of the show, including the set and prop design, is economical and inventive (Hannah Tova Wolff, Director, also did set and prop design). Rather than pantomime props or use furniture, actors serve as a coat tree, glass rack, and scene-adjacent silent observers. In the cool blue light, they add a visual reminder that when people like Monica are alone, they are never truly outside the public eye. And as for the rest of us, we're at best voyeurs and at worst complicit.
In ways both valiant and vulnerable, Monica tries to reconcile her past in the long shadow of infamy while optimistically seeking intimacy, and, as she attempts to shift her status from victim of society to architect of her new life, she does so while under the media's relentless scrutiny. She longs for a one-to-one relationship but is too often forced into a one-to-many role.
THE EXPAT: I can't get over your face. I mean--I've seen you so many times before and you've been in my mind, in my mind's eye, and now you're . . . here.
MONICA: Am I really though?
THE EXPAT: Yes. And no one will believe me.
MONICA: People will believe anything.
Although paparazzi are not featured in the play as explicit characters, the media's omnipresent gaze still permeates every scene and echoes in most conversations. Monica endures on a personal level the reality of what plagues society systemically: how men and women are treated differently, particularly amidst conflict and scandal. In each tightly constructed exchange, Monica sets and resets boundaries to maintain a sense of safety and identity, physically and emotionally.
In the book When, author Daniel Pink inverts the "Timing is everything" adage into "Everything is timing." On a macro or micro scale, when we do something is often more important than what it is we're actually doing. And what is it that we are doing? If you're Monica (and we are all Monica) we are celebrating the holidays, going to therapy, arguing over politics, dating, holding down jobs, going to funerals, getting laid and getting angry. And not necessarily in that order.
Monica: This Play is Not About Monica Lewinsky is a timely and entertaining reminder that the game of gender and identity politics is neither won nor lost; it just doubles back on itself with new players.
Photo Credit: Katy Beth Barber
Related Articles View More Off-Off-Broadway

Stories

Shows