Review: Good Things Come In Three's with American Bard's VISIONARY VOICES
Theater has the power to do so much for so many different people, actors and audiences alike. It can do everything from entertain to teach, to inspire or goad towards personal and social change. It brings the creative ideas and individual means of expression together to create something all those involved may collaboratively feel. The best shows allow a person to be riveted enough to question what makes a production so fascinating - why he or she was so intrigued in the midst of it all. One such production that leaves audiences wondering exactly these things is the American Bard Theater Company's Visionary Voices: 2 Women Writers, 3 Big Stories.
Three one-act plays come together to explore themes of gender, race and the acknowledgement of truth versus that which society believes or dictates it to be. Whether "society" is three men who are amused by female trifles, an exasperated lover who tries to shield his woman from the dangers to be found within and without or a newspaper meant to bring forward the troubles of its people, Visionary Voices brings together a perfectly quilted collection of one acts that will without doubt leave you riveted, even smitten, by all that a good performance can do.
Directed by Aimee Todoroff and Tonya Pinkins, and now in performances at the Gloria Maddox Theatre, Visionary Voices begins with Susan Glaspell's Trifles, followed by Marita Bonner's Exit: An Illusion and ending with Glaspell's The People - three wonderful plays that are more engaging and poignant in their single acts than many full length shows ever have the opportunity of being. All three take place at the start of the twentieth century, craftily combining themes as relevant today as they were then - collaborating with suspenseful plots, troubled characters and questionable motives that, when put together in the specific order of their performance, show just how clever Todoroff and Pinkins are.
In both the structure of this show as a whole and the effect it has on the audience, the truth here is that Visionary Voices is more than a statement - it is definitely a production worth your time.
Collectively, these plays serve as three distinguishable yet perfectly paired parts of a single story, each with its own mood, tone and pace that never leave the audience a dull moment. The show begins with the Trifles, written in 1916 and first performed by The Provincetown Players on Cape Cod. Trifles is an interesting piece to begin with as, in addition to it being the most well-known of the three, the mood and tempo it sets makes it a strategic choice for opening the performance. The somber and rather stark nature of Trifles matches the desolate feel of the blackbox, its black walls almost transitioning into something more homely because of how well this story utilizes the mood set by them; it is an empty, disquieting sort of feel that is soon betrayed by the subdued horror of the situation.
Similar to how the characters walk in from the bitter cold to something slightly more welcoming, so, too, does the audience feel what these haunting stories in the inclusion of so intimate and dark a space.
Glaspell's story of a woman accused of murdering her husband by strangulation is beautifully told in this production. Mr. Wright was strangled with a rope as he slept, and since a lack of evidence points to his wife Minnie as the murderer, neighbors Mrs. Peters and Mrs. Hale await the news of their investigation downstairs and speak of how something so horrific could have happened.
With languid movements and the intensity of waiting endured by the women as the men almost casually search for a motive behind Minnie Wright's supposed evil deed, this play is so dramatic in its stillness alone. There is a subtle yet intense unraveling of the truth when these women soon stumble upon their neighbor's reason for murder in a box of "trifles" which comprised much of her life.
In so short a time does this show leave such a lingering uneasiness, brought about by the absent husband's and wife's failing relationship that no one knew of but clearly understood in light of what just happened - how Minnie's spirit was squashed and her freedom revoked by marrying a man she didn't love. How appearances and expectations of what something "is" is so different from the truth, and how the soul fights for its freedom in the midst of people who would merely continue an inward battle. This story is epic, and feeling its effects after the lights have dimmed really makes me excited about this play in general; American Bard did a wonderful job making the audience feel the isolation yet hope of an absent woman's sad existence.
Another great reason for allowing this play to begin is that its languidness progresses into a play that ups the tempo slightly, a play that takes the audience's familiarity of what can happen within the walls of this blackbox and brings about a new sort of drama - this time steering it in a slightly different direction. Exit: An Illusion was written by Marita Bonner in 1929 but was never actually performed until 2015. Bonner was a Black writer who wrote about the struggles those of her race had to endure; Exit focuses on just that in a vague, mysterious way that requires an unfamiliar audience to ponder what exactly is happening on stage.
Set in Chicago, the bi-racial protagonist Dot must explain to Buddy (assumed to be her lover) why she is going out in her unwell state. She tells him that she must meet another man whom she has known since childhood, but whom she has never actually laid eyes upon. In a struggle to keep Dot away from this "Exit Man" who has been with her within and outside of the apartment, this play about race and power is really pretty great. It portrays the difficulty of treating race as different people, of of which Dot must inevitably take sides with; what is so intriguing is how the result is the same.
As like Trifles, there is such urgency about this show that makes it so fascinating to watch and experience - an urgency that culminates to its highest form in Glaspell's The People - the play which only puts a timed-end to this epic production.
Written in 1917, The People is the polar opposite of Trifles in regards to the fast-paced drama directed towards editor Ed Willis, recently returned from an event in California. His paper entitled The People is just about to go under when a tirade of people - everyone from the Philosopher, the Artist, the Man from the Cape and The Woman from Idaho - come in and throw their ideas of what the paper represent at Mr. Willis. When all but the Woman from Idaho leave, she takes Mr. Willis' manifesto on how society should move forward (a farce, apparently) and believes that what he considered a mere comeback at a fellow employee is what society actually needs - what it should live by.
The people need a truth, the written word to inspire, to lead and guide those who may feel lost or burdened by the problems given them in life. The People (very fitting to encompass all the audience has encountered for the last hour) must not be seen simply through the ideas of one idealistic woman who was inspired enough to say her peace - it must be encountered by the many, the collective, to be found and felt and experienced. Any change to be made in the world is through writings and plays and all that gives us that need to see the truth a little better than we did before.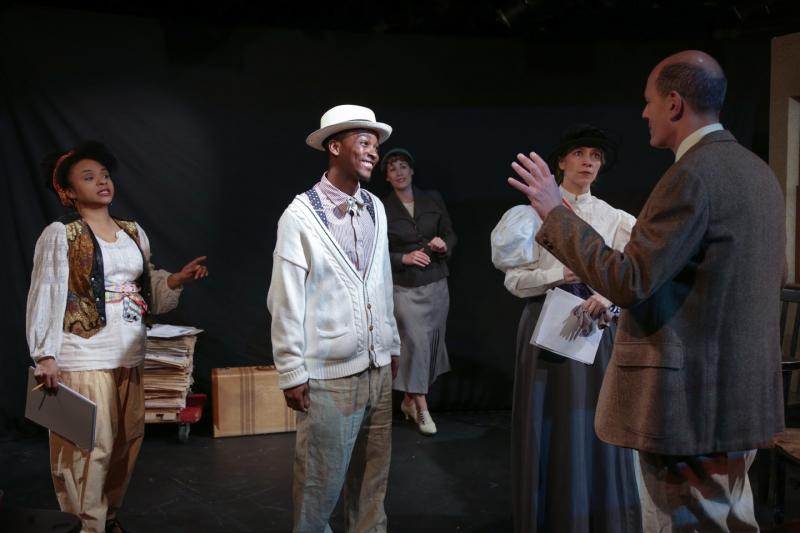 Honestly, bravo to the directors who made these three plays come together in such a beautiful way.
Everyone involved in these shows was amazing. Cheri Wicks (whom my guest said reminder her of Meryl Streep!), Mel House, Michael Birch, Arthur Aulisi, Chris Harcum, Morgan McGuire and T. Morgan (both very impressive indeed), Carl Fisk, Erin Gilbreth, Nihara Nichelle, Madeline Lovegrove, Marisol Soledad and Sidiki Fofana were just wonderful. Kudos as well to Set Designer (Raphael) Zhao Mingshuo, Costume Designer Nancy Nichols, Lighting Designer Christopher Weston, Sound Designer Matthew Fischer, Graphic Designer Samantha Hewitt and Stage Managers Clarissa Marie Ligon and Tai Thompson.
The American Bard Theater Company's Visionary Voices: 2 Women Writers, 3 Big Stories began performances at the Gloria Maddox Theatre (located at 151 West 26th Street, 7th floor) on February 15th and will continue thru March 5th for a total of 15 performances. Tickets are $18 ($15 for seniors) and may be purchased at www.EventBrite.com or https://visionaryvoices.eventbrite.com. Performances are Wednesday thru Sunday at 8:00 pm and the run time is an hour long without an intermission. For more information, please visit http://www.americanbard.org/.
Please enjoy this wonderful show!
Photo Credit: Basil Rodericks