BWW Review: Do-overs and Debauchery in New Light Theater Project's Revival of LIFE x3
How fascinating would it be to watch life in hindsight - to observe the actions we decidedly take and then be given the chance to see what could have happened? To see the path not chosen and observe a new ending that otherwise never would have been reached. Instead of asking what could have been or living the next few days or years with lingering regret, we can simply run through the same scenario three times, each one slightly different than the one before. In Live x3, this is precisely the opportunity given to the audience: to observe how subtle differences in both what we make happen and what happens to us calls for three separate stories - all with the same people taking part in their telling. Three chances to experience how what is wrong could go right, and three more reasons why audiences are bound to love this show.
Written by Yasmina Reza, directed by Jerry Heymann and now in performances at Urban Stages, Life x3 is New Light Theater Project's revival performance using the translations of Christopher Hampton. With a stellar cast that can navigate the paths of essentially three characters each with obvious ease, this production carefully presents nuances in character and circumstance and asks the audience to notice how and why each of the three instances is different.
From how to approach a belligerent child who refuses to go to sleep, to dealing with company not anticipated for another day, the ways in which these four characters react to each other creates a change in tone with each act. Their personalities stay the same, the chocolate fingers on the table remain the only food to offer and fearing the possibility that one's life work will be for naught foretells of the same pressure. Yet, it is how each character is approached with (and therefore approaches) the crying child, the extreme tension in the room and the fact that, should the truth of the matter come out, three changes might not be enough to remedy the chaos that is about to ensue.
Life x3 begins with Henri and Sonia, who are in the agonizing process of putting their young son to bed. Argument after argument occurs, with husband and wife yelling at each other over whether it is right to succumb to the kid's every pre-bedtime wish. To top the night off, the doorbell rings and reveals Ines and Hubert, who are not meant to arrive until the following day. Reluctantly welcoming them in, a discussion about Henri's scientific research turns into a groveling fest, as it is discovered that another person has published work on a similar topic.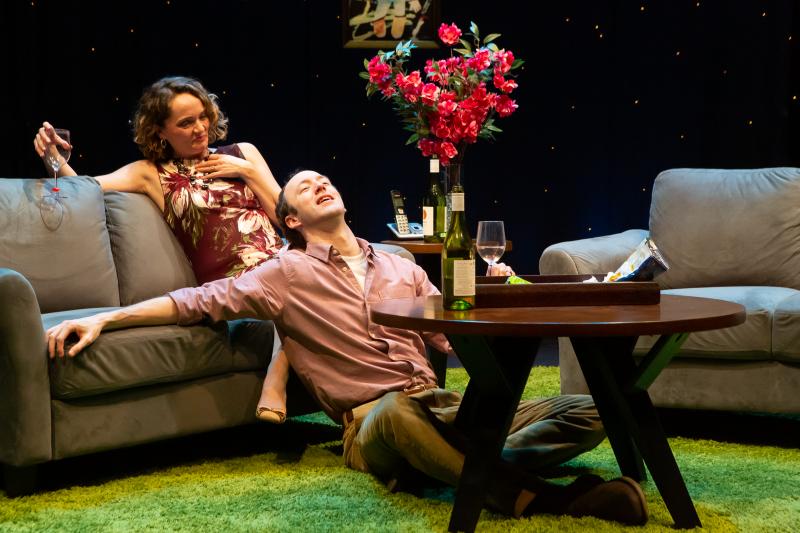 In the meantime, Henri and Sonia fly in and out of their son's room, having had enough of his incessant whining. Henri reacts rather poorly to the tension of the night, throwing himself on the floor and bringing out the worst in both himself and his wife; Ines and Hubert have perfect chance to comment, in private, on what awful people and parents their hosts are. A night ending in anger and confusion, the scene resets itself and brings about the second act...and along with it subtle changes that alter the tone of the story.
Sonia, instead of being forced to change out of her dressing gown, now argues that it would be rude not to look presentable for their unexpected guests. The couple's young son is now much more cooperative, listening to his cassette player as a reward for his good behavior; when their guests arrive, Ines even wishes to visit with the child. In the meantime, we witness the planning of a secret rendezvous between Hubert and Sonia, which does not end on a promising note once the couples, yet again, begin to argue about how another man's work on a similar scientific topic is the start of Henri's downward spiral towards complete and utter failure.
Act Three then begins with Sonia comfortable enough to remain in her dressing gown, still planning her meeting with secret meet-up with Hubert and the tension has eased considerably once it is discovered the similar research topic is not so similar after all. Three different outcomes using the same circumstances, the same people and the clever minds of cast and creative team alike to make this both entertaining and a fascinating study of human nature.
Credit must be given to all those involved, starting with a cast that is almost too comfortable reliving the same story in three different ways; it is most impressive how they bring out the subtle nuances and moments of humor in an entirely fresh way each time. It is truly as though they never experienced the previous scene, which is exactly what makes this performance so wonderful. Dominic Comperatore, Leah Curney, Claire Curtis-Ward and James Patrick Nelson take this microcosm of a world and extend it to the audience in such a way, that we find ourselves unusually compelled by how these characters' lives can turn out for the better. Not only applicable to our own lives, making us wonder how life could have been lived if only something small had been altered, this cast is adept and skillful in their navigation of human emotions, and how realistically they can be skewed in reality.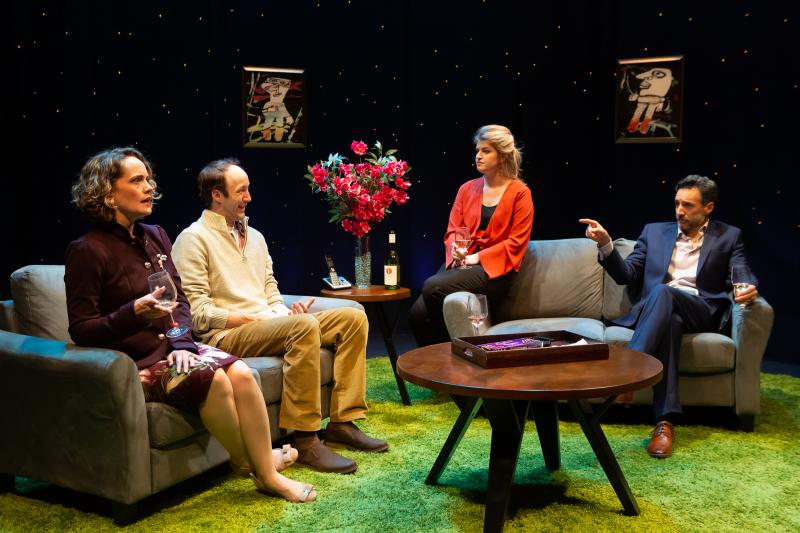 Kudos must all go to those involved behind the scenes: Scenic Designer Brian Dudkiewicz, Costume Designer Genevieve V. Beller, Lighting Designer Paul Hudson, Sound Designer (and original music by) Janet Bentley, Prop Designer Abigail Stuckey, Assistant Stage Manager Emma Burns, Production Stage Manager Lindsey Hurley and Artistic Director Sarah Norris. Fantastic job!
Life x3, written by Yasmina Reza and directed by Jerry Heymann, is produced by New Light Theater Project and now in performances at Urban Stages (located at 259 W. 30th Street). The show runs for a limited engagement, from November 20th-December 8th. The performance schedule is as follows: Wednesday thru Saturday at 7:30 pm, with a Sunday matinee at 3:00 pm. Tickets are $25-$35 and can be purchased by visiting www.newlighttheaterproject.com. Running time is 80 minutes without an intermission.
Enjoy the show!
Photo Credit: Hunter Canning