BWW Review: A WHITE MAN'S GUIDE TO RIKERS ISLAND at The Producers Club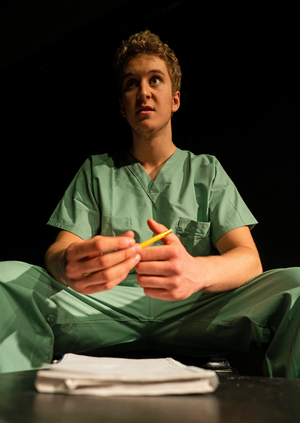 A White Man's Guide to Rikers Island transports the audience from the privilege and prominence of a New Jersey golf club to the cacophony and brutality of New York's Rikers Island prison. Occasional moments of levity stand in stark contrast to the overall gravity of the violence-laden narrative, one that explores how Richard Roy (a straight, white, cisgender male) adapted to life as a racial minority in the world's largest penal colony that is 92% Black or Hispanic. Roy spares no detail of his personal lived experience at Rikers; guilt, shame, terror and sadness permeate the play and haunt him still.
Co-written by Richard Roy and Eric C. Webb, the 90-minute story centers on Roy, who (three decades ago) pivoted from a career as a Golden Gloves-caliber boxer to pursue theatrical and television acting. One night, under the influence of liquor and cocaine as part of a "I just booked a soap opera role!" celebration, he ran a stoplight while driving through Manhattan, killing a motorcyclist. After a two-year out-on-bail pre-trial period, he (with the help of an attorney), got his charges reduced from manslaughter (a minimum ten-year prison sentence) to negligent homicide (a one-year sentence to Rikers plus 250 hours of community service).
Although Roy himself appears twice in the show at his current age, Connor Chase Stewart carries the show, portraying "Young Rich" as well as multiple other roles. By both recall and re-enactment, Young Rich explains which inmates/staff he bonds with, what strategies he uses to keep from going mad, where he finds solace, and how he attempts to reconcile his crime with his time left at Rikers and beyond. The identity of the man that he killed--and that man's threat to Roy's safety at Rikers--is significant because it serves as a reminder of a single crime's ripple effect.
For purposes of sanity and survival, young Rich adapts to prison culture (without ever fully integrating) as a basketball player, writer, and juggler (purveyor of bartered or sold goods). With his savvy team of jugglers, the former "little fish" in the pond becomes--at least in his own mind--the MARK CUBAN of Rikers Island.
Onstage, Stewart looks as white as his pristine high top Reeboks. Although he does his best to convey the diversity of his cellmates and officers, a healthy suspension of disbelief from the audience is necessary as he embodies different ethnicities, genders and dialects. To his credit, regardless of which character he portrays, Stewart slips between hubris, humor and heartbreak seamlessly.
In the playbill for A White Man's Guide to Rikers Island, Roy shares that this play has been in the making for almost three decades: "If from this story, I can help one person not make a tragic, bad decision, then I have been successful...So much press about Rikers Island is out there, but no one really knows what goes on in the inside. You can decide for yourself if this is a conversation worth having."
The conversation is already well underway, as part of Mayor Bill de Blasio's plan to shutter Rikers by 2026.
Meanwhile, Guide juggles pathos and ethos, offering a singular view of a collective problem: the failing modern prison system. Guide was originally a tongue-in-cheek print piece written for a Rikers newspaper, so how the internal point of view for a captive prison audience will resonate with an external theatrical audience is a question worth asking.
Early on, the show smacks of white privilege, something the authors don't deny; in fact "privilege" is mentioned directly throughout the play. Still, A White Man's Guide to Rikers Island doesn't preach, instead it pulls back the curtain on the harsh reality that inmates at Rikers endure.
The show runs through August 31. Tickets are available here.