Review: A Shocking Find In New Wave Theater Collective's THE ANGEL OF ALLEGHENY COUNTY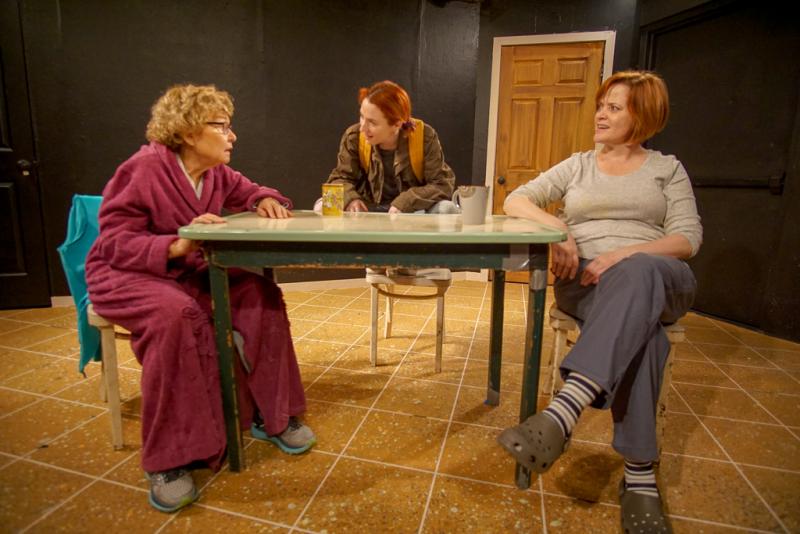 When we are asked to think about death, it is usually acknowledged as the begrudged yet accepted end to all living things; it is meant to be out of our control, coming upon everyone in a different and unknowable fashion. Circumstance forces people of different ages and stages of life to confront the face of death, but not everyone is appeased by its inevitability; some believe they can control a dear one's final outcome - especially if it is not their time to go. When an individual plays God in determining who lives and who dies based on what is deserved or desired, what determines if that person is good or bad? How is a nurse's sense of morality judged when the guilt she feels never leaves her side, as long as she has the power to help remove people from the world? In an extremely poignant demonstration of survival and manipulation, audiences are now treated to The Angel of Allegheny County, celebrating its World Premiere at the Bridge Theater at Shelter Studios.
Written by Alec Silberblatt and directed by Daniella Caggiano, The Angel of Allegheny County is truly a theatrical work of art that is a mix of so many significant elements. It is an intricate play that compels audiences to not only think about what is right and wrong, but also the human capability to create the grey matter in between. Each character understands her place in the world and the limits that status sets, but each nonetheless finds the loophole that gives them more power over something not meant to be in her control. The first thing the audience bears witness to is a conversation between two friends about the necessity of a scooter as one of the women faces the possibility of an amputated leg; the undertones of comedy are soon shrouded by the notion that the downward spiral of each character's own life is far less controllable than the ways in which they influence the people around them. The Angel of Allegheny County is such a powerful play that does not bring up the existential in asking what the purpose of each person's life is, but it but how our sense of self can be manipulated and torn based on what is supposedly and morally right.
The Angel of Allegheny County follows a cast of four women who are each affected by the loss of someone she cares deeply about. Donna works as a nurse who seems to receive the most joy from the lives saved during her hours at work. She is an otherwise reclusive, unpopular middle-age woman who has few friendships to speak of. Her oldest friend is Nancy, an elderly woman who is bitter about growing old and succumbing to the power of cancer that will soon claim her leg. During a heartbreaking conversation about the scooter Nancy's daughter bought for her, audience and characters collectively acknowledge the futility of living a life that cannot be changed; when autonomy disappears, so does the will to live. When Nancy attempts to take her own life, her daughter confronts Donna and asks to help "ease" her comatose mother's pain.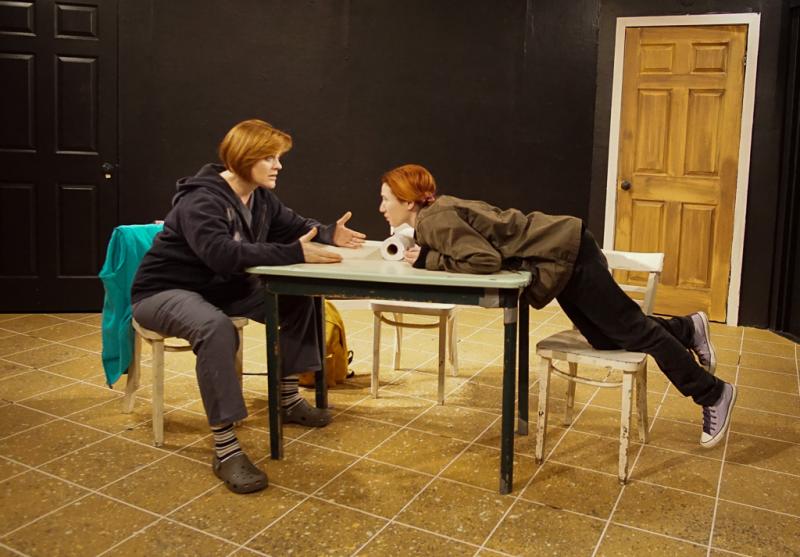 Margo, a troubled teenager who perpetually barges into Donna's home unannounced and has little respect for the people around her, is meanwhile missing her best friend Connie, who was hit by a drunk driver while riding her bike. Margo, too, confronts Donna with her need to see Connie's comatose murderer pay for what she has done. In a test of rationalizing morality, keeping one's own life in tact and how the angel of death becomes an all too human comparison, Angel is just a dramatic, poignant work that really makes the audience question what they would do in Donna's predicament.
This is truly one of the most well done and impressive theatrical pieces I have seen to date. Not only are the plot and dialogue brilliant, filled with so much emotion and packed with legitimately difficult moral questions, but the actors are able to bring about moments of suffering and manipulation with the same poignant effect. The innate momentum of this script is ever-present throughout the production, and the energy and effort given by each actor never falters; along with an engaging and clever plot, this show has it all. As audiences debate who the "angel" of the production is, they are in awe at how consuming this show is - how there is so much raw emotion, you have to snap yourself back into focus because of how engrossed you are in what is happening before your eyes.
For example, Margo is such a strong character who goes by her own rules and code of conduct, but there is a point in the show when we believe she has changed for the better. When she and Donna share a drink towards the show's end, Margo seems repentant over the reclusive and violent life she has been living; we believe she has atoned, but instead she does something so horrible that no one sees it coming. There are moments like that throughout the show, including what Donna is asked to do on two occasions, that the actors can bring to such an acute height, it is difficult to not remain riveted by what seemingly ordinary people are capable of. This cast is simply brilliant - some of the best acting I've seen thus far. Erika Rolfsrud, JoAnne Sellers, Barbara Weetman and Malka Wallick make this a truly dynamic experience, and I was taken aback by how invested each was in making this production the success it is, and hopefully will be in the future.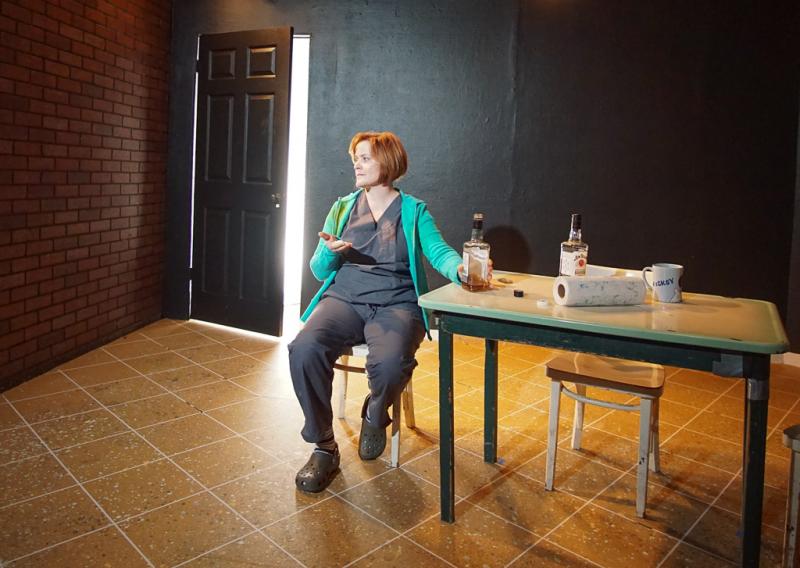 To all those who worked off stage: kudos to Wes Richter and David Robertson on set consulting, Natalie Avery on lighting design and production by Sarah Wolff and Jenny Hickman. Peter Stults on art design.
The Angel of Allegheny County ran for seven performances between April 24th and April 29th at the Bridge Theater at Shelter Studios. To learn more about New Wave Theater Collective, please visit http://newwavetheatercollective.com or on Facebook at www.facebook.com/new-wavw-theater-collective.
Photos courtesy of New Wave Theater Collective