THE BOOK OF MERMAN to Play Weekends at St. Lukes Theater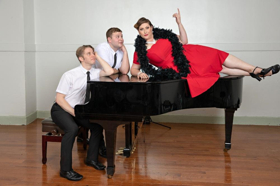 THE BOOK OF MERMAN, a new musical comedy featuring music and lyrics by Leo Schwartz and book by Schwartz and DC Cathro, will now play weekends at St. Luke's Theater beginning November 2, 2018. Directed by Joe Langworth, this new Off-Broadway musical officially opened on Sunday, October 21 at St. Luke's Theatre (308 West 46th Street).
THE BOOK OF MERMAN begins its new weekend schedule on November 2and playing Fridays at 8:00 pm, Saturdays at 7:30 pm, and Sundays at 2:00 pm. There will be a special 2:00 pm performance on Saturday, November 23 in place of the usually scheduled 8:00 pm show. Tickets ($39.50-$99.50) can be purchased through Telecharge by calling 212-239-6200 or visiting www.telecharge.com.
In addition to the new schedule, the show will also welcome Nicholas J. Pollina who joins the cast as Elder Shumway beginning Friday, November 2. Pollina is stepping in for original cast member Chad Burris, who is departing for scheduling reasons.
"We are excited to extend a very warm welcome to Nicholas as he joins our Book of Merman family," said producer and creator Leo Schwartz. "With the addition of Nicholas and our new schedule of shows on Fridays, Saturdays, and Sundays, we are certainly going to keep St. Luke's Theatre full of energy, laughs, and Merman all weekend long."
THE BOOK OF MERMAN enjoyed a sold out run when it premiered in Chicago in 2015 and has gone on to be produced across the country, delighting audiences with Schwartz's original (and sometimes familiar) musical numbers.
Two Mormon missionaries ring Ethel Merman's doorbell and hilarity ensues in this new musical comedy. THE BOOK OF MERMAN is a diva-driven journey featuring original songs and show-stopping ballads. It's delightful. It's delicious. It's de-Merman!
Broadway's greatest leading lady, Ethel Merman, returns to the New York stage as played by singer, actress and viral video sensation Carly Sakolove. Sakolove is best known to audiences and YouTube viewers for her Broadway and pop diva tribute show "I'm Every Woman," and for her video, "Broadway Divas Send in the Clowns," featuring her impersonations of some of Broadway's biggest stars, which has racked up close to 150,000 views.
Joining Sakolove as the two Mormons on a mission are Nicholas J. Pollina as Elder Shumway and Kyle Ashe Wilkinson, making his New York debut, as Elder Braithwaite. Casey Martin Klein and Julie Sommer Peterson complete the cast.
The production features scenic and lighting design by Josh Iacovelli, costume design by Pablo Borges, wig design by Bobbie Pinz, and sound design by Raymond Schilke. Aaron Benham serves as musical director. Casting is by Eisenberg/Beans Casting. General management is by Form Theatricals (Anthony Francavilla and Zachary Laks). I Wrote That, LLC produces.
For more information please visit www.bookofmermanmusical.com
Photo Credit: Russ Rowland