Stephen Bogardus and More Featured on IRVING BERLIN REDISCOVERED Album, Out Today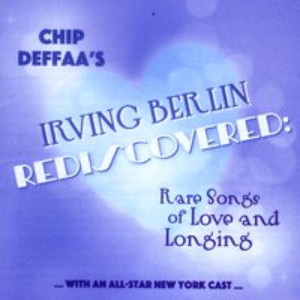 ASCAP Award-winning writer/producer Chip Deffaa's new CD, "Irving Berlin Rediscovered" - being released today - features such Broadway notables as Stephen Bogardus ("Bright Star"), Giuseppe Bausilio ("Hello, Dolly!"), and Jon Peterson ("Cabaret"), plus such nightclub and cabaret stars as Seth Sikes and Natalie Douglas.
The album, an outgrowth of shows celebrating Berlin that Deffaa has presented at the venerable 13th Street Theater, features 29 extremely rare - and, in many cases, never-before-recorded - love songs by Berlin. The album is available now from Amazon, CDBaby, ITunes, Footlight Records etc.
Perhaps the world's foremost authority on Berlin's music, Deffaa has carefully examined every song in the Berlin archive - more than 1,200! - seeking little-known gems that were cut from shows before they opened, or for some other reason simply fell through the cracks. Deffaa is producing a series of albums of rare - and in many cases, previously unrecorded - Berlin songs.
"Berlin wrote more hits than any of his so-called competitors," Deffaa notes. "Besides the big hits that everyone knows, I've found a surprising number of very good songs that are almost totally unknown. It's a great joy to finally get them on disc - and to find just the right singer or singers for each song. Many of my favorite performers are here.
"Stephen Bogardus, for example, has done more than a dozen Broadway shows - from 'High Society' and 'Falsettos' - to 'Man of LaMancha' and 'White Christmas' - but I've actually been an admirer of his work since he was 19, well before he got his first Broadway gig ('West Side Story'). He is a first-rate singing actor, and when I found a thoughtful, reflective ballad that Berlin had written specifically for a mature artist, I knew I wanted Bogardus to make the first recording of the song; Bogie works with an honesty and clarity Berlin would have loved, and it's an honor to record him once again," Deffaa says. "My younger singers watched as he recorded for me, commenting with admiration that they'd grown up listening to him on the original cast album of 'Falsettos.'
"Jon Peterson - who just this week finished starring as the Emcee in the national tour of 'Cabaret' - is as great a song-and-dance man as anyone working in the theater today. And I'm happy he took time off from the tour to record a bit for this album, along with a longtime showbiz pal of his, stage-, screen-, and TV-veteran Michael Townsend Wright, who loves Berlin's music as much as he does. They have such a great rapport together.
"Seth Sikes, who's 30-ish - is the hottest singer in the nightclubs these days. He sells out wherever he appears - from New York to Provincetown, to London. What a wonderful sound he has - radiant and buoyant; he always makes me feel good. It means the world to me to have him open and close this CD. All of the reviewers have discovered Seth in the last year or two. But I've believed in him since he first landed in New York and starred in my show 'Yankee Doodle Boy.' I love hearing him sing," Deffaa says. "On this album, you'll hear him sing solo and also in a duet witH Clark Kinkade, another of my favorite singers. Clark's not so well known yet, but he will be; he is wonderful. Besides working on his own, he also sings in the popular group 'Range a Capella,' which has sung everywhere from Radio City Music Hall to the red-carpet of the Emmy Awards.' He made his recording debut on my 'Mad About the Boy' cast album, last month. And I hope to include him on many more albums.
"I love the joi de vivre Giuseppe Bausilio radiates. No one works harder than him. And no one knows better how to savor the joys life offers," Deffaa says. "At 20, he already has five Broadway shows to his credit ('Hello Dolly!,' 'Cats,' 'Aladdin,' 'Newsies,' 'Billy Elliott'). And one TV series, 'The Next Step,' on the Family Channel. And he's done a show with me ('Irving Berlin's America'), and plenty of recordings. I don't know anyone his age more talented.
"But every artist on this album has been carefully chosen, whether he's a seasoned pro I've admired for years like Ray DeMattis ('Grease,' 'Little Shop of Horrors'), Rick Crom ('Urinetown,' 'Footloose'), and Carl Kissin ('Talk Radio,' 'Chicago City Limits'), or a rising younger performer like Charlie Franklin ('Book of Mormon'), Jeremy Greenbaum ('Newsies'), Matthew Nardozzi ('Dracula').
"Different singers are chosen for different strengths. There are superb younger singers in my theatrical family - like Emily Bordonaro, Peter Charney, Tyler DuBoys, Jeffrey Sewell, Alec Deland, Gabriella Green, Bailey Cummings, Dylan Adams, Magnus Tonning Riise, Jenn Spottz, Kelsey McCabe - who've got such pure, innocent, appealingly youthful sounds that they're just right for certain songs Berlin wrote, about young love. And there are personality performers - like Joris de Graaf, Samantha Cunha, Michael Caizzi, Jack Saleeby, Mariah Hill and Jonah Barricklo (who's also, incidentally, the most gifted young tap dancer I know) - who add different sorts of razzle-dazzle energy to the mix. It's all good, and it all adds to the fun.
"Some of the singers have worked with me in shows. Some have been recommended to me by pro's I respect, like, say, Jody Prusan or Thommie Retter, or Seth Sikes or Brady Chin. Some I've found through auditions, or have seen in shows or online - Mariah Hill, for example, did a great job singing at a MAC Awards Ceremony; I discovered Alec Deland, Alex Deland, and Gabriella Green at Stage Door Manor, the noted performing arts camp; Jeffrey Sewell was recommended by Broadway's Andrew Keenan-Bolger.
"But they all love this music, and have a good feel for it. Berlin was as great a songwriter as any. I've written and directed various shows about Berlin, and will present more at my base in the city, the 13th Street Repertory Theater. I'm grateful to Edith O'Hara, the founder/artistic director of the 13th Street Theater, for giving me carte blanche to develop shows there. It meant a great deal to me have her watching the Irving Berlin shows I've mounted at her theater.
"I hope to eventually record virtually all of the unrecorded songs of Berlin. Oh, I'll always throw in a few well-known numbers, just for the sake of variety. But there are some really good, totally unknown Berlin songs I've found, and I've gotten some of the best singers I know to put them across. I hope these albums will appeal to anyone interested in the Great American Songbook, and in the theatrical talented - both established talent and rising talent - of today.
"Mr. Berlin was very hard to please. But he had very good taste," Deffaa says. "I think he would have loved hearing the way Seth Sikes - a huge talent! - takes a totally unknown, never-before-recorded song of Berlin's ('Goodbye Girlie') and delivers with panache a performance that would brighten any show today. I think it's worth buying the album just to hear what Seth does with that one number. Although of course I'm proud of all 30 singers on the album."
The new album - the 22nd album that Deffaa has produced, and a follow-up to such Berlin celebrations as "Irving Berlin Revisited," "The Irving Berlin Songbook," "The Irving Berlin Ragtime Revue," and "Irving Berlin's America" - is available for purchase here.