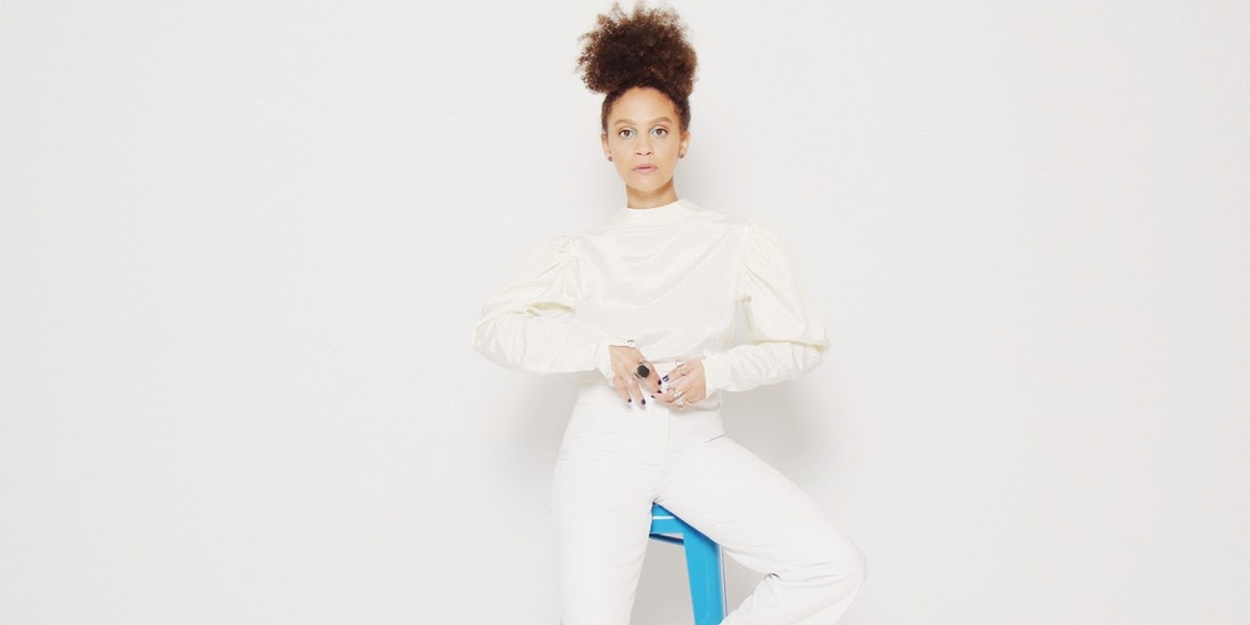 Sarah Elizabeth Charles to be Featured in The Public Theater's Mobile Unit & Joe's Pub's IN TRANSIT Concert Series
The tour begins its series of public and private performances on February 8 at Fortune Society.
The Public Theater's Mobile Unit is returning to the road with Joe's Pub with the latest installment of their collaborative series IN TRANSIT. This project is an intimate concert series that travels throughout New York City, bringing free, accessible, and unique artistry to the Mobile Unit's community partners throughout the five boroughs. The 2023 IN TRANSIT tour features vocalist, composer, educator, and producer Sarah Elizabeth Charles, who will share her bold, boundary-pushing sound on this one-of-a-kind journey. The tour begins its series of public and private performances on February 8 at Fortune Society and wraps up on February 15 at the Exodus Transitional Community - view the public events here.
The series echoes the Mobile Unit's primary programming, which brings performances of Shakespeare plays to community centers, correctional facilities, shelters, and more across New York City. Praycious Wilson-Gay, Interim Director of the Mobile Unit said, "I'm elated about the return of the Mobile Unit and Joe's Pub collaboration. The IN TRANSIT tour is such a special event that breaks down barriers of access and intentionally centers our communities with the opportunity to experience an exceptional artist. It's thrilling to present Sarah Elizabeth Charles and her extraordinary sound and brilliant artistry."
At these IN TRANSIT performances, Charles will share a project she has been crafting since 2016 - she has set the poetry of Maya Angelou to music. Embracing Angelou's words has given Charles the opportunity to reflect on societal structures, and her personal identity as a woman of color and imagine new ways forward that provide space for empathy and equity. This work intertwines Charles and her collaborator in performance, Jordan Peters (guitarist, producer, and composer) into Angelou's creative world. With this project, Charles utilizes her multifaceted identity as a musician rooted in jazz, folklore, hymns, soul, rock, and blues to celebrate Angelou's imaginative and profound poetry.
Charles has released three critically acclaimed albums with her band, SCOPE. She has performed at The White House, Carnegie Hall, the first annual Culture Summit in Abu Dhabi, The Kennedy Center, the Rose Theatre with Jazz at Lincoln Center, and many more. She has also had a commissioned composition performed at The National Gallery in Washington D.C. via The Canales Project "Hear Her Song" initiative. Charles' musical output has been described as a "genre of one" (DownBeat Magazine), "soulfully articulate" (The New York Times), and "an unmatched sound" (Jay Z's Life+Times). She recently released a fourth album, Blank Canvas.
Mobile Unit + Joe's Pub IN TRANSIT 2023 tour schedule:
Wednesday, February 8: Fortune Society (private)
Thursday, February 9: Fortune Society (private)
Saturday, February 11 at 1 pm: Kingsbridge Library, The Bronx (public)
Tuesday, February 14 at 7 pm: The Center, Manhattan (public)
Wednesday, February 15: Exodus Transitional Community (private)
In addition to performing, Charles is an active educator. She works as a lead teaching artist with Carnegie Hall's Sing Sing Correctional Facility Musical Connections workshop, has a private lessons studio in New York City, is an adjunct professor at The New School for Jazz and Contemporary Music, co-teaching a course she designed called "Jazz and Gender" (with Caroline Davis) and has developed an early childhood music education program with Rise2Shine, a non-profit organization based in Fond Parisien, Haiti. In 2019, she was one of five recipients of the Yale School of Music's Distinguished Teaching Artist Award. In 2020, she was selected to be one of five members of the Joe's Pub Working Group, as a recipient of the New York City Women's Fund grant in support of her band's fourth album to be released in 2021 and as a recipient of Chamber Music America's New Jazz Works grant.
is a modern reimagining of Joseph Papp's Mobile Theater, inspired by Ten Thousand Things Theater in Minneapolis, MN. Mobile Unit breaks down economic and geographic barriers to the arts by meeting our communities where they are - staging free professional theater productions in local neighborhood venues such as libraries, homeless shelters, correctional facilities, and community centers across all five New York City boroughs. Over the years, the Mobile Unit has served thousands of audiences with critically acclaimed productions. In addition to the community tour, each Mobile Unit show "sits down" at The Public Theater's Astor Place home to perform for Public audiences and community organizations from all over the city for free. In the fall of 2018, the Mobile Unit launched its first National Tour, sending Lynn Nottage's Pulitzer Prize-winning play, Sweat to communities in Pennsylvania, Ohio, Michigan, Minnesota, and Wisconsin. Throughout 2020, Mobile Unit launched a digital workshop inside the NYC Department of Corrections called Hip-Hop vs. Shakespeare where participants were encouraged to write their own stories. This year, Mobile Unit's collaboration with Joe's Pub, the IN TRANSIT concert series, returns. Mobile Unit believes artistry is its most powerful when it reflects and connects to the lives of our community.
JOE'S PUB
a program of The Public Theater, was named for Public Theater founder Joseph Papp. Since it opened in 1998, Joe's Pub has played a vital role in The Public's mission of supporting artists at all stages of their careers with an intimate space to perform and develop new work. Joe's Pub presents the best in live music and performance nightly, continuing its commitment to diversity, production values, community, and artistic freedom. In addition to one-night-only concerts and multi-night engagements, Joe's Pub is home to the annual Habibi Festival, which hosts artists representing contemporary and traditional music of the SWANA (Southwest Asia/North Africa) region, and The Vanguard Award & Residency, a yearlong curation series that celebrates the career, and community, of a prolific and influential artist-including Nona Hendryx, Judy Collins, Laurie Anderson, and Barbara Maier Gustern. With its intimate atmosphere and superior acoustics, Joe's Pub presents over 700 shows featuring artists from all over the world and hosts over 100,000 audience members annually. Beyond public performances, Joe's Pub also leads artist development programs like New York Voices, a commissioning program that helps musicians develop new performance projects, and Joe's Pub Working Group, an artist-led development and collaboration cohort. Current commissioned artists include Daniel J. Watts & Nick Blaemire, Liza Paul & Bahia Watson, Sunny Jain, Vuyo Sotashe & Chris Pattishall, and treya lam. Joe's Pub is supported in part by an American Rescue Plan Act grant from the National Endowment for the Arts to support general operating expenses in response to the COVID-19 pandemic.
Connect with Joe's Pub