Project Shaw Continues The 2019 Season With THE STEPMOTHER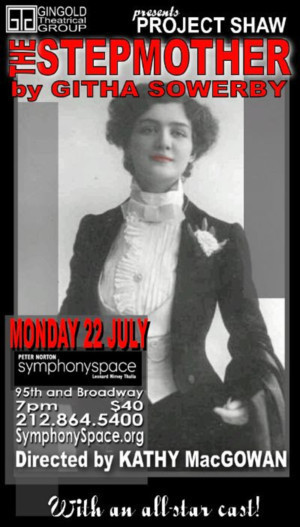 Gingold Theatrical Group (David Staller, Artistic Director) is proud to continue the 14th Season of Project Shaw, Art as Activism: A Theatrical Survival Guide, a special series of evenings of plays that embrace human rights and free speech. All of GTG's programming, inspired by the works of George Bernard Shaw, are designed to provoke peaceful discussion and activism.
Next up, on July 22nd, Project Shaw will present one of the groundbreaking feminist plays of the early 20th Century, The Stepmother by
Githa Sowerby
(1876 - 1970), directed by Kathy Gail MacGowan (The Battles by Richmond Hill, Kentucky Cantata -
HERE Arts Center
, In The Summer Pavillion - 59e59) the cast features
Jordan Ahnquist
(
When Pigs Fly, Shear Madness
), MaryKate Harris (
Chaplin, Cocktail
),
Steven Hauck
(
The Marvelous Mrs. Maisel
),
Bill Kux
(
The Trip to Bountiful, Gore Vidal's The Best Man
),
Rachel Pickup
(
Present Laughter
),
Patti Perkins
(The Dead),
Victor Slezak
(
The Graduate, Jackie
), and
Lindsay Ryan
(
Dr. Seuss' How the Grinch Stole Christmas!
), The Stepmother by
Githa Sowerby
from 1924 tackles the tensions of female independence in a patriarchal society. This recently rediscovered play has been seen in London but this will be its New York premiere. The plot follows a young woman fighting to create a life for herself. Here's an extremely rare opportunity to see one of the most important steps in women's rights as presenting on stage. Sowerby was greatly influenced and encouraged by Shaw! "
Githa Sowerby
, though unknown in this country, took London by storm with her revolutionary Rutherford and Son, and was a much celebrated English playwright, children's book writer, and powerful member of the Fabian Society. A feminist and human rights activist, she was a great inspiration to other women artists. Shaw was a huge fan and very much encouraged her to write The Stepmother, a highly entertaining play about a woman finally standing up to male entitlement," said GTG Artistic Director
David Staller
. Following The Stepmother will be Scintillating Shaw Symposium with an international panel on September 23, Shaw's Arms and the Man on October 28th, followed by The Play's The Thing by Ferenc Molnar on November 18th, ending the season with I'll Leave It To You by
Noel Coward
on December 16th.
[*]
Coming this fall: Coming this fall: GTG's mainstage presentation of a rare revival of Shaw's beloved almost historical comedy Caesar & Cleopatra (the first NY production in over 40 years!), beginning performances September 3rd at Theater Row. Cast to be announced shortly! All the plays in this series will be presented in a concert-reading format at the
Leonard Nimoy
Thalia Theater at
Symphony Space
, 2537 Broadway at 95th Street. Tickets are $40 and are available by calling 212-864-5400 or online at
www.symphonyspace.org
. Special reserved VIP seating available for $55 by contacting the Gingold office 212-355-7823 or
info@gingoldgroup.org
.
Symphony Space
's
Leonard Nimoy
Thalia Theatre space is completely accessible. Infra-red hearing devices are also available. Now celebrating its 14th year, Gingold Theatrical Group's Project Shaw made history in 2009 as the first company ever to present performances of every one of Shaw's 65 plays (including full-length works, one-acts and sketches). Since 2013, they also present works by writers who share Shaw's activist socio-political views embracing human rights and free speech, including work by Chekhov, Ibsen,
Elizabeth Robins
,
Rachel Crothers
, Pinero, Wilde, Barrie, and
Harley Granville-Barker
. GTG's other programs include its new play development and educational programs. For those interested in lively off-site discourses, each Project Shaw event is followed by a talk-back with cast members. GTG's
David Staller
and
Stephen Brown
-Fried also host a monthly Shaw Club discussion group. GTG recently completed a highly acclaimed Off-Broadway engagement of Shaw's Heartbreak House.
Terry Teachout
in the The Wall Street Journal declared, "Mr. Staller has taken on Heartbreak House, one of Shaw's most challenging plays, with altogether extraordinary results. Every gesture lands with the utmost potency, and the climactic convulsion that is the play's final scene sweeps away the bubbly comedy and leaves you, as Shaw intended, in shock. Mr. Staller has given us a uniquely satisfying production of this great but hard-to-stage play. This is one of the finest Shaw stagings of the past decade. Do not miss it." In his year end recap, Mr. Teachout named Heartbreak House Best Classical Production of the year: "
David Staller
's conceptual staging of
George
Bernard Shaw
's Heartbreak House, produced off Broadway by the Gingold Theatrical Group, was the best thing Mr. Staller has given us to date-which is saying something." For more information about Project Shaw and all the programs at Gingold Theatrical Group, call 212-355-7823, email
info@gingoldgroup.org
, or visit
gingoldgroup.org
.