Photos: York's 'I and Albert' in Rehearsals
The York Theatre Company's I and Albert, with music by Charles Strouse, lyrics by Lee Adams and book by Jay Presson Allen, will play June 29, 39 and July 1 at the Theatre at Saint Peters (54th Street, Just East of Lexington Ave). The show is the second of the four shows in York's Summer 2007 Musicals in Mufti Series -- the York's acclaimed series of musical theatre gems in staged concert performances. 
I and Albert will feature: Nancy Anderson (Wonderful Town, Fanny Hill), Edwin Cahill (Love Musik, The Strange Case of Mary Lincoln), Roger DeWitt (The Woman in White), Nicholas Galbraith (West Side Story, Ravinia Festival), Stephen Mo Hanan (Jolson & Company, Cats – Tony nomination), Ken Krugman (Assassins), Lorinda Lisitza (Happy End, Take Me Along), Gabriella Malek (Chitty Chitty Bang Bang), Brooke Sunny Moriber (Threepenny Opera), Adam Riegler, Mackenzie Thomas (Mamma Mia!), Gerritt Vandermeer (You Never Know, Trinity Rep, The Music Man), Sasha Weiss, and Nick Wyman (Dirty Rotten Scoundrels).  Michael Montel (Take Me Along) directs.
The York Mufti presentation will be I and Albert's New York premiere.  "I and Albert tells the love story between Queen Victoria and her husband, Prince Albert. In 1839, Victoria fell in love with Albert who was her first cousin from the small German principality of Saxe-Coburg-Gotha. Married in 1840, royal couple's family life drastically differed with the images of previous British monarchs," state press materials.  The musical has music by Charles Strouse, lyrics by Lee Adams and book by Jay Presson Allen (The Prime of Miss Jean Brodie, Tru).  It premiered at London's Piccadilly Theatre in 1972 under the direction of John Schlesinger and ran for 120 performances.   An original cast album was recorded on Jay Records in 1981. 
Visit www.yorktheatre.org for more information.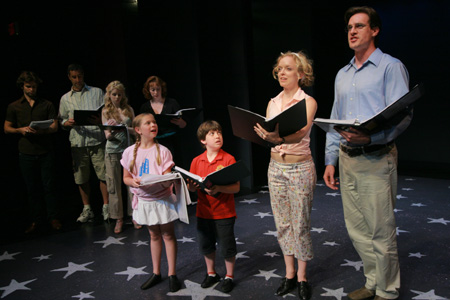 Gabriella Malek, Adam Riegler, Nancy Anderson, Gerritt VanderMeer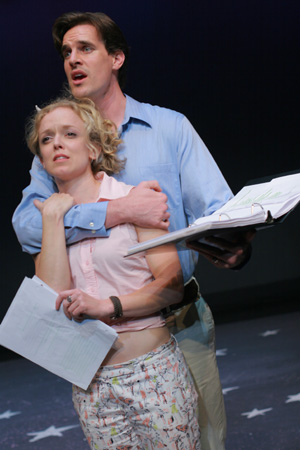 Nancy Anderson and Gerritt VanderMeer

Nick Wyman and Stephen Mo Hanan

Brooke Sunny Moriber, Gabriella Malek, Adam Riegler, Gerritt VanderMeer and Nancy Anderson