Photo Flash: Tennessee Williams' 'Small Craft Warnings'
The White Horse Theater Company, known for acclaimed productions of plays by Sam Shepard and Tennessee Williams, will present a limited engagement of Small Craft Warnings by Tennessee Williams. The play is directed by White Horse Producing Artistic Director Cyndy A. Marion, recognized for her recent revival of Williams' play In the Bar of A Tokyo Hotel, and innovative productions of plays by Sam Shepard. Performances will run from September 19th –October 5th, 2008 in a limited engagement at The Workshop Theater Company (Main Stage Theater), located at 312 West 36th Street (4th Floor) between 8th & 9th Avenues in NYC.
Performances run Tuesdays-Saturdays at 8pm and Sundays at 3pm with an additional performance on Saturday, October 4th at 2pm. Tickets are $18 and can be purchased online at
http://www.SmartTix.com
or by calling 212-868-4444. Trains: A,C,E,1,2,3,9 to 34th Street. For more info on the company and the play visit
http://www.WhiteHorseTheater.com.
Set in a seaside bar on the coast of Southern California in the early 1970s, Small Craft Warnings offers a glimpse into the lives of the regulars who inhabit the bar as refuge from the storm of life. Impassioned by the anniversary of her "angelic" brother's death, Leona, a rowdy beautician, unleashes a fury of intolerance on her wayward drinking companions; a drunken ex-doctor who still practices illegally, an aging hustler, a homeless prostitute and a spineless short-order cook. Monk, the temperate and well-meaning barkeeper, tries to keep the peace as two newcomers, a cynical homosexual and his young pick-up look on.Often considered the best play of Williams' 'Later Period', Small Craft Warnings blends the poetic realism of his early work with the stylized-theatricality of his later plays. Originally a one-act entitled
Confessional, Williams expanded the play into the full-length Small Craft Warnings in 1971 after learning of a successful production in Bar Harbour, Maine. Small Craft Warnings was a ray of hope for Williams, who had just emerged from a personal and professional nadir. It was his testament to human isolation and an honest plea for acceptance and understanding. The play's director, Cyndy A. Marion, was named one of NYTheatre.com's 2007 People Of The Year. USA Today has called her "a budding young Shepard interpreter." Ms. Marion's directing credits with White Horse include In the Bar of a Tokyo Hotel, The Late Henry Moss, Buried Child, A Lie of The Mind, States of Shock and True West. Other NYC directing credits include the world premiere of Mina by
Leslie Lee
at La MaMa and PB&J at the 2007 FringeNYC. She earned her MFA in Directing from Brooklyn College.The cast includes
Graham Anderson
,
Peter Bush
,
Tommy Heleringer
,
Christopher Johnson
,
Andrea Maulella
, Patrick Terance McGowan,
Linda S. Nelson
, Mark Ransom and
Rod Sweitzer
.There will be a post-show talkback following the Sunday, Sept 21st performance. The moderated discussion will include renowned
Tennessee Williams
Scholars Dr. Annette J. Saddik and
Mr. Thomas
Keith. Dr. Saddik is an Associate Professor in the English Department at New York City College of Technology (CUNY) and a teacher in the Ph.D. Program in Theatre at the CUNY Graduate Center. She is the author of Contemporary American Drama and The Politics of Reputation: The Critical Reception of
Tennessee Williams
' Later Plays. Dr. Saddik has edited and introduced a collection of Williams' previously unpublished later plays entitled The Traveling Companion and Other Plays. Mr. Keith is an editor at New Directions Publishing in New York. He has been involved in the preparation of nineteen
Tennessee Williams
titles from New Directions, most recently Mister Paradise and Other One-Act Plays, The Traveling Companion and Other Plays, and A House Not Meant to Stand, for which he also wrote the introduction and notes. Mr. Keith is on the board of advisors for the
Tennessee Williams
/New Orleans Literary Festival and the Provincetown
Tennessee Williams
Theater Festival.The White Horse Theater Company is a not-for-profit organization dedicated to producing and developing American plays and playwrights. They seek to investigate, define and celebrate American identity and culture by re-examining American classics and nurturing new American voices.This production has been made possible in part through the sponsorship of The Field, and with funding provided by White Horse Theater Company Sponsors.The design/production team consists of Obie-Winner
John C. Scheffler
(Set Design),
Joe Gianono
(Incidental Music), Debra Leigh Siegel (Lighting Design), David B. Thompson (Costume Design), Vanessa R. Bombardieri (Dramaturg), Leigh Hile (Assistant Director) and Elliot Lanes (Stage Manager).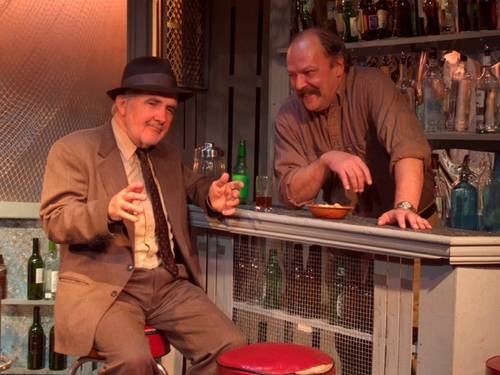 Patrick McGowan as Doc and Graham Anderson as Monk

Andrea Maulella as Violet, Rod Sweitzer as Bill and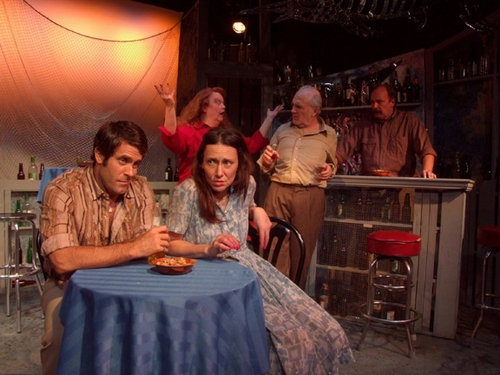 Rod Sweitzer as Bill and Andrea Maulella as Violet.

Christopher Johnson as Quentin, Linda S. Nelson as

Peter Bush as Steve and Andrea Maulella as Violet.
Photos credited to Joe Bly.
More Hot Stories For You