James Lecesne in EXTRAORDINARY MEASURES, Reading Series Coming Up This December at Abingdon Theatre Company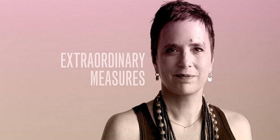 This December, Abingdon Theatre Company continues its 25th Anniversary Season with two very special events. Scroll down for details!
---
GHOSTLIGHT READING SERIES PRESENTS SUBVERTED, DEC. 4, & THE GENTLEMAN CALLER, DEC. 11:
Abingdon Theatre Company continues their 2017 Ghostlight Reading Series this December. Play readings are free to the general public but reservations are required. Visit abingdontheatre.org for reservations and further information.
SUBVERTED**
written and performed by Dominique Fishback
Directed by Chad Chenail
Monday, December 4 at 7PM
at The Lucille Lortel Theatre, 121 Christopher Street
Subverted is the story of the destruction of black identity as seen through the eyes of Eden, an 18-year-old girl living in an urban city in the USA. Through the colliding viewpoints of friends, family members, and historical figures, Eden discovers that the promise of "equal opportunity" still, to this day, does not exist. She questions why the people she loves the most continue to live blindly subverted by an unrelenting history that they did not live through, yet inherit and must accept.
** Reservations for SUBVERTED are full. Email tickets@abingdontheatre.org for waitlist.
THE GENTLEMAN CALLER
Directed by Tony Speciale
Monday, December 11at 7PM
at The DR2 Theatre, 101 E. 15th Street
Although now regarded as two of history's finest American Playwrights, back in 1944, William Inge and Tennessee Williams hadn't yet experienced anything close to success. Before the Chicago premiere of The Glass Menagerie, Inge, a dissatisfied newspaper critic, invites Williams to his St. Louis apartment for an interview. This sexy, fraught rendezvous sparks a relationship, which radically alters the course of their lives and the American Theatre. The Gentleman Callerfeatures Daniel K. Isaac as Inge and Max Jenkins as Williams.
With an eye toward production-ready scripts, the Ghostlight Reading Series provides an opportunity for writers, directors and collaborators to share their work with an audience before transitioning into production. By focusing on scripts that reflect our social, historical and cultural diversity, Abingdon aims to become a destination for artists grappling with big questions.
James Lecesne STARS IN Eve Ensler'S EXTRAORDINARY MEASURES, DEC. 1 - 3:
Abingdon Theatre Company presents James Lecesne in Eve Ensler's Extraordinary Measures for three performances only:December 1, 2 and 3 at 7PM at The DR2 Theatre, 101 E. 15th Street. Directed by Tony Speciale, Extraordinary Measuresfeatures original music by William Harper and music direction by Christian Frederickson. Proceeds from the event will be shared with Broadway Cares/Equity Fights AIDS. Ticket price is $100. For reservations and information e-mailtickets@abingdontheatre.org or call 212-868- 2055 X1.
Extraordinary Measures debuted off-Broadway in 1995 starring Lecesne. In his review of the play, Ben Brantley of The New York Times wrote "it is impossible not to be stirred by the emotional urgency behind Extraordinary Measures. ...Inspired by the final days of Paul Walker, a theater director, performer and instructor who died of AIDS in 1993, the work presents death as the ultimate class in life study. The hospital room in which Mr. Walker lies unconscious, kept alive by medical support systems (the "extraordinary measures" of the title), becomes a forum in which his brother, friends and former students individually address the man, struggling to find emotional truth before a mentor who can no longer confirm or question their feelings. All of these people, as well as Mr. Walker himself, are portrayed by the magnetically vital James Lecesne, who (embodies) enough characters on New York stages to populate a small village."
"23 years ago, at the height of the AIDS crisis in NYC I had the honor of performing in Eve Ensler's powerful play, Extraordinary Measures," says James Lecesne. "At the time many of us were facing the untimely deaths of loved ones who were dying way too soon. This experience showed me what theater is capable of - how it can create value even out of the most dire of circumstances and how it allows us to come together as a community and transform our pain into power. But the message of Extraordinary Measures is not for that time alone. AIDS, though not the scourge it was in 1994, is still with us, dying is something each of us must face and the need for community has never been greater."
Each performance of Extraordinary Measures will be followed by a post-show discussion, each with a special guest speaker: playwright Eve Ensler (Dec. 1), Koshin Pailey Ellison and Robert Chodo Campbell from NY Zen Center for Contemplative Care (Dec. 2), and Tristan Layton from Dream Foundation (Dec 3).
---
ABOUT THE PARTICIPATING ARTISTS:
Dominique Fishback (Playwright/Actor, Subverted) is a Brooklyn native, and accomplished spoken word poet, playwright and stage actress. She currently stars as "Darlene" in HBO's critically acclaimed drama series The Deuce. TV credits: HBO'sShow Me a Hero as "Billie Rowan," The Affair (Showtime), Blue Bloods (CBS) and Royal Pains (USA). Dominique is currently in production on FOX's feature film The Hate U Give, which is based on the best-selling young adult novel of the same name. She also recently wrapped production on the leading role of Angel in Jordana Spiro's Night Comes On, which is due for release in 2018. Fishback is an artist in residence at Abingdon Theatre, where she continues to develop exciting new works. Additionally, she has toured internationally, with performances at the White House, the United Nations in Switzerland and as part of a TedX Talk. Her groundbreaking original one-woman show, Subverted, was nominated for an Innovative Theater Award for Outstanding Solo Performance.
CHAD CHENAIL (Director, Subverted) is a graduate of Pace University and freelance director based in Brooklyn. He is the cofounder of the monthly play reading series Playwrights at the Grand, and the editor/producer of Girl Tales, a children's storytelling podcast (girltalespodcast.com). Directing credits include: Woyzeck (The Chain Theatre), Frie(dman) Berger (Beaverkill Studios), The Oddity and Medusa (Theatre for A New City), Rough for Theatre II (La Mama ETC), Douche (The Player's Theatre), Refresh (La Mama ETC), In Your Mother's Garden (MITF), The Family Continues (La Mama ETC). Assistant directing credits include Hildegard (St. Anne's Warehouse), An Inconvenient Poop (FringeNYC), Latvia/Latvia (The Access), Something Cloudy, Something Clear (Provincetown Tennessee Williams Festival), and Maria Celeste: Galileo (Incubator Arts). www.chadchenail.com
Philip Dawkins (Playwright, The Gentleman Caller) plays include Charm (Northlight Theatre-Joseph Jefferson Award for Best New Work, MCC Theatre), Failure: A Love Story (Victory Gardens Theater), Miss Marx: Or The Involuntary Side Effect of Living (Strawdog Theatre-Joseph Jefferson Award for Best New Work), The Homosexuals (About Face Theater), Le Switch(About Face Theatre, The Jungle), and The Happiest Place on Earth (Greenhouse Theater/Side Show-Joseph Jefferson Award for Best Solo Performance), as well as the book and lyrics for Dr. Seuss's The Sneetches, the Musical with composer David Mallamud at Children's Theater Company, Minneapolis. His plays, The Burn and The Gentleman Caller (commissioned by Raven Theatre Company) will premier this winter in Chicago at Steppenwolf and Raven Theater Company respectively. Dawkins teaches playwriting at Northwest University, Loyola University Chicago, and through the Victory Gardens ACCESS Program.
Max Jenkins (Tennessee Williams, The Gentleman Caller) is an actor and writer. He most recently appeared in the world premiere of Paul Rudnick's Big Night at the Kirk Douglas Theatre in Los Angeles. He was awarded Best Performance in a Narrative Short (Tacoma Film Festival) and Best Actor in a Film (24FPS International Short Film Festival) for Matthew Puccini's The Mess He Made, which premiered at South by Southwest and was a finalist for the Iris Prize. Off-Broadway: Carnival Kids (Lesser America) and Unnatural Acts, which he developed and co-wrote with Tony Speciale and members of the Plastic Theatre (Drama Desk nomination for Best Play). Regional: Williamstown Theatre Festival and Arkansas Rep. Film: Bev, Those People, Are You Joking?, Fort Tilden and the upcoming Perception and Plus One. TV: "The Mysteries of Laura," "High Maintenance," "Orange Is the New Black," "Gossip Girl" and "30 Rock."
Daniel K. Isaac (William Inge, The Gentleman Caller) is an actor and writer based in New York City. You can currently see him on the small screen as 'Ben Kim' in Showtime's "Billions." Select NYC: Sagittarius Ponderosa (NAATCO), Underland (59E59), La Divina Caricatura (La MaMa, Under the Radar & St. Ann's Warehouse), Anna Nicole the Opera (BAM). Select Regional: The Ballad of Little Jo (Two River Theater), Miss Electricity (La Jolla Playhouse). Film/TV: MONEY MONSTER (dir. Jodie Foster), "The Jim Gaffigan Show" (TV LAND), "Search Party" (TBS), "Crashing" (HBO), "The Following" (FOX), "Personof Interest" (CBS), "Believe" (NBC, pilot), TOO BIG TO FAIL (HBO), and "According To My Mother" (NYTVF Best Drama & Best Actor, Inaugural Sundance New Voices Lab, www.AccordingToMyMother.com). Daniel is a member of Ensemble StudioTheatre's Youngblood and a Lambda Literary Playwriting Fellow. Training: UCSD, BADA. www.DanielKIsaac.com
Eve Ensler (Playwright, Extraordinary Measures) is the Tony Award winning playwright, activist, performer and author of the theatrical phenomenon and Obie Award winning, The Vagina Monologues, which has been published in 48 languages and performed in over 140 countries. Ms. Ensler's plays include Floating Rhoda and the Glue Man, Extraordinary Measures, Necessary Targets, OPC, The Good Body, and Emotional Creature. Her books include Insecure at Last: A Political Memoir, New York Times best-seller I Am An Emotional Creature and her critically acclaimed memoir In the Body of the World. Eve adapted In the Body of the World into a play that she performed and debuted at the American Repertory Theater, directed by Diane Paulus. In January 2018, she will be premiering it in New York at the Manhattan Theatre Club. Her play, Fruit Trilogy was performed at the Women of the World Festival in London and The West Yorkshire Playhouse. Her film credits include an HBO film version of her performance of The Vagina Monologues (2002). She also produced the film What I Want My Words to Do to You, a documentary about the writing group she led at the Bedford Hills Correctional Facility for Women, which premiered and won the Freedom of Expression Award at the Sundance Film Festival and premiered nationally on PBS's "P.O.V." in December 2003. Ms. Ensler is the founder of V-Day, the almost 20-year-old global activist movement to end violence against women and girls which has raised over 100 million dollars for grassroots groups. V-Day led Ms. Ensler to also found One Billion Rising, the biggest global mass action campaign to end violence against women in human history in over 200 countries. She writes for The Guardian, Time Magazine, the International Herald Tribune and many other outlets. She was named one of Newsweek's "150 Women Who Changed the World" and The Guardian's "100 Most Influential Women.
James Lecesne (Performer, Extraordinary Measures) wrote the short film Trevor, which won an Academy Award and inspired the founding of The Trevor Project, the only nationwide 24-hour suicide prevention and crisis intervention lifeline for LGBTQ youth. He created The Road Home: Stories of Children of War, which was presented at the International Peace Initiative at The Hague. He adapted Armistead Maupin's Further Tales of the City for Showtime (Emmy Award nomination), and he was a writer on the series "Will & Grace." He has written three novels for young adults and created The Letter Q, a collection of letters by Queer writers written to their younger selves. As an actor, he has appeared on television in "Sex and the City"; on Broadway in Gore Vidal's The Best Man; and Off Broadway in The Boys in the Band, Cloud 9, One Man Band, and Word of Mouth (Drama Desk and Outer Critics Circle Awards). Mr. Lecesne won awards from the Off-Broadway Alliance, United SoloTheatre Festival, and Outer Critic Circle for his performance in The Absolute Brightness of Leonard Pelkey. The New York Times ranked him "among the most talented solo performers of his (or any) generation." jameslecesne.com
William Harper (Music, Extraordinary Measures) is a Chicago photographer and composer. His photography is concerned with natural form and line and his music is theatrical, technology-based work sourced from liturgical and folk traditions. Harper first earned critical acclaim for his work defining a Chicago style of new music theater and opera as the creator and producer of many full-length original works for the American Ritual Theater Company (ARTCO). Concurrent with these projects, and subsequently, Harper's opera, music theater, dance, orchestra, chorus, and electro-acoustic works have been commissioned and performed by companies including The Minnesota Opera, The New Music Theater Ensemble of Minneapolis, INTAR Hispanic American Cultural Center, The Goodman Theater, Hartford Stage and The Music-Theatre Group. Harper teaches photography and music courses at the School of the Art Institute in Chicago.
Tony Speciale (Director, Extraordinary Measures) joined Abingdon Theatre Company as its Artistic Director in October 2015. Abingdon directing credits: The Boy Who Danced on Air, music by Tim Rosser, book and lyrics by Charlie Sohne; The Mother of Invention by James Lecesne; Jason O'Connell's The Dork Knight; and Stet by Kim Davies. Other directing credits: Unnatural Acts (Classic Stage Company-Drama Desk Award nominee, GLAAD Media Award nominee); James Lecesne's The Absolute Brightness of Leonard Pelkey (Off-Broadway: Dixon Place, Westside Theatre; National Tour: Old Globe, Kirk Douglas Theatre, Hartford Stage, Bay Street Theater, Philadelphia Theatre Company, Laguna Playhouse);Harmony, musicby Barry Manilow, book and lyrics by Bruce Sussman (ALLIANCE THEATRE, Ahmanson Theatre); A Midsummer Night's Dream featuring Bebe Neuwirth (Classic Stage Company); Matthew-Lee Erlbach's Handbook for an American Revolutionary (The Gym at Judson) and Romeo and Juliet (Actors Theatre of Louisville).
More Hot Stories For You