IN & OF ITSELF Announces Third Extension at Daryl Roth Theatre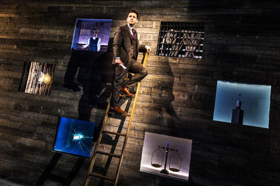 IN & OF ITSELF, the smash-hit show created and performed by three-time Academy of Magical Arts Award winner Derek DelGaudio (Nothing to Hide) and directed by four-time Emmy Award winner Frank Oz(Little Shop of Horrors, Dirty Rotten Scoundrels, Star Wars), has announced a third extension to the show's New York Premiere engagement at the Daryl Roth Theatre in Union Square. IN & OF ITSELF, which opened to resounding critical acclaim on April 12, 2017, will now play an additional eighteen weeks, through May 6, 2018.
Produced by Werner Entertainment, Tony Award winners Gary Goddard & Forbes Candlish, Prediction Productions and five-time Emmy & Tony Award winner Neil Patrick Harris, IN & OF ITSELF began previews on April 5, setting a box office record for the highest advance sales in the history of the Daryl Roth Theatre. Even amidst the most crowded theater season in over twenty years, IN & OF ITSELF has grossed over $3 million (in a 150-seat theater) and continually sold-out performances-prompting three extensions to the original ten-week run, now taking the show to fifty-seven weeks.
A mysterious story is deciphered and the illusion of one's own identity is revealed in Derek DelGaudio's IN & OF ITSELF. A modern allegory, IN & OF ITSELF explores new ways of seeing the unseeable, as memories from yesterday, inexplicable events witnessed today and secrets imagined for tomorrow are blended together, creating a perpetual paradox of a show. Glenn Kaino (2004 Whitney Biennial, U.S. Representative to the 13thCairo Biennale) serves as Artistic Producer of the production, which also features Original Music by Devo frontman Mark Mothersbaugh, and Production Design by A.BANDIT.
"Wonder is a rare commodity these days," raved The New York Times, which declared the show a Critic's Pick. "Derek DelGaudio, the phenomenally talented creator and star of the stealthily entrancing IN & OF ITSELF, is a magician, a raconteur, a conceptual artist and conceivably a mind reader... And his show works. Beautifully. Tenderly. Astonishingly. The finale allows Mr. DelGaudio a momentary connection to any audience member who proves willing. To watch is to see audience members each receive a private benediction and leave the theater, heads aswirl." Time Out New York gives the show "Four Stars!"; Vogue says, "In the astonishing IN & OF ITSELF, Derek DelGaudio performs some of the most heart-stoppingly wondrous pieces of magic I've ever seen;" and The New Yorker calls it, "a thoughtful piece of theatre that makes inspired use of DelGaudio's skills...it will linger in the mind and leave ample room for wonder." The Huffington Post hails the show as "nothing short of remarkable," and Entertainment Weekly describes DelGaudio as an "undeniably compelling storyteller" with "jaw-dropping" talent. TheaterMania declared IN & OF ITSELF a "wildly impressive" show that "elevates magic to a fine art."
DelGaudio is a writer, performance artist, and three-time Academy of Magical Arts Award-winning magician. He wrote and starred in the critically acclaimed show Nothing to Hide, which played sold-out engagements in LA and NYC. He was selected to be the Artist in Residence for Walt Disney Imagineering and co-founded, along with Kaino, the performance-art collective, A.BANDIT. In April 2017, DelGaudio became one of the youngest artists to receive the Academy of Magical Arts' "Magician of the Year" award, joining the ranks of such luminaries as David Copperfield, Penn & Teller, David Blaine and Ricky Jay.
Frank Oz is a four-time Emmy Award winner, whose directing work includes such feature films as Little Shop of Horrors, Dirty Rotten Scoundrels, In & Out, The Score and Death at a Funeral. As a performer, he has voiced such iconic characters as Yoda in the Star Wars franchise, Miss Piggy and Fozzie Bear on "The Muppet Show," and Grover and Cookie Monster on "Sesame Street." Oz is a recipient of The Art Director's Guild Award, The Comedy Award, Saturn Lifetime Achievement Award and George Foster Peabody Award, among others.
IN & OF ITSELF played a limited engagement at Geffen Playhouse in the spring and summer of 2016, where it extended an unprecedented five times, and became their highest grossing show to date.
Tickets to IN & OF ITSELF are on sale at Ticketmaster.com. The performance schedule is Tuesday-Friday at 8pm, Saturday at 3pm & 8pm, and Sunday at 3pm & 7pm. There are no shows on Tuesday October 31, Thursday November 23, Sunday December 31 or Tuesday, January 2. There are added shows on Monday October 30 at 8pm, Monday November 20 at 8pm, and Wednesday January 3 at 3PM. On Wednesday December 27, Friday December 29, and Saturday December 30, performances are at 5PM and 9PM.
Photo: Derek DelGaudio in IN & OF ITSELF (c) Matthew Murphy
More Hot Stories For You