Gavin Creel and Dale Hensley Team Up to Give Disabled Performers the Spotlight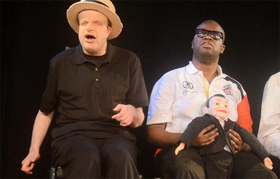 On September 13th, Gavin Creel and Dale Hensely (The Fantasticks) are rounding up their Broadway friends to give blind and intellectually disabled performers a chance to do something they would never otherwise be able to do - shine on Broadway.
Gavin and Dale will join these passionate individuals onstage at the Jerry Orbach Theater and perform excerpts from Guys and Dolls, Hamilton, Sister Act, Damn Yankees and Billy Eliot. Also joining them will be Broadway vets Judy McLane and Susan Cella.
The production features choreography including a tap duet by Natale Micelli and Rivalino Lucas, two blind men.
The show first performed at the Jerry Orbach Theatre in early summer to a live audience of 200 people and it was a smashing success - with not one dry eye in the house! Since then the group has performed twice outside Lincoln Center with the Sing for Hope Program and also at the Queen's Museum.
AHRC on Broadway is a group of talented performers from the AHRCNYC Redfield Center, specializing in performing songs from Broadway shows, alongside Broadway performers. The program enlists dancers, singers, costume makers, sound and lighting designers and now Tony Award winning stars in staging its performances.
Pictured: The show features a tap duet by Natale Micelli and Rivalino Lucas - both of whom are blind.
More Hot Stories For You