Cynthia Von Buhler's Immersive THE GIRL WHO HANDCUFFED HOUDINI To Premiere Off-Broadway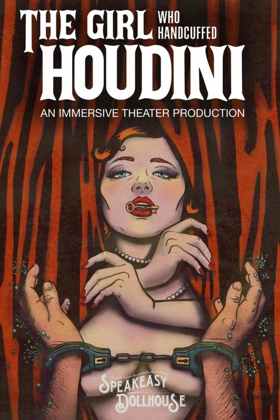 New York audiences will be transported back to 1926 to experience a world of mysterious speakeasies, backstage intrigue, and hotel room affairs as they unravel the untimely death of legendary illusionist Harry Houdini in The Girl Who Handcuffed Harry Houdini, the new immersive theatrical production from playwright and director Cynthia Von Buhler and her Production Company, Speakeasy Dollhouse.
Based on von Buhler's popular comic series of the same title, which will be published as a hardcover graphic novel by Hard Case Crime/Titan Comics on August 22, 2018, The Girl Who Handcuffed Houdini follows private investigator Minky Woodcock as she uncovers secrets surrounding the final days of the world-famous escape artist. Woodcock's investigation leads her to cross paths with Sir Arthur Conan Doyle, who believes Houdini is not merely a magician but has supernatural powers, and Bess Houdini, who suspects her husband is cheating on her.
The play will unfold throughout three floors of a historic East Village townhouse which today houses William Barnacle Tavern -- formerly Scheib's Place, a speakeasy where the New York City Council drank during Prohibition -- and the 199-seat Theatre 80 Saint Marks. Von Buhler, who is also the production's set designer, will transform the townhouse into a Prohibition-era time capsule.
Audience members will be assigned a character to follow and then experience events through that character's point of view. They might find themselves assisting the magician's rehearsal backstage, sipping absinthe in a speakeasy, spying on an affair in a hotel room, witnessing an attempted murder, attending a séance, visiting Houdini in his hospital room, or viewing his body in the morgue.
Replete with incredible magic tricks and authentic recreations of spiritualist demonstrations such as séances, tarot readings, and spirit photography, the production offers up a meticulously detailed slice of Houdini history, including a performance of his iconic Water Torture Chamber act, which VIP ticket holders will be invited onstage to inspect. Audience members are encouraged to come back again to follow other key players and see alternate facets of what actually led to Houdini's fateful death. Evidence is revealed, but the truth is left up to the theatergoer to decide.
Von Buhler is the creator behind 2016's acclaimed Illuminati Ball, running for three years, a one-of-a-kind immersive experience that brought audiences from Manhattan to a secluded Connecticut hunting lodge, where they enjoyed a sumptuous soiree and interactive performance inspired by a legendary Surrealist soiree hosted by the Baron and Baroness de Rothschild in 1972. Von Buhler's other immersive plays include Ziegfeld Midnight Frolic (2015), an exploration of the death of Ziegfeld Girl and silent film star Olive Thomas staged at a long-hidden Broadway theater uncovered in Times Square, and The Brothers Booth (2014), an investigation of the Lincoln assassination staged at his assassin's brother's mansion on Gramercy Park.
In 2011 von Buhler created Speakeasy Dollhouse in order to explore the murder of her own Italian immigrant grandfather, a speakeasy owner named Frank Spano, who was shot and killed on a New York City street in 1935. Long haunted by the mystery of his death, von Buhler obtained news articles, autopsy reports, police records, and court documents, and recreated the crime scene in an elaborate dollhouse diorama. The show spawned The Bloody Beginning, which quickly became a hot underground theater ticket and went on to run for five years.
"The twenties were a time when freedom roared, especially for women, who chose to keep their war-time jobs, drank booze, bobbed their hair, threw away their corsets, and finally won the right to vote," said von Buhler. "The Girl Who Handcuffed Houdini revels in this era of loosening gender roles and free-flowing (yet illegal) liquor, and Minky Woodcock will transport audiences into a time capsule where they can live fully in her world."
Houdini's final tour took place in October of 1926, during which he died on Halloween night; his funeral was held on November 4th. The Girl Who Handcuffed Houdini, which follows the magician's final days and the incidents leading up to them, is set to run during these same months.
Starring Pearls Daily (burlesque star and actress who recently appeared on Marvelous Mrs. Maisel) as Minky Woodcock, Vincent Cinque (the star of The Illuminati Ball and Ziegfeld Midnight Frolic) as Harry Houdini and Robyn Adele Anderson (singer from Postmodern Jukebox) as Bess Houdini.
Also starring: Lord Kat (Sir Arthur Conan Doyle), Delysia La Chatte (Nurse La Chatte), Luka Fric (Bennie Woodcock), E. James Ford (J. Gordon Whitehead), Eden Atencio (Mina Crandon aka Margery of Boston), Rolls Andre (Doctor), Ryan Salvato (Sam Smiley), Rolls Andre (Lawyer), Celeste Hudson (Lady Marler), Mat Leonard (Jim Collins), Tess Richie (Maid), Tony Noto (Lawyer ), Audrey Allen (Lady Allan) and Will Davis (Jack Price), Jesse Long (Cop) and Gretchen Knapp (Cop)Cynthia Von Buhler is the writer, director and set designer. PJ Mead is the associate director and business manager. Juliana Crawford is the production manager. Juliette Campbell, of Shanghai Mermaid, is a collaborator on the seance room. Produced by Speakeasy Dollhouse.
A Kickstarter with exclusive rewards and tickets has been launched. Be immortalized by being drawn as a supporting character in the Minky Woodcock series, attend a rehearsal, sponsor The Water Torture Chamber, become a Co-Producer, receive a signed copy of the book and more.