BWW Review: WE ARE THE TIGERS Fumbles But Is Still F-U-N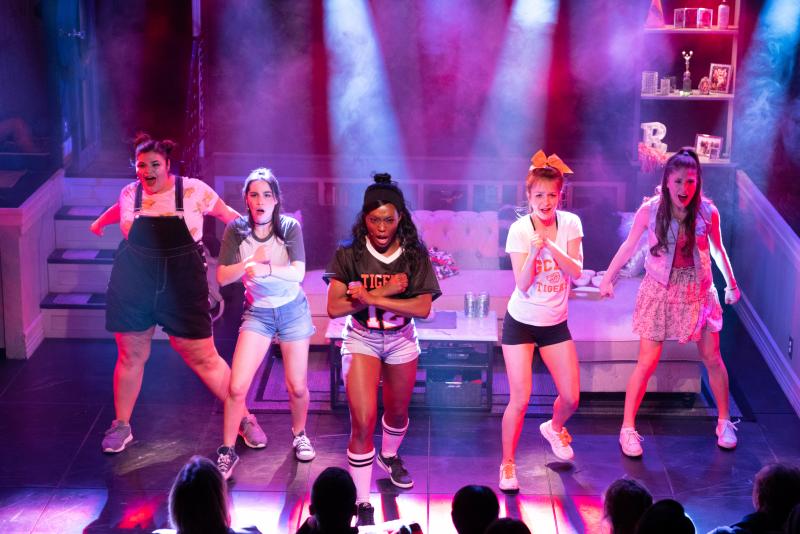 A real curious thing is happening at Theater 80 St Marks. And, oddly, it may be the off-beat, quirky must-see Off-Broadway event of the winter. Not because the show is amazing, nor because it is so terrible that it has to be seen to be believed. Truthfully, Preston Max Allen's We Are The Tigers makes you forgive its missteps by being infectiously plucky and actually fun.
With the tagline "A Killer New Musical" and the poster art featuring a butcher knife, I expected We Are The Tigers to be more-or-less Fox's Scream Queens or Dimension's 1996 blockbuster Scream in the musical form. It's not. And, ultimately, that's ok. The first act - confusingly at times - vacillates between genres: the angsty teen emotional trauma musical a la DEAR EVAN HANSEN, a tongue-in-cheek slasher parody where murders are mimed without anyone physically portraying the murderer, and a light-hearted yet dark teen comedy. Fumbling through these waters, the show's first act is interesting, uneven, and only offers a body count of three. Then, act two jettisons the whole teen scream/slasher bit and starts with a charmingly dark comedic tone and the show, finally sure of itself, clips along as a wonderfully subversive satire, despite some awkward resolves. For example, Mattie's sudden ability to trust the girls again.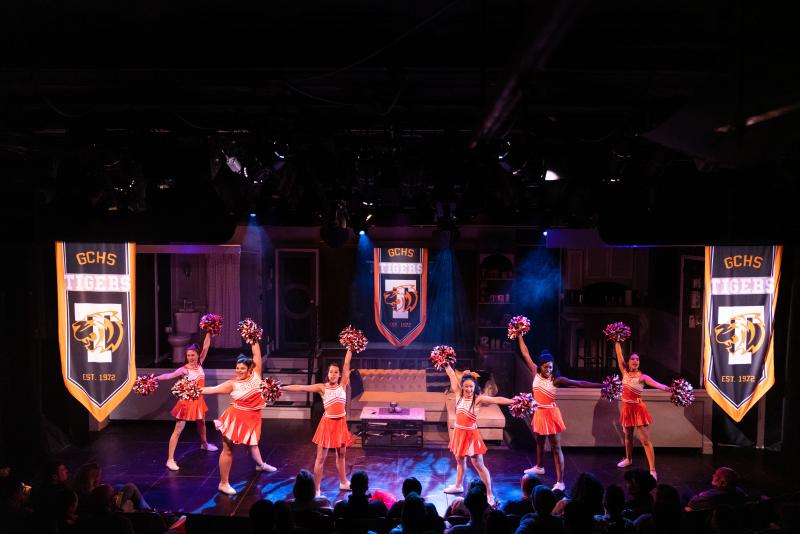 While Allen's book fumbles, his music for the show soars. Of the creative elements, it's easily the strongest aspect of We Are The Tigers. Most of the songs are catchy pop bops that pulsate with rhythm and pizzazz, lending themselves to the cheerleader vibe. This is especially true of larger group numbers, and the show's Act I Finale "Defense," the show's dazzling dueling 11o'clock-lite non-ballad numbers "Shut Up and Cheer" and "IDK," and its rousing finale. Opposite these tunes, Allen has written strong ballads as well, such as the stirring "Skype Tomorrow" where Kate laments Chess's going away to college and "Before the Breakdown (Reprise)" where Farrah squarely battles her alcoholism.
Leading the cast Lauren Zakrin is instantly likable as cheer Captain Riley, who struggles to maintain her control and position by obsessing over every detail, both large and small. She vibrantly comes into her own during the show's quintessential 'I want' number, "Don't Even." Here she so deeply inspires herself with the team's mantra that the other girls begin to fall in line. Zakrin handles the twists and turns of Riley's arch like a skilled driver tooling along Mulholland Highway, landing numbers like "Wallflower" and "Phoenix" along the way.
Wonu Ogunfowora as "Co-Captain" Cairo delivers a show stealing tour de force performance. She skillfully creates a fiercely strong black female that avoids the clichés of the cinematic and theatrical independent black woman. Her character springs to life with an empathetic heart that refuses to be walked all over while asserting itself and demanding respect. Vocally, once Ogunfowora unleashes her vivacious and bold belt, audiences clamor to hear it again and again. Songs like "Defense," "Wallflower," and "IDK" easily stick with you because of her vivid performances.
MiMi Scardulla's Reese doesn't fit in because she is a plus-sized girl finding her footing in a size 2 or smaller world. Yet, Reese knows her strengths and so does Scardulla. Both are equally determined to be recognized for them, and Scardulla delivers with perfected precision. Her voice sparkles on "Captain of the Team" and her radiant dance moves shimmer throughout the show. Jenny Rose Baker's Kate is struggling with her sexuality and her attraction to Chess, but by the time she sees Eva's pride button in the second act, the issue seems magically resolved. The writing around her is clunky, but Baker performs "Skype Tomorrow" and "Move On" with such vocal clarity that the emotionality she brings to the stage more than adequately fills in the gaps left by the writing. Then, as drunken Farrah, Zoe Jensen may craft the show's most likeable and heartrending character, making her death a true tragic waste. Luckily, Allen's writing has her sing from the afterlife, so we get to continue enjoying her glorious vocals.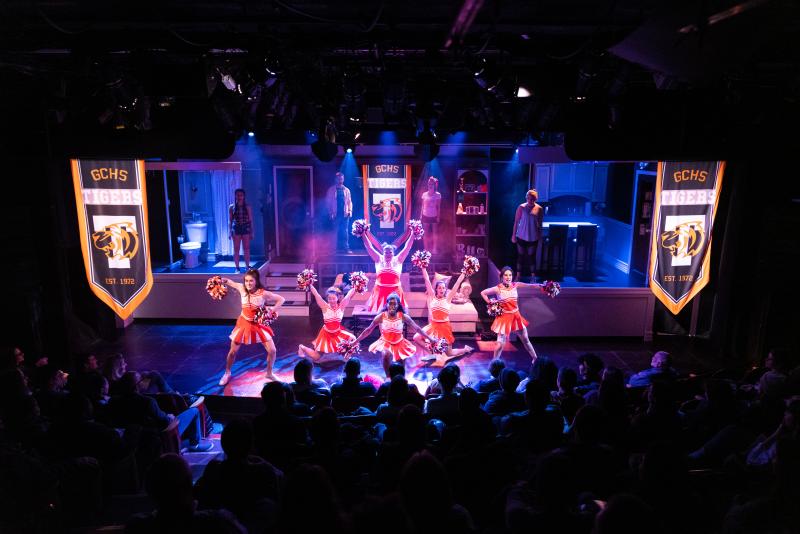 Rounding out the cast, Kaitlyn Frank is adroitly humorous as the Jesus freak virgin Annleigh. Celeste Rose's Chess is saddled with a pill addiction that seems too heavy to really fit in this show, and the weight of that predicament sinks her character in the writing. She makes the most of the material she is given, doing extra work to ensure she registers with audiences and is at least somewhat memorable in performance. Cathy Ang plays the sole Freshman to have made the varsity cheer squad, Mattie. Ang delights with her solo at the top of the second act, but her character is, unfortunately for her, mostly a space filler in a show that gets bogged down by having a cast of ten where at least nine of these characters have issues to sort out. This also applies to Sydney Parra's Eva, who abandons public school to join this particular team thanks to a scholarship. Parra works magic though and makes "Shut Up and Cheer" one of the evening's most memorable moments despite the messy staging surrounding her. Lastly, as Clark, Louis Griffin is given the thankless task of making a total throwaway character funny, so his virginal, Christian girlfriend can have a good song.
Ann Beyersdorfer's scenic design for the show forgoes the traditional cyclorama, which in turn makes Jamie Roderick's job for lighting more complicated and convoluted than it needs to be in the intensely intimate Theater 80 St Marks. Blankets of haze allow Roderick to employ effective and colorful cycloramas with keenly utilized backlighting to make sure Katherine Roarty's clever and witty choreography gets the due it deserves. But this complicated lighting trick comes at a cost. It sometimes puts characters in top lighting that is either too harsh or not blended with adequate side lighting, which only casts dark shadows across faces and obscures them. It also creates sporadic spotlight follows that the actresses either didn't find their marks for or in which the lighting operators weren't following the action appropriately as some moments intended to be spot lit simply were not.
In spite of the hiccups, We Are The Tigers is good. It's not great. It's not terrible. It's good. And it's good fun. It earns its laughs and its applause organically and on its merits. So what if it's not exactly Sorority Row but with cheerleaders and singing, which is what we expected. Who cares that's it's a little more DEAR EVAN HANSEN than Sleepaway Camp. It's an entertaining romp, with some great music, and nine women slaying a stage for about two hours. Don't take it or yourself too seriously, and you should have a blast.
For tickets and more information about We Are The Tigers, please visit http://tigersmusical.com/.