BWW Review: ANIMAL CONTROL at Firehouse Theatre
Richmond's FIREHOUSE Theatre Company stands out amongst the others in this theatre heavy town by being dedicated to making theatre. More specifically, developing theatre. They are not the only company doing so, but they spend more energy than any other company in town doing so.
Richmond, Virginia, for those who do not live here (from the point of view of a longtime transplanted New Yorker) is a former sleepy southern town that for the past fifteen years or so has found an artistic renaissance as exemplified by a fine Symphony, Ballet, Regional Opera and in the city of Richmond proper, about 10 professional theatre companies (where the actors and staff are paid) and as many smaller and community companies. At any time during the theatre season there are as many as 5 or 6 shows running from high budget musicals to basement style intimate dramas.
Firehouse Theatre is currently running a series of new plays written by Richmond playwrights and Chandler Hubbard's ANIMAL CONTROL is the series' showcase. The play has been workshopped and enjoyed two runs in order to find, within this opportunity, the best version it can be. Not having seen either showcase or original production, coming in at the end of the process was very gratifying indeed.
I don't think it's far off to say that a big challenge for a new playwright is to find their "voice". Creativity and literary style aside, the way you do or say something is always the difference in how it's received. A playwright must find that voice for his words to matter.
Mr. Hubbard has been able to mix local politics, animal rights and the very nature of that special relationship we have with our pets. He peppers the stew with a spicy Southern redneck bravado. A strange but satisfying dish.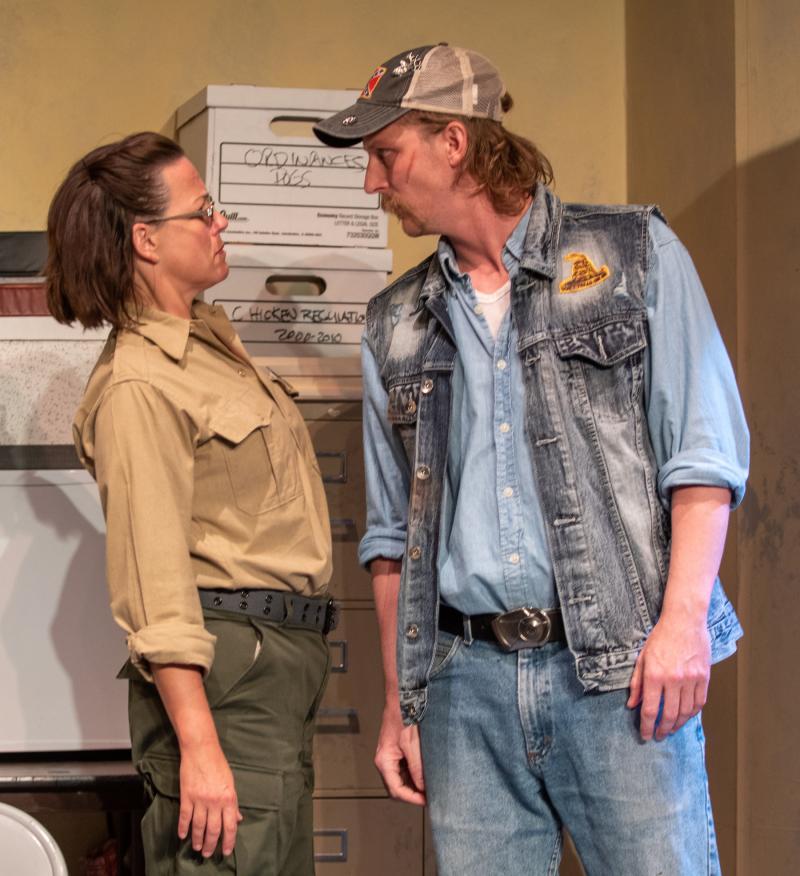 ANIMAL CONTROL takes place in a small town Animal Control Bureau. Kim Hawkins (Donna Marie Miller) has been promoted to Animal Control chief and finds the pressure of the job and the animal euthanasia duties particularly onerous. Day in and out she deals with issues like animal cruelty, abandonment and negligence. The play opens with the Bureau's teenage receptionist Corrine Lowell (Journey Entzminger) slouching in her chair, playing with her cell phone, giving Chief Hawkins much attitude, which the chief is too flustered to combat.
The play revolves around Don Stanley's (Stevie Rice) dog, Bailey, a Pit Bull. The Bureau has had many complaints of Bailey being out of control and attacking other dogs.
Marc Hanson (Adam Turck) comes in to lodge a complaint that Bailey has attacked his dog Winnie (short for Winston (like Churchill)), a Goldendoodle.
The chief calls in Stanley and confrontation ensues. A Ms. Smith (Margarette Joyner) later comes in and makes a similar complaint that Bailey has attacked her cats often with no governmental action. Stanley reveals that Bailey was raised to be a "Bait Dog," used to be a sparring partner for prize fighting dogs. Bailey has in fact been horribly abused by everyone but Mr. Stanley. He just cannot control Bailey. At the play's tragic end, he admits that Bailey may be a "bad" dog.
NO. THERE ARE NO BAD DOGS. Or children. Just bad parents.
I am surprised. I have seen works by other local playwrights. All, including this play, have creaks in structure and style. That "voice" again. I failed to mention that not only does a playwright have to find it, we, the audience, have to give a hoot. That is the challenge. Hubbard has found something the majority of us care about. Or as Joel Bassin, the Artistic Director of Firehouse Theatre says in his curtain speech, something along the lines of "you're either an animal lover or live with one."
BassIn also directs this piece and you can see his steady hand all over the drama. The staging is clean but more importantly, the subject matter is never allowed to go into the saccharine, melodramatic or the trivial. Keeping tension high in a domestic drama focusing on our community behavior with our animals is no small feat.
The acting also helps a great deal. Bassin and his actors hit on a naturalism that avoids the more predictable "Mayberry RFD" feel of such small towns. Adam Turck makes quite the dweeb foil for redneck country boy Stevie Rice. Rice has always had a way with smarmy testosterone driven characters and refines it here to allow some contrition and humanity. Turck in the "Underdog" role (the cartoon superhero dog and the status) sticks his little chest out and barks at Rice like his Goldendoodle might do to Rice's Pit Bull. Very nice.
Hubbard hasn't excised all hoke and awkwardness out of his script, which find themselves, predictably, in the minor characters. He has, however nailed the structure, the build-up and the payoff.
The Firehouse production may have also morphed along with the script in this process but was very well suited to this skit. Phil Hayes designed an interesting, angular small town government office with dirty grey walls, cheap calendars and exposed heating tanks in the corner. The chain link gates surrounding the building where the employees took their "smoke" breaks, cleverly mimicked the jailed cages in which the animals inside were housed. Andrew Bonniwell's lighting is so organic you don't notice it, which is how it should be. That also goes for Niomi Kaiser's costume design (with a special shout out to Journey Entzminger's eye catching pants in Act 2).
I don't know that you can build a playwriting career writing about the lives of animals and their people so perhaps Mr. Hubbard will have to find other aspects of his interesting life to dissect. Based upon what you see here, he will do very well.
Photos by Bill Sigafoos (except for the dogs - public domain)
FIREHOUSE THEATRE barks up the right tree in its handling and development of a promising new playwright.
Related Articles View More Central Virginia

Stories

Shows