BWW Interview: Ryan Koch is Shrek in SHREK THE MUSICAL TYA at Mill Mountain Theatre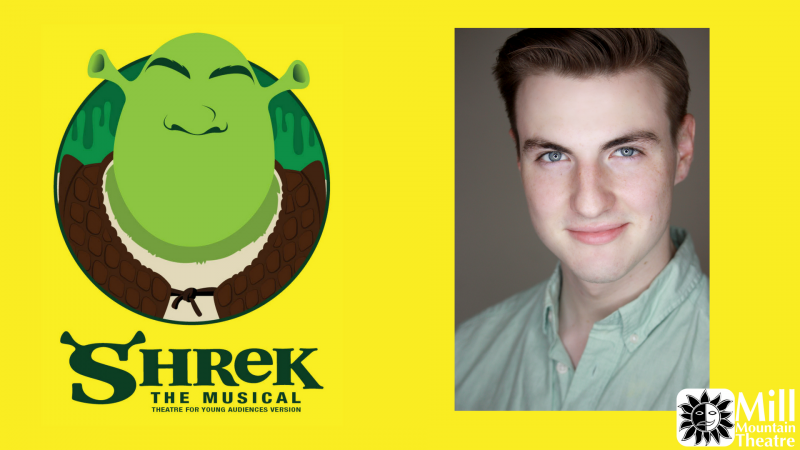 Mill Mountain Theatre is wrapping up rehearsal for "Shrek The Musical: Theatre For Young Audiences Version" and gearing up to begin performances this Wednesday, August 1st and continues through the 12th on the Trinkle MainStage.
Starring as the Green Ogre himself is Flordia native Ryan Koch. I was lucky enough to sit down with Koch to hear about his experience playing Shrek and found him to be a charismatic and passionate young man.
Why don't share a little bit about where you're from and how you get started in Theatre...
Sure! I was born in San Angelo, TX but I've lived in Tallahassee since I was about three or four. Around this age, I was spending a lot my time watching VHS tapes of Blue's Clues episodes and reciting them word-for-word. It got to the point where I would recreate episodes in my bedroom, which then spiraled into me responding exclusively to the moniker of the show's host (you couldn't convince me I wasn't "Steve"). Somehow, my parents came to the conclusion that I had to act, and I thank my lucky stars for that every single day. They quickly enrolled me in the Young Actor's Theatre, a non-profit youth organization that has churned out working actors such as Tony Hale (Arrested Development, VEEP) and Cheryl Hines (Curb Your Enthusiasm). I stuck with it all the way through senior year of high school, and through those years I have made some of my best friends and fell in love with the prospect of performing.
You've never been to the area before, what's your favorite part of Roanoke?
I love the mountains... but Florida has exactly: none. So my answer would be any sort of landmark having to do with the mountains, like the Roanoke Star or McAfee's Knob. In all honesty, I love just looking out the window and seeing mountains on the horizon.
How did you find Mill Mountain Theatre?
I auditioned at the Southeastern Theatre Conference this past March and Mill Mountain was one of the theatres casting for summer apprenticeships. I was on the final day in the second-to-last group, so I was super worried, but thankfully I received a callback and it went better than I could have ever hoped. I knew immediately that this was the company for which I wanted to work. I have loved every moment of working here with this company and with these extraordinary people.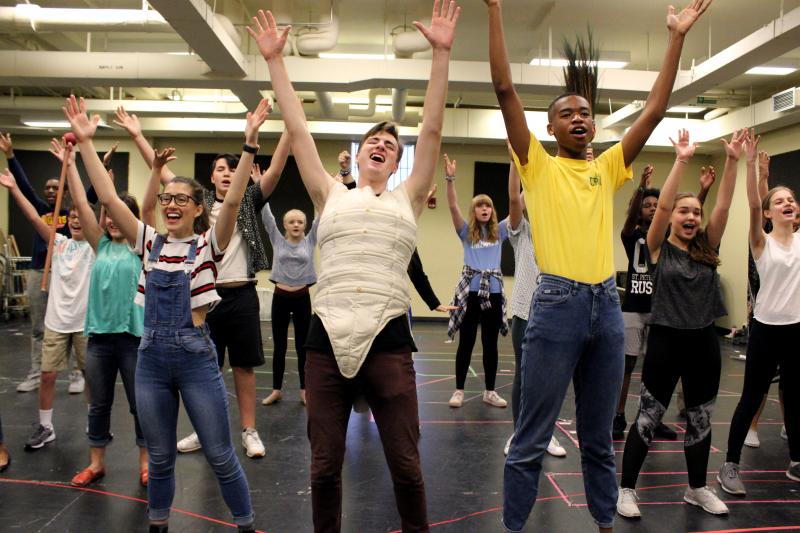 Ryan Koch with Cast of Shrek The Musical TYA in rehearsals. Photo by Breanna Strife
How do you relate to a big green ogre like Shrek?
Shrek may be a big green ogre, but this doesn't mean he is devoid of humanity. More than anything, Shrek is lonely. He's been wounded over and over again by a world that doesn't want him, which leads him to believe that there is no place for him. He settles for a life of solitude while falsely believing this choice is the right way to cope with the stigma of his species. I think anyone has been in a situation such as this, one where a misunderstanding or a misconception about oneself or another person creates a disconnect. It's universal; topical, even. It's easy for me to resonate with Shrek's longing for connection that he didn't realize he wanted, let alone needed. Donkey and Fiona are responsible for helping Shrek shed layers of his proverbial onion, and it's fun to get to portray that arc.
Shrek is all about celebrating yourself and what makes you special, what makes you special?
I would like to think my sense of humor and my constant desire for making people laugh. It makes my day when I make someone new laugh for the first time. It's second-hand euphoria, I suppose.
Shrek Director Travis Kendrick with Ryan Koch (Shrek) and AnnElese Galleo (Fiona) in rehearsals. Photo by Breanna Strife
What's been your favorite part of working on Shrek? Any fun memories inside or outside the rehearsal room?
I would say getting to play and explore these roles with my fellow co-stars and cast members. Rehearsals are a privilege because it's a safe space to fail in front of everyone without any embarrassment because we all want each other to prosper and be the best that we can be. We lift each other up and encourage one another to take risks and try anything.
Why should people come to see Shrek The Musical?
It's a classic! When you look past the pop culture references and the "meme status" of the franchise and you break down the story's components you get a story with a message that everyone needs to be reminded of every once in a while.
---
Be sure to secure your seats to 'Shrek the Musical TYA' running August 1-12 on the Trinkle MainStage. Tickets range from $15-22 and can be purchased online at millmountain.org or by calling 540-342-5740.
In conjunction with this production, MMT will distribute free books to student audience members, as part of their initiative connecting theatre to literacy.
The cast of Shrek features 30 young artists: Parker Addison, Taylor Barenbaum, Olivia Bloch, Emma Bush, Sarah Clemmer, Hannah Conner, Noah Davis, Cody Edwards, Adalynn Eller, Simon Elliott, Tela Espelage, AnnElese Galleo, Skylar Gay, Mia Gearhart, Olivia Goodman, Leila Haley, Hannah Hill, Ryan Koch, Haley Lynch, Caroline Moledor, James Moledor, Jasper Moore, Sawyer Mullins, Mikayla Parker, Cameron Reynolds, Graham Roudebush, Griffin Shaver, Paige Smeltzer, Isaiah Swanson, and Madeline Mae Walker.
The creative team of Shrek is led with Direction and Choreography by Travis Kendrick, Music Direction by Seth Davis, Lighting Design by Alicia Varcoe, Scenic Design by Jimmy Ray Ward, Costume Design by Cole Spivia, Prop Design by Matthew Shields, Producing Artistic Direction by Ginger Poole, Stage Management by Jessica Humke, Assistant Direction and Assistant Stage Management by Roberto Mendez, Assistant Stage Management by Breanna Strife, Pre-Show Choir Coordinated by Reilly Lincavicks, Technical Direction by Karen Gierchak, and Sound Engineering by Savannah Woodruff.
Buy your tickets by clicking here: or call 540-342-5740.