Feature: WRITE STUFF! at Mill Mountain Theatre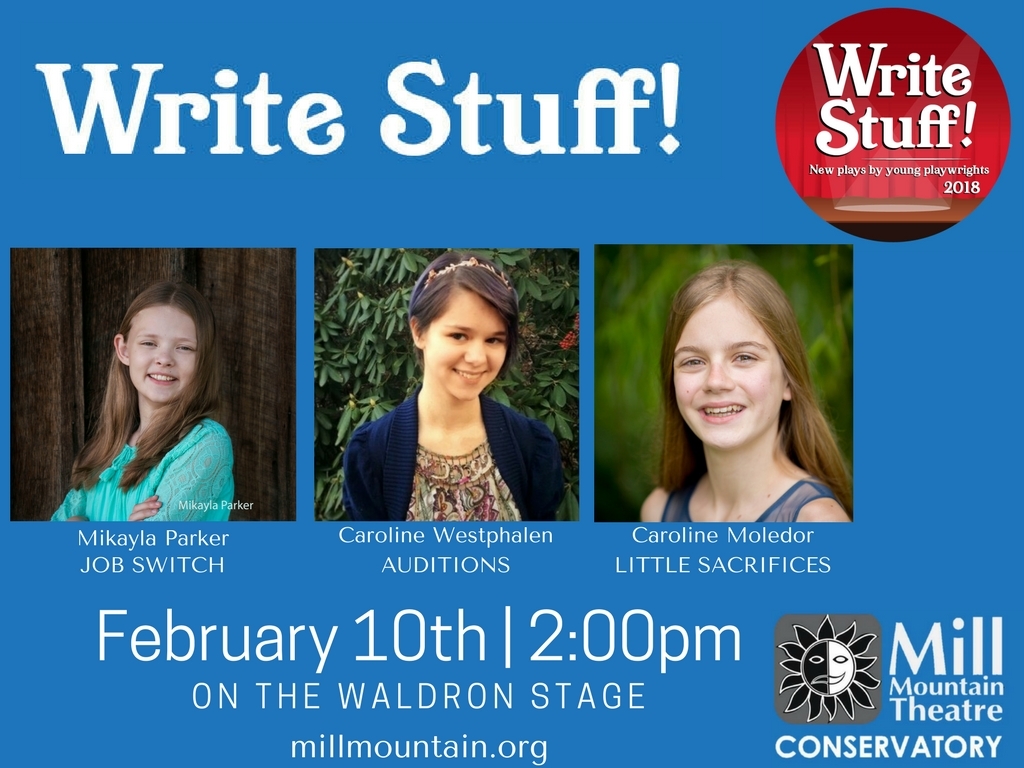 An Equity Theatre's program to encourage young playwrights culminates in staged productions of the winning scripts.
Mill Mountain Theatre Conservatory proudly presents Write Stuff! for it's 2nd Annual Festival.
Mill Mountain Theatre Conservatory, the onsite, pre-professional training program at Roanoke's Equity Theatre, is hosting their second annual festival of new works penned by local students. The playwriting contest was open to Middle School and High School playwrights, with the winning three being produced as staged-readings.
The chosen plays this year are by all female playwrights: Job Switch by Mikayla Parker, Little Sacrifices by Caroline Moledor, and Auditions by Caroline Westphalen.
The festival of staged-readings will be this Saturday, February 10, 2018 on the Waldron Stage. Mill Mountain Theatre Conservatory students and local talent will act in the plays directed by Mill Mountain Theatre staff.
Write Stuff! serves to connect Mill Mountain Theatre's expanding education programming with its historical and ongoing commitment to new play development. Ginger Poole, Mill Mountain Theatre's Producing Artistic Director, expressed excitement about the newest addition to Mill Mountain Theatre's Young Audiences programming. "Beginning with the Norfolk Southern Festival of New Works and continuing through our partnership with the Hollins Playwrights Lab, new work has been an important element of Mill Mountain Theatre's identity. Expanding that vision to invest in the development of young writers has been a desire of mine for several years, and I am thrilled that our education department now has the capacity to take on this effort. Our inaugural festival was a success, and I look forward to bringing back the second annual festival and to watch its growth and success happen over the next several years." she said.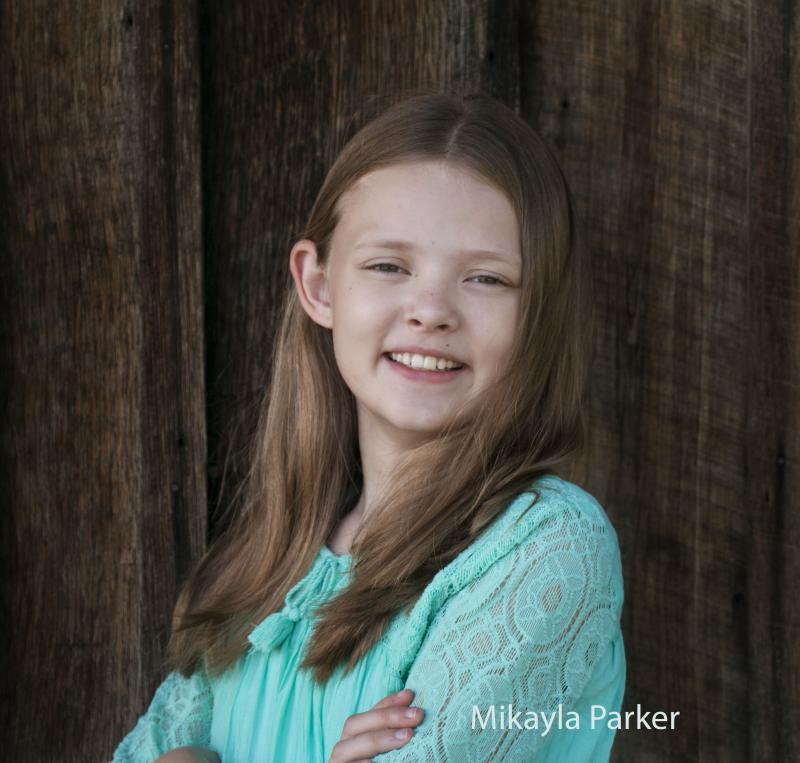 Playwright Mikayla Parker is overjoyed to be at Mill Mountain Theatre, but this time, as a writer. Ms. Parker is a 7th grade homeschool student. She loves singing, acting and dancing and is a MMT conservatory student. After being an actor in Write Stuff 2017, she was inspired by her friend, Caroline, to submit a play this time. She is so excited to have this opportunity. Recent credits include Willy Wonka jr, Velveteen Rabbit, Alice, Patchwork, Starcropolis ,The Best Christmas Pageant Ever and Seussical .She wants to thank Caroline, Christopher and Travis.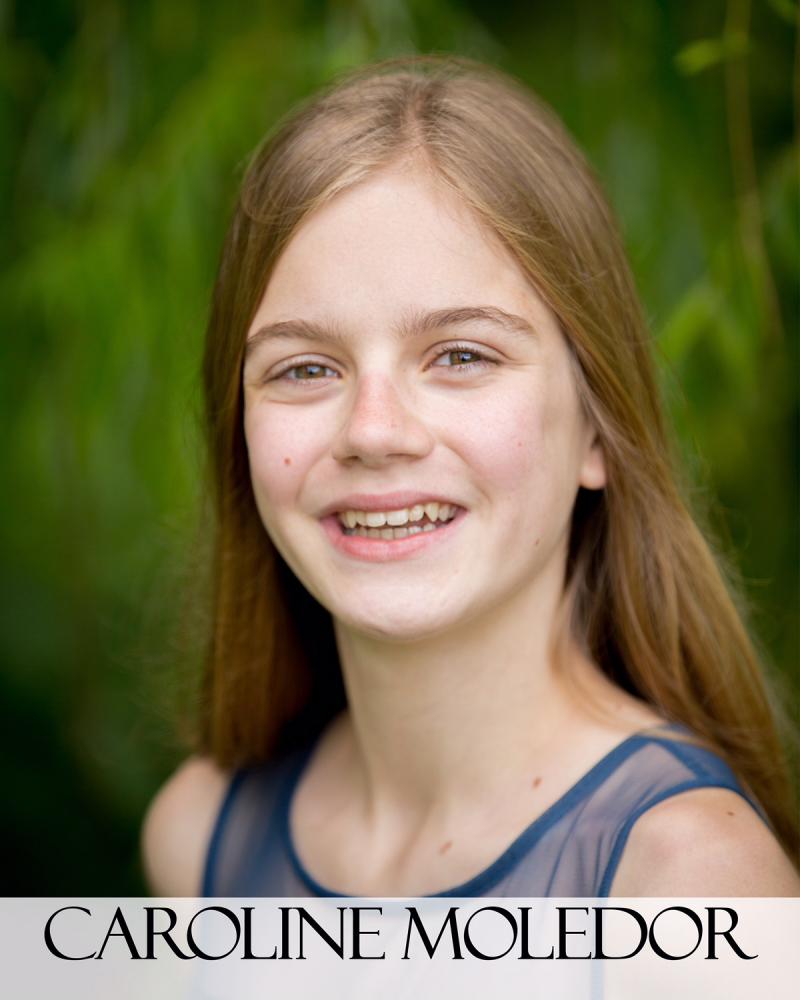 Caroline Moledor was last seen at MMT in their record-breaking production of A Christmas Story as Helen Weathers, with her words joining other actors on stage. Ms. Moldeor is a 7th grade homeschooler who is thrilled to be participating in Write Stuff for the second year in a row! MMT acting credits include A Christmas Story (Helen Weathers), The Legend of Sleepy Hollow (Katie/Mrs. Van Tassle), Best of Broadway,Willy Wonka Jr. (Matilda), and The Velveteen Rabbit (Ballerina Doll/Ensemble). She is also a Conservatory student. Hobbies include composing music and thinking. Special thanks to everyone at MMT for making her dreams a reality!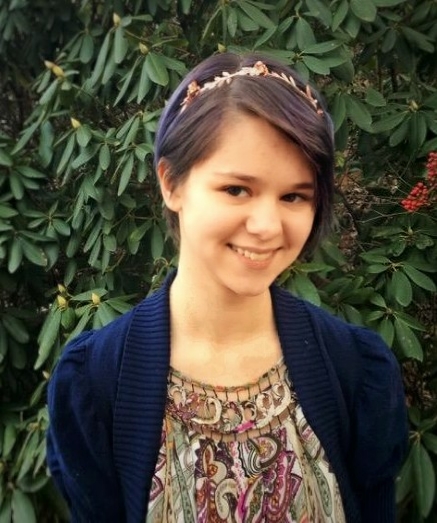 New to the stage is playwright, Caroline Westphalen. Caroline Westphalen is an 8th Grader at Martinsville Middle School. She enjoys writing, reading, and, of course, theatre. Caroline has had parts in student productions of Alice In Wonderland, Willy Wonka and The Chocolate Factory, and Peter Pan. She loves musicals, especially Dear Evan Hansen, and wants to be a playwright when she's ?older. This was her first time attempting to write a play, and Caroline is very excited to see how the show's received.
The mission to encourage student authors is also in alignment with Mill Mountain Theatre's pedagogical goals. "Write Stuff is an incredible experience for young artists to work on a new play process. It isn't often that young people get to be involved in brand new plays: learning how scripts change, how characters are developed, and how to work with a playwright in the room," says Travis Kendrick, Mill Mountain Theatre's Director of Education. "Last year, Mill Mountain Theatre gave this experience to three young playwrights, who got to see their words come to life onstage as other young actors embodied the characters that they had created. The new plays performed to a full house, and each playwright participated in a talk back discussion with the audience afterwards," he added.
---
Performing in the company of actors is Skylar Gay, Ananiya Parker, Haley Chey Lynch, Mikayla Parker, Anna Edwards, Janemarie Laucella, Taylor Cobb, Charles Meidlinger, Caroline Moledor, Henry Stevens, James Moledor, and Graham Roudebush.
Job Switch by Mikayla Parker is directed by Emma Gwin, Little Sacrifices by Caroline Moledor is directed by Travis Kendrick, and Auditions by Caroline Westphalen is directed by Christopher Castanho.
Tickets are only available 30 minutes before each performance and pay-what-you-can. Visit http://millmountain.org/production/write-stuff/ for more information.
---
Join Team BroadwayWorld
Are you an avid theatergoer in Central Virginia? We're looking for people like you to share your thoughts and insights with our readers. Team BroadwayWorld members get access to shows to review, conduct interviews with artists, and the opportunity to meet and network with fellow theatre lovers and arts workers.
Interested? Learn more here.
---